UNPLUGGED
By Eileen Carey
I hosted a
radio promo luncheon during CRS on Thursday, February 23, 2017 at The
Merchants Restaurant -401 Broadway (around the corner from the Omni Hotel where
CRS takes place these days (3rd Floor private area) 11:30 am-1:00 pm. (L-R Dan
Hagen, John McDuffie, Me and Brenda Zit
Honkytonks, coffee shops, restaurants,
small stages and big theaters like my show at the Saban in Beverly Hills
opening for the legendary Don Mclean, live television, radio appearances, office
based distribution release promos like at CDX in Nashville, are all part of the
journey; and they are often not only a good way to work out new material but to
add opportunity for an artist. Many headline acts opt for an unplugged act to
open for them. Being able to unplug is a useful tool for the singer-songwriter.
It also offers a way to expand your online footprint without always having to
put on the full band show, which there is no doubt still my favorite way to
bring my music to audiences. During this pandemic we are living through you can
see that many artists are using a minimalist approach altogether and performing
acoustic music to their audiences online.
Of course unplugging can be
challenging. I have unplugged in a number of different lineups and looks , from
the my Guitarist John McDuffie and I did for CBS/KTLA 9 and for my performance
for the Nick Jr. show Take Me to Your Mother, and for certain radio tours when
I have not used my usual two guitarists for my radio station tours. My favorite
unplugged lineup is when my longtime friend and drummer Suzanne Morrisette (See
her viral YouTube video "The Wedding Drummer") adds her Cajon to the two
acoustic guitars which is my best case scenario for going unplugged.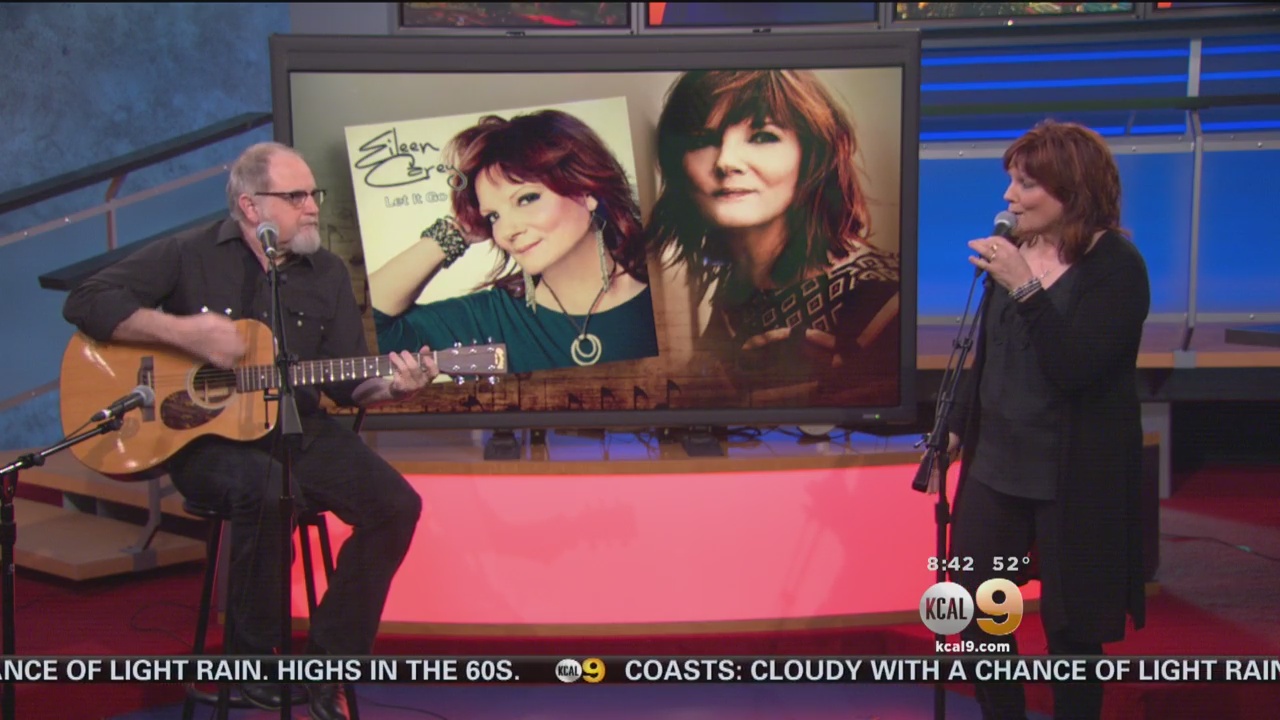 Featured on the Weekend
Morning Show, KCAL-9/CBS LA January 9, 2016
Opening
for Don Mclean, the Saban, Beverly Hills, CA, 8pm April 18, 2019
Fifteen minutes at the show and live interview with me, and footage of
Don in performance! https://www.youtube.com/watch?v=XefHAMJQzKw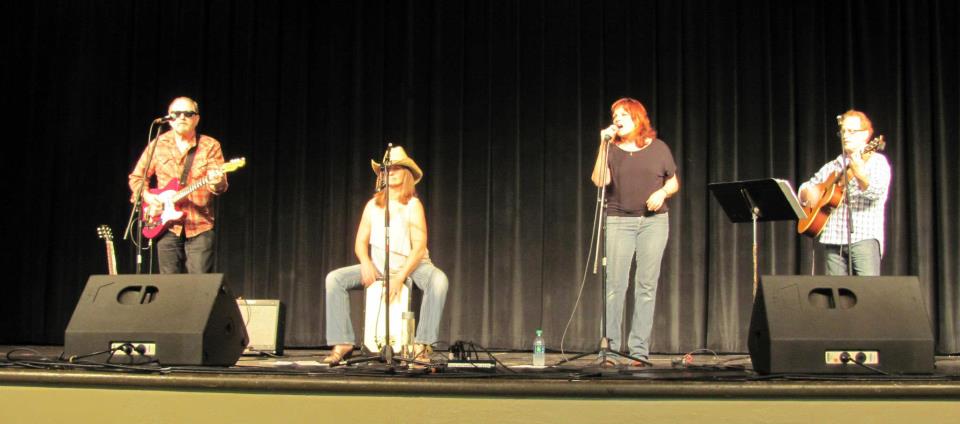 Acoustic Performance at the L.A. County
Fair in 2015
(L-R: John McDuffie, Suzanne
Morrisette, Me and Al Bonhomme (who co-wrote "Good Bad Girl")
Same alignment at the Saban Theater in Beverly Hills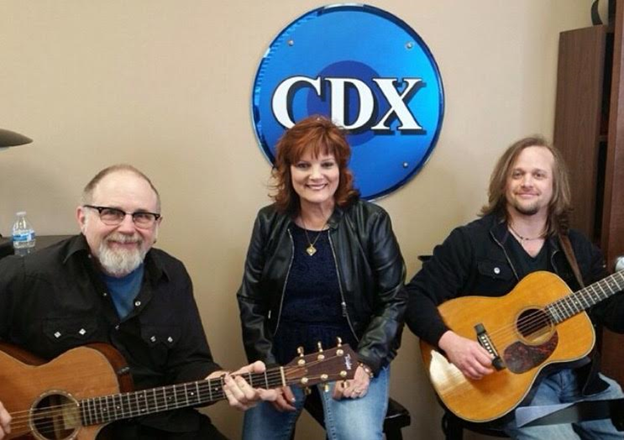 (John, me and Dan Hagen)
The
Offices of CDX Nashville for the Acoustic Performance of "In The Air"
(Being asked to sign CDX's Wall of Fame)
See the music video of "In The Air" –https://www.youtube.com/watch?v=SBAO-gGNhqM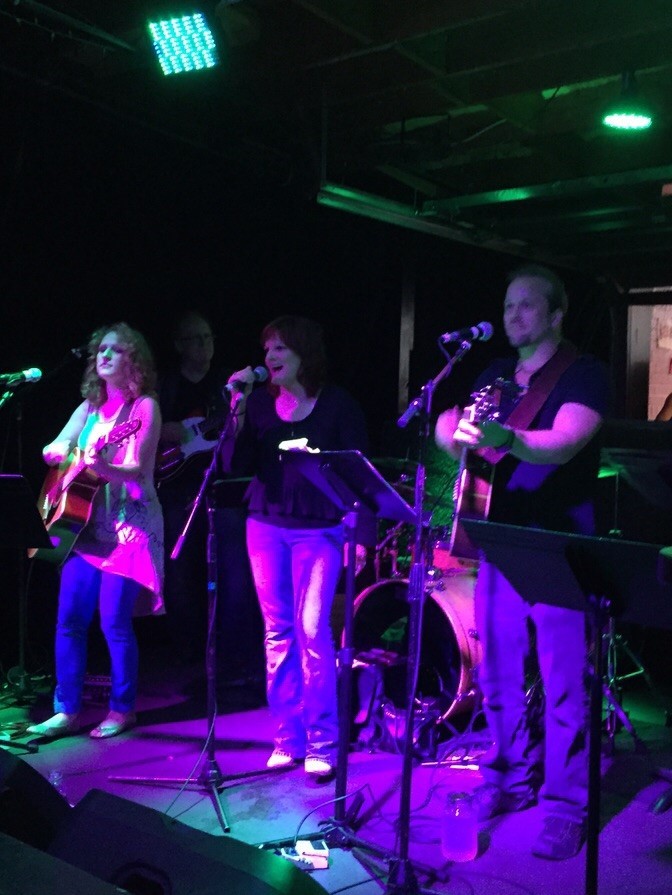 CMA Showcase, The World Famous
Tootsies, Nashville, TN, Friday Night, June 13, 2015.
(L-R Brenda Ziztman, me. Dan Hagen)
My "WALKING AFTER MIDNIGHT"
https://open.spotify.com/album/1MyfJ95cmpJtPpJGY2zBdF
Twinkegs2. Nashville, 2019
(John, Me and Dan)

Firefly Bistro, South Pasadena, CA,
Monday Night, May 2012.
One of the very first shows in the
period after my management changes and the return from Nashville in the wake of
my third album release Movin On, and in the process of creating my 4th
CD Let It Go was on a Monday night in South Pasadena, in a now defunct little
restaurant called The Firefly Bistro. It was a weekly event called 'Wine &
Song' and I was added to the show that included the host Brad Colerick. Kevin
Fiisher and famed singer-songwriter Dan Navarro, co-author of the Pat Benatar
classic "We Belong." It was just me and John, and I hadn't done so intimate a
date in a while. The place was packed and the response to me was encouraging.
Songwriter Serenade, Matt Denny's,
Acoustic, January 24 2017
(L-R John McDuffie, on my right Al
Bonhomme)
Songwriter Serenade at Matt Denny's Ale
House, in Arcadia, CA every Tuesday
night is hands down one of the best entertainment events for the money, and for
the excellent food and patio dining where the night is held. Host JC Hyke is a really good
singer-songwriter himself, and the night attracts some of the best songwriters
on the east side of Los Angeles County. Generally there are 4 songwriters that
perform three original songs each, and JC's three. There is a great deal of
camaraderie at this outside patio event which is always well attended. Beside
this January 2017 date I have played the night twice before.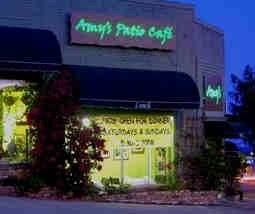 Amy's Patio
(Acoustic), Altadenaa, CA, Saturday Night December 4, 2013
This
was a get together holiday season gig for some of my friends and neighbors. My
good friend and co-writer Kathrine Grimm was in town from Seattle so she sung a
couple numbers as well. Kathrine and I collaborated on a number of songs,
including "Faith," "Out with the Girls" "Meet Me Halfway" among others.
The
Muse On 8th Street (Acoustic), Los Angeles, October 25, 2013.
(Myself & John)

3rd & Lindsley Backstage,
Nashville, TN 5:30 pm, May 15, 2019
This was a wonderful industry gathering of my
music business friends, and the Backstage is really cool. 3rd & Lindsley
has a growing music business reputation and the mainstage draws some headline
acts. I got a surprise when Paul Loggins of Loggins Promotions showed up at the
performance and presented me with my New Music Award for AC/Hot AC Female of
the Year trophy!
A Couple Radio
Performance Tour Stops
(May 13-16, 2019)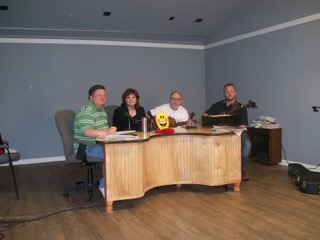 WEPG (910)
South Pittsburg, TN (Me & Dan) (DJ Joey Mains, myself, John and Dan)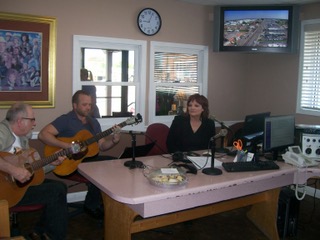 WLXL (97.5) Lawrenceburg, TN
(John, Dan and me)
Hey guys, can't help but let
you know that my month old release of the "Keep Your Love To Yourself" lyric
video has reached an amazing 100,000 views on YouTube!
COMMENTS ON YOUTUBE, POPWRAPPED & FLYAHMAGAZINE
"Spine-tingling" Barbara – wir uns kennenlernen(YouTube)
"Congrats!!
Beautiful voice and song!" – Dani Felthttps://www.danifeltmusic.com/(YouTube)
"Exquisite
Quality and tone, Enchanting to experience. Thanks" Thomas
Joyce, Pasadena, CA (YouTube)
"Eileen excels in the art of storytelling with a style that
graces the world radiantly. Her voice stands out in the over-saturated music
industry due to her accent and heavenly tone. When first hearing the fantastic
single, "Keep Your Love to Yourself", I was instantly blown away by
the mixture of Pop sounds with Electro transitions while keeping the Country
sound active." –http://www.flyahmagazine.com/2020/09/keep-your-love-to-yourself-by-eileen.html
"With
everything else happening right now and domestic violence at an all-time high,
this sends a message that people do have ability to take what's important in
their lives and move forward. Sometimes, people need to find a way to get help
but they may be unwilling to ask for it. It's no sin to request assistance and
there are more people out there to help than you can imagine. We need more
positivity now than ever and this song hits the mark, big time." –Mike Pasqua,
Covina, CA (Comment on PopWrapped.com)
"Pop
rock mom great voice and as real as it gets" –Troy Knapp, Alden, IA(Comment on PopWrapped.com)