Tin Pan South showcases hit songwriters
World's largest songwriter festival
attracts fans from all over the world
By Preshias Harris
Hundreds of songwriters, music publishers,
media and music industry people – along
with thousands of fans – gathered for the 27th annual Tin Pan South Songwriters
Festival Presented by Regions Bank. Tin Pan South Fast Access passes sold out
within days. The Festival took place in Nashville, March 26 – 30 with hit
songwriters performing at different venues across the city.
Over 400 songwriters performed at this
year's Tin Pan South Songwriters Festival, telling stories behind the biggest
hits they've written and then performing the songs as they were originally
composed. There were also special guests who popped in to help out their
'Songwriter Friends."
Singer/songwriter Craig Campbell performed
at his scheduled appearance at The Bluebird Cafe early show and then headed
across town to join Trea Landon at his Listening Room Cafe round for Play It
Again Music Publishing with Dallas Davidson, Kyle Fishman, Josh Mirenda and
Justin Wilson. Cole Taylor also made a surprise appearance.
Trae Landon. Photo credit: Preshias Harris
There were 94 shows scheduled at various
locations around Nashville. Highlights for the first night included two
sold-out shows at The Bluebird Cafe, legends TG Sheppard, Eddy Raven, Frank
Myers and others at the Hard Rock Cafe late show, Ross Copperman, Josh Osborne
and others at new Tin Pan venue TRUE Music Room and Bar, rocker Jim Peterik and
friends at The Local and more.
My 'music family' and I kicked it off at
the Local with Travis Denning singing about having a fake ID in his clever Top
40 debut single "David Ashley Parker From Powder Springs," but the
singer-songwriter also has outside cuts with Jason Aldean, Justin Moore, and
Michael Ray. One of his counterparts, Adam Hambrick, delivered hits like Dan + Shay's "How Not To"
and Lindsay Ell's "Waiting On You." Fellow RED Creative writer and Texas native
LJ will be releasing her debut single and EP this summer: thanks in part to
co-producer and songwriter Jeremy Stover (Jack Ingram's "Wherever You Are").
Stover has helped paved the way for several songwriters on Music Row.
L J. Photo credit: Catrina Engelby
My friend Bobby Tomberlin's round was
extraordinary! Mo Pitney is just as close to PURE country as you can get and
the rest of this round was also exceptional. I love every story that Bobby told
and the crowd was just hanging onto every word.
(Left to Right) With Wil Nance, Jason
Blaine, Phillip Lammonds, Mo Pitney and Bobby Tomberlin. Photo Credit: Preshias
Harris
Singer, songwriter and actor Mark Collie
joined Casey Beathard, Buddy Cannon, Marla Cannon-Goodman and Mac McAnally to
perform their songs at their Bluebird Café show. There is really something
about this room that just makes you never wanna leave.
For me,
the icing on the cake was being able to see two of the songwriters that write
in our writers' room (the Sangtuary) on the Bluebird show. Dallas Remmington sang
the song she wrote with Courtney Bumbacher called "Uncommon Man." This was a
song written about and dedicated to all the hard working fathers of the world.
Joel Shumake was writing with Chris Cagle a couple of months ago, also in the
Sangtuary. Tony Arata's top song that Garth was smart enough to cut several
years ago, "The Dance," was icing on the entire festival's cake!
(Left to Right)Joel Shumake, Dallas Remington, The duo Matfield-Greenland, Tony Arata. Photo Credit: Tracie Moore
One of my favorite shows was with my friend
Wynn Varble and his incredible round with NSAI Board President Steve Bogard,
Matt Roy and Kat Higgins. Their round was at Analog at Hutton Hotel. I heard
Steve sing "Carrying Your Love With Me" and Wynn's "Waiting On A Woman" that
Brad Paisley took to the top of the charts! I was in Hog Heaven…
(Left to Right) NSAI Board President Steve
Bogard, Matt Roy, Kat Higgins, Wynn Varble. Photo credit: Brittni Talley
For the first time at a Tin Pan South show,
I got to catch members of the Nashville Symphony Orchestra as they joined Brett
James, Lee Thomas Miller and Wendell Mobley for 'Songs Meet Symphony' at the
3rd & Lindsley late show. I had been wanting to see this show when it was
at Nashville's Cheekwood Gardens.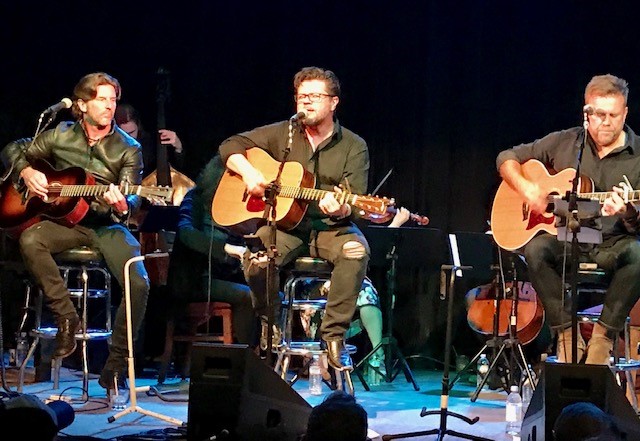 (Left to Right) Brett James, Lee Thomas
Miller and Wendell Mobley. Photo Credit: Preshias Harris
This year, Analog at Hutton Hotel was
hosting rounds for the first time at Tin Pan South. Numerous hit artist/writers
like RaeLynn, Chase Rice, ACM New Female Vocalist Award winner Ashley McBryde,
Jamie O'Neal, Lance Carpenter and NEEDTOBREATHE's Bear Rinehart and others hit
the stage.
My Kentucky "Blue" basketball fan Ashley
Gorley, played with his buds Chris DeStefano and Chase Rice as they performed
at 3rd & Lindsley, with hits like "Jesus Take The Wheel" and "I Lived It."
I believe Ashley is now up to 38 number
one hits as a super songwriter.
Photo is Ashley Gorley, Chris DeStefano and
Chase Rice. Photo Credit: Preshias Harris
Anthony L. Smith, Trent Tomlinson, James
Paulin and James Otto performed at Douglas Corner Wednesday night to a PACKED
house and standing room only crowd.
Pictured after the show, (Left to Right)
Anthony L. Smith, Trent Tomlinson. Photo credit: Catrina Engelby
Left to Right: James Paulin, James Otto.
Photo credit: Preshias Harris
About NSAI: The Nashville Songwriters
Association International (NSAI) is the world's largest not-for-profit
songwriters trade organization. Established in 1967, the membership of more
than 5,000 spans the United States and 10 foreign countries. For over 50 years,
NSAI has been dedicated to protecting the rights of and serving aspiring and
professional songwriters in all genres of music. For more information, visit
nashvillesongwriters.com.
Organizers of the 27th Annual Tin Pan
South Songwriters Festival would like to thank the following Platinum and Gold
Corporate Partners:
–
Regions Bank – Presenting Partner
–
NewsChannel 5 – Official Broadcast Partner
–
Southwest Airlines – Official Airlines Partner
–
Ronald Blue Trust
–
Workwell Technologies
–
Hanover Property Company
–
The Nashville Convention & Visitors Corporation
–
ASCAP
–
BMI
–
SESAC
–
Brown-Forman
–
ole
–
Ford Fund
# # #