THE MARSHALL TUCKER BAND MOURNS THE LOSS OF LONGTIME GUITARIST STUART SWANLUND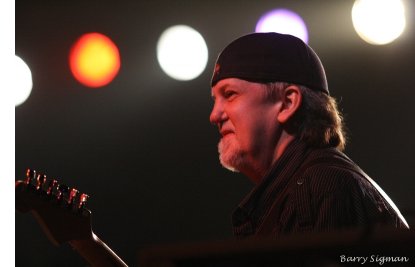 Nashville, Tenn. (August 6, 2012) – The Marshall Tucker Band family is mourning the loss of longtime band member and guitarist Stuart Swanlund. Swanlund passed away in his sleep at his Chicago home this past Saturday, August 4, 2012. Swanlund died of natural causes.
Swanlund
joined The Marshall Tucker Band in 1985 where his slide guitar work
added a new dimension to the band – on newer material as well as
standards like "Searchin' For A Rainbow," "Can't You See," and "Fire On
The Mountain."
"Stuart,
or 'Stubie' as we called him, was the longest standing member of The
Marshall Tucker Band from 1985, onward," says Marshall Tucker Band
founding member Doug Gray. "He recently took a hiatus from the road due
to health problems and even with those issues, Stuart's enthusiasm
onstage never waivered. Our thoughts and prayers are with Stuart's
family and those who knew him. We have lost a great friend."
Stuart
Craig Swanlund was born in Puerto Rico on April 3, 1958. Swanlund was
reared in Spartanburg, SC, where he would sit on his grandmother's porch
and listen to his neighbor, Doug Gray, rehearse with a rock and roll
band across the street. He was only five years old, and had no way of
knowing he'd one day play alongside Gray and The Marshall Tucker Band.
When not touring with The Marshall Tucker Band, Swanlund performed in Chicago with local band, the Tone Generators.
According
to Doug Gray, one of the highlights of Swanlund's time on the road with
The Marshall Tucker Band was last winter when he performed on the stage
of the Grand Ole Opry at Nashville's historic Ryman Auditorium.
Swanlund
is survived by his son, William "Billy" Swanlund, his lifelong partner
Stacey Schmaren, three grandchildren and sister, Suzanne Spencer.
He was 54 years old.
Funeral
services for Swanlund will be held this Saturday, August 11 at 11:00 AM
at the Good Shepherd Memorial Park in Boiling Springs, SC.
Flowers and cards may be sent to:
Good Shepherd Memorial Park
Boiling Springs, SC 29316