THE MARSHALL TUCKER BAND TUNES UP
FOR
ROCK LEGENDS CRUISE II
Four-day 'Party at Sea' Departs for Haiti on January 10, 2013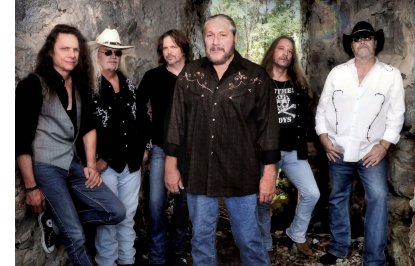 Nashville, Tenn. (October 24, 2012) – The Marshall Tucker Band is tuning up for another 'party at sea,' as they join a slew of classic rock icons aboard the 2013 Rock Legends Cruise II. The cruise benefits the Native American Heritage Association (NAHA).
Bound for Labadee, Haiti, the four-day cruise aboard Royal Carribean International's Liberty of the Seas, departs from Fort Lauderdale, FL on January 10, 2013.
The Marshall Tucker Band joins more than 20 rock groups including

Foreigner, Paul Rodgers, Creedence Clearwater Revisited, Kansas,

Bachman & Turner, 38 Special, the

Blue Oyster Cult, Foghat, Molly Hatchet and the Kentucky HeadHunters.
The Rock Legends Cruise II
is a unique festival experience. In addition to seeing all of their
favorite classic rock bands perform, passengers also get the chance to
interact with them. It's not uncommon to see band members enjoying the
cruise and performances alongside the fans.
The voyage will mark the second time The Marshall Tucker Band plays for Rock Legends Cruise passengers.
"Last year's cruise was a big party at sea," says Marshall Tucker Band lead singer and founding member Doug Gray. "We visited with so many fans, new and old, and it was great to be able to jam with so much great talent. Here's to round two!"
About The Marshall Tucker Band:
Four
decades ago, original members Doug Gray, Toy Caldwell, Tommy Caldwell,
Paul Riddle, Jerry Eubanks and George McCorkle founded The Marshall
Tucker Band in Spartanburg, SC. Thanks to hits like "Can't You See,"
"Heard It In A Love Song," "Fire On The Mountain," and "24 Hours At A
Time," the 5x Gold, 3x Platinum-selling southern rock group has sold
more than 15 million albums to date. MTB songs have been featured in
major motion picture films and television series including Blow, The Box, Swing Vote, Half Nelson, My Name Is Earl, Cold Case and Good Guys.
CMT (Country Music Television) named the MTB's "Can't You See" the #4
Greatest Southern Rock Song . The MTB's debut album, The Marshall Tucker
Band, reigns as Gibson Guitar's #5 Greatest Southern Rock Album. UltimateClassicRock.com recently crowned the MTB's "Can't You See" the #1 Greatest Southern Rock song ever recorded.