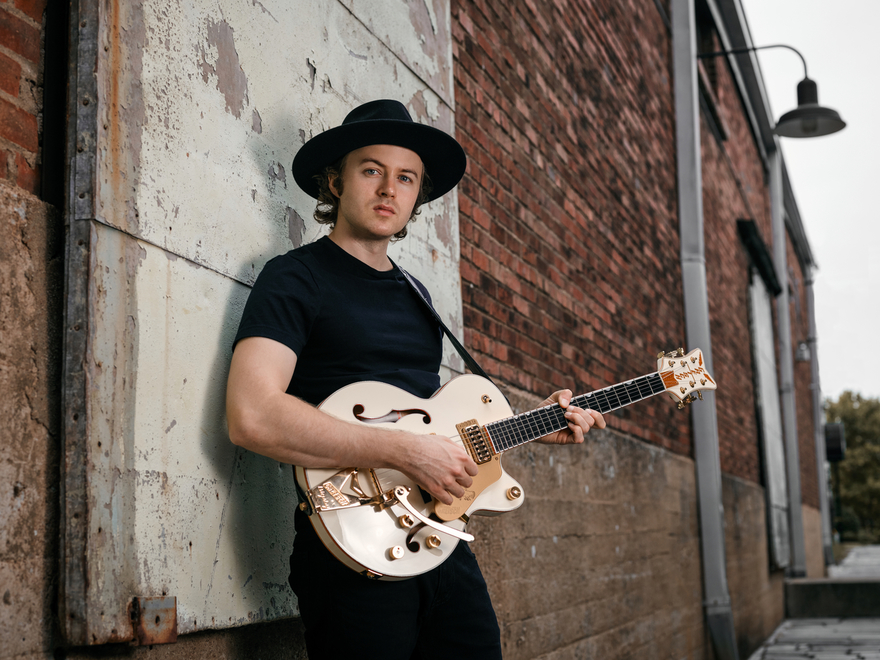 Considered to be uniquely gifted as a virtuoso guitarist and singer/songwriter, Nashville-based Joe Robinson is taking his show around the world. A tireless touring performer already, Robinson will be adding Europe and China to his tour stops before the end of 2019. He is promoting his latest album Undertones. A full list of tour dates is listed below.
Robinson kicks off his latest run with performances at Eric Clapton's Crossroads Guitar Festival this weekend in Dallas, TX. Robinson will be performing September 20 at the Crossroads Village Stage alongside guitarists Eric Johnson, Andy Timmons, Paul Reed Smith, Boscoe France, Bryan Ewald, Ryan McGarvey and Peterson Brothers.
"EC has long been a hero of mine, and his music is one of the reasons I
picked up a guitar," Robinson states. "So, it's a huge honor to be at
the Crossroads festival this year! What an amazing lineup of talent to support a great cause." Clapton's festival benefits the Crossroads Centre Antigua, an addiction treatment center he founded in 1998.
Robinson will then head overseas for his ambitious 17-consecutive day ambitious European tour beginning in Prague on October 17, with stops in the Czech Republic, Netherlands, Germany, Austria and Sweden.
"Europe has been a great market for me in the past with wonderful
promoters, audiences and venues," Robinson adds. "I have been so busy
in the U.S. over the last couple of years, that I haven't been able to
tour there as much as I would like. So it is a great feeling to be
coming back."
Robinson will barely have time to shake off the jet lag as he will re-join the Rodney Crowell tour from November 6 – November 23 for dates along the U.S. west coast.
To round out the remainder of 2019 Robinson will bring his tour into China.
Dates and venues for seven shows will be announced soon. "The first
time I toured China was in 2013, and I was totally blown away by the
response – amazing
crowds filled with people so energized about music. I can't wait to see
how the landscape there has changed over the past 5 years."
There will be no time to rest however. Robinson launches into 2020 with appearances at NAMM in Anaheim, CA January 16 and 17, and the Cayamo Cruise (with Rodney Crowell) from February 3-10. Following that he will join Tommy Emmanuel for his just-announced tour hitting Canada in March and April.
On his seminal new album Undertones, the Australian native
continues to awe and delight with soulful and utterly brilliant, finely
crafted songs on both acoustic and electric guitar, and has come into
his own as a lyricist.
In June of this year, Robinson launched JOES12,
a unique online learning platform that includes a distillation of some
incredible musical information, carefully curated to make musicians
better no matter their skill level. JOES12 is a 12-week course featuring
over 20 hours of footage and training that Robinson personally
created. It includes interviews filled with incredible insights from
some of the world's best musicians, including Tommy Emmanuel, Steve Vai, Eric Johnson, Robben Ford, Rodney Crowell, John Jorgenson, Keb' Mo' and others. For more info: www.joes12.com
JOE ROBINSON // UNDERTONES TOUR '19-'20
Sept. 20 – Dallas, TX – Crossroads Guitar Festival
Sept. 24 – Minneapolis, MN – Aster Cafe
Sept. 26 – Lake Orion, MI – 20 Front Street
Oct. 7 – Columbus, OH – The Refectory
Oct. 11 – Bismarck, ND – Belle Mehus Auditorium (w/ Tommy Emmanuel)
Oct. 12 – Fargo, ND – Fargo Theatre (w/ Tommy Emmanuel)
Oct. 13 – Duluth, MN – NorShor Theatre (w/ Tommy Emmanuel)
Oct. 17 – Prague, Czech Republic
Oct. 18 – Cheb, Czech Republic
Oct. 19 – Prague, Czech Republic – Písecká brána
Oct. 20 – Chyne, Czech Republic – Aula ZŠ Chýně
Oct. 21 – Chyne, Czech Republic
Oct. 22 – Pardubice, Czech Republic
Oct. 23 – Dolni Poustevna, Czech Republic – Kytara Festival
Oct. 24 – Dedemsvaart, Netherlands – Theater Dina (Master Class + Performance)
Oct. 25 – Rotenburg, Germany – Just Jazz Rotenburg, SternPartner
Oct. 26 – Bruchsal, Germany – Die Koralle – Theater im Riff
Oct. 27 – Engelsberg, Germany – Brauhaus Wiesmühl Brauereigasthof
Oct. 28 – St. Pölten, Austria – Cinema Paradiso
Oct. 29 – Baden, Austria – Cinema Paradiso
Oct. 30 – Freepsum, Germany
Oct. 31 – Nieuw-Amsterdam, Netherlands – Jungle Amsterdam
Nov. 1 – Gothenburg, Sweden
Nov. 2 – Varberg, Sweden – Django Music & Coffee (w/ Emil Ernebro & Edvin Ringkvist)
Nov. 4 – Asa, Sweden – Löftadalens Folkhögskola (w/ Emil Enerbro)
Nov. 6 – Saratoga, CA – Carriage House Theater (w/ Rodney Crowell)
Nov. 8 – Petaluma, CA – Mystic Theater (w/ Rodney Crowell)
Nov. 9 – Grass Valley, CA – The Foothills Event Center (w/ Rodney Crowell)
Nov. 13 – Eugene, OR – The Shedd Institute (w/ Rodney Crowell)
Nov. 14 – Portland, OR – Alberta Rose Theatre (w/ Rodney Crowell)
Nov. 15 – Edmonds, WA – Edmonds Center For The Arts (w/ Rodney Crowell)
Nov. 19 – Mount Vernon, WA – Lincoln Theatre (w/ Rodney Crowell)
Nov. 21 – Missoula, MT – The Wilma (w/ Rodney Crowell)
Nov. 22 – Bozeman, MT – The Ellen Theatre (w/ Rodney Crowell)
Nov. 23 – Billings, MT – Pub Station Ballroom (w/ Rodney Crowell)
Feb. 3-10, 2020 – Miami, FL / St. Croix / Antigua – Cayamo cruise, 13th Edition (w/ Rodney Crowell)
Feb. 29, 2020 – San Francisco, CA – War Memorial and Performing Arts
Center – Herbst Theatre (w/ Frank Vignola & Vinny Raniolo)
March 19, 2020 – Vienna, VA – The Barns at Wolf Trap (w/ Rodney Crowell)
March 27, 2020 – Mississauga, ON – Living Arts Centre Hammerson Hall (w/ Tommy Emmanuel)
March 28, 2020 – Calgary, AB – Taylor Centre For The Performing Arts (w/ Tommy Emmanuel)
March 30, 2020 – Edmonton, AB – Myer Horowitz Theatre (w/ Tommy Emmanuel)
April 1, 2020 – Victoria, BC – Alix Goolden Performance Hall (w/ Tommy Emmanuel)
April 2, 2020 – Vancouver, BC – Vogue Theatre (w/ Tommy Emmanuel)
ABOUT JOE ROBINSON:
Born in the backwoods of Temagog, on the mid-north coast of New South
Wales, Australia, his six-string ability and compositional insight have
already earned Joe Robinson a worldwide following. He has spent many
years touring North America and abroad (China, Japan, Europe, and
Australia) playing festivals and headlining clubs, which has enabled him
to define himself as a budding world visionary, displaying his
virtuosity on electric as well as acoustic guitar. This ultra-talented
28-year-old's unique musical sensibility, thoroughly modern guitar
tones, and tenor voice are at the core of the self-penned songs about
communication and self-realization found on his current album Undertones. For more information: joerobinson.com