#1 BILLBOARD DEBUT FOR NEW
RICKY SKAGGS & BRUCE HORNSBY LIVE ALBUM
CLUCK OL' HEN Debuts at Top of Billboard's Bluegrass Music Chart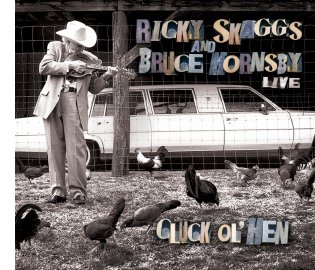 NASHVILLE, Tenn. (August 29, 2013) – RICKY SKAGGS and BRUCE HORNSBY's reuniting is proving to be another major success for the two musical icons. Yesterday Skaggs and Hornsby learned that CLUCK OL' HEN (SKAGGS FAMILY RECORDS – released on August 20) debuted at #1 on the Billboard Bluegrass Album Chart, soaring past its competition:
1. Cluck Ol' Hen – Ricky Skaggs & Bruce Hornsby
2. The Living Years – The Isaacs
3. Love Has Come For You – Steve Martin & Edie Brickell
4. Carry Me Back – Old Crow Medicine Show
5. Best of Bluegrass: Collector's Edition – Steve Ivey
6. Deep Roots – Steven Curtis Chapman
7. Brothers of the Highway – Dailey & Vincent
8. Hammer Down – The Steeldrivers
9. Stars & Satellites – Trampled By Turtles
10. Leaving Eden – Carolina Chocolate Drops
"My, how times are changin'" says Skaggs upon hearing the news. "I'm really glad about this and I'm sure Bruce is too!"
Cluck Ol' Hen
is a fresh collection of songs from the masterful duo of Skaggs and
Hornsby. The live tunes were originally recorded when the two music
icons hit the tour circuit in support of their first collaborative
album, Ricky Skaggs & Bruce Hornsby. Hornsby's spirited piano
brings a new dimension to these songs, with electrifying solos and
improvisation thrown in the mix of Skaggs, Hornsby and Skaggs' band,
Kentucky Thunder.
Skaggs and Hornsby hit the road this fall, embarking on the Ricky Skaggs & Bruce Hornsby with Kentucky Thunder Tour.
Cluck Ol' Hen is available in retail stores nationwide as well as online retailers.
About Ricky Skaggs
With
12 #1 hit singles, 14 GRAMMY® Awards, eleven IBMA Awards, eight ACM
Awards and eight CMA Awards (including Entertainer of the Year), Ricky
Skaggs is truly a pioneer of Bluegrass and Country music. Since he
began playing music more than 50 years ago, Skaggs has released more
than 30 albums and has performed thousands of live shows. Skaggs and his
band, Kentucky Thunder, continue to keep the tour trail red hot,
performing more than 80 live dates each year. He started his own record
label, Skaggs Family Records, in 1997 and has since released 12
consecutive GRAMMY®-nominated albums.
Skaggs recently released his first-ever autobiography, "Kentucky Traveler."
The book details the life and times of Skaggs and provides a
descriptive history of Country and Bluegrass music, as told by the
master himself.