RICKY
SKAGGS AND SHARON WHITE JOIN HANDS
FOR FIRST-EVER STUDIO ALBUM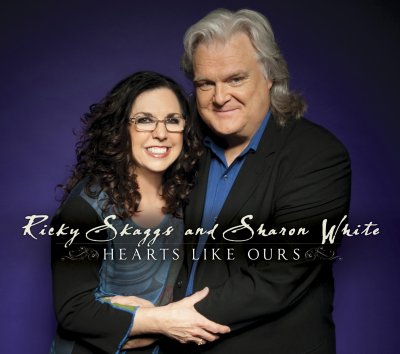 Legendary Country Music Couple to Release HEARTS LIKE OURS on September 30, 2014
NASHVILLE,
TENN. (August 19, 2014) – On August 4, country and bluegrass legend Ricky Skaggs and Sharon White (of country music's The Whites)
celebrated their 33rd wedding anniversary. Over the course of more
than three decades of marriage, Skaggs and White have savored every
moment of their lifelong commitment to one another. With both of their
respected careers cemented into the country music history books, one
might find it hard to believe that the couple has never recorded an
album together. That all changes on September 30, 2014 when Skaggs and White release their first-ever studio album, Hearts Like Ours.
In 1987, the pair won a CMA Vocal Duo of the Year award for "Love Can't Ever Get Better Than This,"
but White was touring with her family band and Skaggs was on fire with
his solo career, so releasing a full project wasn't possible at the
time. Skaggs and
White are beyond thrilled to finally release their first full project.
"Hearts Like Ours is
a dream come true for Sharon and I," says Skaggs. "Being married for
33 years, you really get to know someone's heart. I know hers and she
knows mine, and you can hear that on this CD. I loved getting to work
with her. She knows what she wants."
White
notes, "I am so happy that Ricky and I have finally done a duet CD,
which we have wanted to do for years and I think our hearts are in the
right place to do this now. It was great to pick songs together and
share ideas about how we wanted to do them. I have always enjoyed
making music with Ricky so this album is the fulfillment of a dream of
my heart."
The 13-track album, releasing on Skaggs Family Records, is
produced by Skaggs and White and features the couple dueting on
handpicked country love songs. The album includes songs written by some
of the industry's top songwriters including Connie Smith and Marty
Stuart-penned tunes, "Hearts Like Ours" and "I Run To You," Bob DiPiero
and Keith Sewell's "Forever's Not Long Enough," Paul Overstreet and Don
Schlitz's "Hold On Tight (Let It Go)," Leslie Satcher and Buddy Jewell's
"When I'm Good And Gone" and the late Townes Van Zandt's "If I Needed
You," among others.
About Ricky Skaggs and Sharon White
With 12 #1 hit singles, 14 GRAMMY® Awards, eleven IBMA Awards, eight ACM Awards and eight CMA Awards (including Entertainer of the Year),
Ricky Skaggs is truly a pioneer of Bluegrass and Country music. Since
he began playing music more than 50 years ago, Skaggs has released more
than 30 albums and has performed thousands of live shows. Skaggs and
his band, Kentucky Thunder, continue to keep the tour
trail red hot, performing more than 80 live dates each year. He started
his own record label, Skaggs Family Records, in 1997 and has since
released 12 consecutive GRAMMY®-nominated albums. Last year, the Grand Ole Opry member released his first-ever autobiography, "Kentucky Traveler."
The book details the life and times of Skaggs and provides a
descriptive history of Country and Bluegrass music, as told by the
master himself.
Sharon
White is a member of beloved country-gospel family band, The Whites,
and has been making music alongside her father Buck and sister Cheryl
for more than four decades. They originally began as a Bluegrass group,
but the family trio became well known for their string of Country hits
in the 1980s, including "Hangin' Around," "Give Me Back That Old Familiar Feeling," and "Pins and Needles." The Whites are Grand Ole Opry members and
combine a respect for – and mastery of – traditional country and
bluegrass with a refreshing style in each of their performances. They
were involved in the 2001 hit movie and soundtrack, O Brother, Where Art Thou?, and have gone on to win multiple awards, including GRAMMY®, CMA and Dove Awards, among others.