RESTLESS HEART BRINGS A SEASON OF HARMONY TO
GAYLORD OPRYLAND'S A COUNTRY CHRISTMAS
Country Group to Perform 29 Live Dinner Shows at Gaylord Opryland;
Tickets Go On Sale Tomorrow, Friday, July 18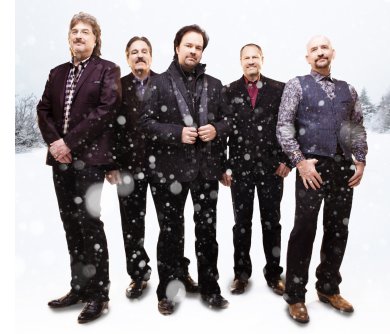 Nashville, Tenn. (July 17, 2014) – Country music powerhouse group

R

ESTLESS HEART

is

bringing its rich, soaring harmonies to Gaylord Opryland

's

A Country Christmas

with the all-new

A Season of Harmony Dinner Show

. Known for chart-toppers like "

The Bluest Eyes in Texas

," "

I'll Still Be Loving You

," "

Why Does It Have to Be (Wrong or Right)

" and "

When She Cries,"
the band—celebrating 30 years with its five original members—will
perform holiday classics and original songs from its new Christmas
album, A Season of Harmony

, as well as favorite hits.
"We are really looking forward to keeping it close to home this Christmas," says Restless Heart lead singer
Larry Stewart
.
"We're thankful for this wonderful opportunity and we hope all of our
fans will come spend Christmas with us at at Gaylord Opryland!"
Gaylord Opryland's A Country Christmas kicks off mid-November with Restless Heart performing nearly 30 live A Season of Harmony Dinner
Shows leading up to Christmas. Held in the iconic 2,882-room hotel's
Tennessee Ballroom, each show will include a four-course meal prepared
by Gaylord Opryland's award-winning chefs.

About Restless Heart
Larry
Stewart, John Dittrich, Greg Jennings, Paul Gregg and Dave Innis, the
men who make up Restless Heart, have enjoyed one of the most successful
group careers in Country music history. The band has placed over 25
singles on the charts, with six consecutive #1 hits, four of their
albums have been certified Gold by the RIAA, and they have won a wide
range of awards from many organizations, including the Academy of
Country Music's (ACM) "Top Vocal Group" trophy. Restless Heart is
currently on the road celebrating their 30th Anniversary and will
perform over 120 live dates by the year's end.