RAY STEVENS RELEASES STATEMENT ON PASSING OF FRIEND, ANDY WILLIAMS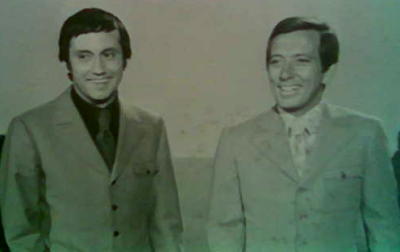 Caption: Ray Stevens & Andy Williams in 1970
(Photo courtesy of Ray Stevens Music Group)
Nashville, Tenn. (September 26, 2012) – Today, music legend Ray Stevens released the following statement regarding the passing of his friend, Andy Williams:
"Andy
Williams was one classy guy. He was a marvelously talented and generous
performer who in 1970, entrusted his nationally acclaimed TV Show and
audience to a green kid from Georgia. That kid was me and he changed my
life. Thank you Andy and God Bless your wife Debbie, your brother Don,
who was my longtime manager, your children and entire family. We miss
you already!"
Williams,
who announced in late 2011 that he had been diagnosed with bladder
cancer, died Tuesday at his home in Branson, MO. He was 84.