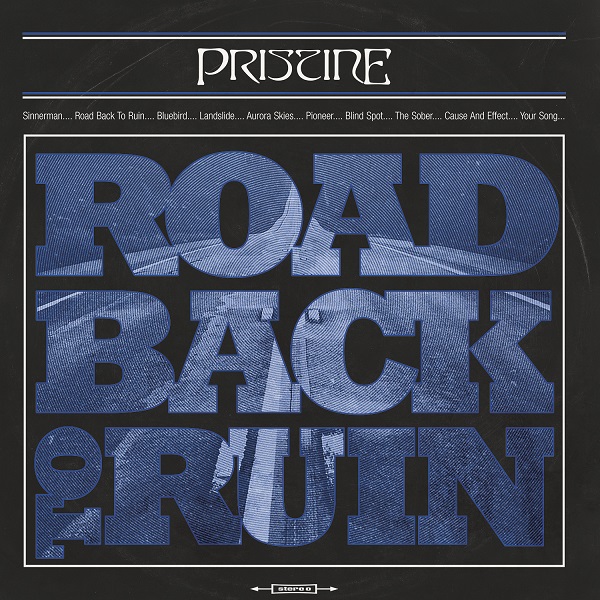 PRISTINE (w/ songwriter, vocalist – Heidi Solheim) by Christian Lamitschka for Country Music News International Magazine & Radio Show
Lamitschka:  Music has many new
fans throughout Europe who may be hearing about you for the first time. How
would you describe yourself and the music you play to someone who has never
seen or heard you?
Answer:  Pristine is a rock band
from the Northern parts of Norway. We write our music with the steep mountains
and northern lights as our backdrop, and the result is heartfelt rock music
full of emotion, feeling and contrast.
Lamitschka:  How was the last
year for you? What were your highlights?
Answer:  2018 was the year we
spent a lot of our time on the road, both nationally and internationally. We
also used a lot of time working on some new songs. These last few years I've
been traveling to my parents cabin to compose new music. This small house in
the north is placed pretty de-connected from the rest of the world, and the
silence and the wilderness of the location is something that has inspired me a
lot. It is a very nice place to find focus and motivation. In 2018 I used a lot
of time up there, and I think the result is a free and open minded album, full
of diversity. 
Lamitschka:  How did you choose the title for the CD?
Is there a story behind the name?
Answer:  The title "Road Back To
Ruin" came out of several stories.I
believe a lot of the frustration and sadness we feel when we look at todays
society and the values that's been growing, has influenced our creativity a lot
on this album. I think the lack of generosity and empathy in the world today,
the growing of right wing attitudes all around the globe is scary and
overwhelming at times. When you add the climate change questions that many
people don't see as the huge threat that it is, I think we are on the Road Back
To Ruin.
We have some people in charge that will do anything to keep the power or gain
even more power, and because of this it is a very difficult trend to change.
But the title
"Road Back To Ruin" also reflects on the smaller and more personal stuff.
Lost love, broken hearts and the search for northern light. We got the whole
spectre, in other words.
Lamitschka:  Please tell us about
the songs on your album (influences, etc).
Answer: When I started writing the songs for Road Back To Ruin
I didn't want to think so much about what direction we should or shouldn't take
regarding expressions and generes. I really just tried to write the best music
I could, with as much emotion and feeling that I could put into it. I also
wanted to give every idea and sketch I had enough time to grow before deciding
to keep it on the record or not. I've been very critical in the past and thrown
away ideas before taking the time to really let them establish. I didn't want
my criticism to limit myself in the creative process this time, so I tried hard
not to overthink it. The result is an album full of diversity where the red
thread lies in the sound, energy and expression.
When I write music I usually start out working on a beat, a groove or an
expression, and build a good platform with chords and melodies on top of that.
Lyrics always comes as the last step. For the most parts I compose music on
guitar, piano or just by improvising vocal lines. That meaning that I improvise
guitar riffs and some bass lines with my voice. The result can be very
exciting! A different approach to the normally guitar based music perhaps. A
good example where you can hear that the riff is a bit different than standard
guitar riffs is the song Bluebird where the riff scale is inspired by north
Norwegian folk tunes. I made the riff while sitting in my car. I usually press
record on my iPhone before I start driving and improvise a lot of melodies,
beats and vocal lines while driving around. This has turned out to be a good
method for me.
Lamitschka:  What is the
difference between your last CD and your current one?
Answer:  I think the biggest
difference on "Road Back To Ruin" and the previous releases is that we have a
wider range of generes and expressions this time.We have the heavier rock tunes, the love ballads, country
song and the straight forward, in-your-face and rock songs. The diversity has
become one of Pristine's trade marks over the years, but I would say that it is
extra recognisable on our new release.On Road Back To Ruin we also had a new producer: Øyvind
Gundersen. The later years he has mainly been working with artist in the pop
and electro genere, and he's approach to Pristine was very open minded and
creative during the recording prossess. This was a very nice combo, and we fell
that he brought another element to the album.
We used a lot of time back and forth working on finding the
right sound on the guitar, bass and especially the drums in studio before we
started recording, so it wasn't done so much in the post-production/mixing on
the main instruments this time. The sound on the record therefor feels "wider" and
"bigger" in lack of other words. We're really happy with the result.
Lamitschka:  What kind of songs
do you like to record the most?
Answer:  On this up-coming record
I really loved to record the song "Cause & Effect"! It is a song that
changed for me during the writing process. In the beginning I was sitting with
my piano and playing around with some downward facing scales with distinct
quarter-notes in my right hand. It became a soft blues ballad, but after we
rehearsed the song it grew into a stronger more dramatic feeling. I re-wrote
the lyrics to make the song fit more into "the new dress" and asked the Arctic
Philharmonic to participate on the recording. Luckily they said yes, and we got
the amazing string arrangment composer Alexander Aarøen Pedersen to do the
arrangements. I really enjoyed the transition the song got, and I think the
finished result is fantastic.
 Lamitschka:  Who inspires you
musically and how deep do your musical roots run?
Answer:  For me music is
everything. It is such a big part of my life that I can't even image to live
without it. My inspiration is mainly 2 things – location and music. I often get
inspired by traveling to certain villages, towns or even countries. To feel the
"puls" and the presens of other cultures, people and nature is a powerful thing
for me. The other thing I get really inspired by is music, obviously some might
say perhaps. I get really inspired by listening to heartfelt and good music,
even if it is within the classical genere, electronica music or folk tunes.
Lamitschka:  As an artist, you so
many tasks such as recording, touring, interviews. What do you like best,
what's your favorite activity?
Answer:  One of the challenges in
being an artist today is that you have to cover so incredibly many areas of the
music business yourself. The "360 deals" you had before (where the record label
organised and payed for everything around the artist/bands) are over, and you
are left with doing a lot of the work yourself. I think this is one of the
reasons why many artists and bands give up today. It is very difficult being a
creative, eccentric and vulnerable composer and at the same time you have to
take care of all the administration, the organisation and negotiation with both
the venues and the crew before going in tour. And on top of it all you will
have to have control over the finances and economy of it all. I feel like I "switch
hats" several times a day and it can be pretty exhausting being so diverse,
when all you really want to do is just make a lot of good music and do live
shows. My favourite part of my job is for sure composing new music. There is
nothing like creating something from scratch and watch it become a song that in
the future may move someone on a deeper level.Lamitschka:  What inspired you to become an artist?
Answer:  I think on some level I
always new that music was to become my path in life. I remember when I was a
kid, that I fell in love with my dads record player. And the first time I heard
"Angie…Aaaangie" come out of the speaker Mick Jagger totally blew my mind. It
inspired me to pursued music from an early age. When I started writing my own songs,
it was the first time I felt really in touch with my inner self, and to perform
live shows became the confirmation I needed to make it a full time profession.
Lamitschka:  What can your fans
expect to see when they see you in concert?
Answer:  We've used a lot of time
prepping for the up coming tour, and it is going to be amazing getting back on
the road again. I think the fans will see a hungry band with a lot of energy
who love playing live concerts more than anything.It is the greatest feeling in the world to know that we are
together on the road again, we are going to present and create new music
together, and we are going to see all these amazing new cities and meet so many
new people. To do live shows is as close to a spiritual experience as we can
get. And it's fantastic.
Lamitschka:  Fans are always
hungry for good road stories. Do you have one you can share with us (come on
don't be shy)?
Answer: I remember on one of the
first tours we did in Europe as a headliner, we traveled in one of those motor
homes. A great invention, by the way! I really recommend this way of traveling
on tour for up and coming bands. It is like travelling in a small night liner,
only you can drive it yourself.We followed the GPS system to the best of our knowledge,
and at some point, crossing the boarders to Czech Republic we suddenly found
ourselves on a road that went from asphalt road, to smaller country road, to a
very narrow dirt road that led us up onto a mountain. Again, the GPS was
telling us that this was the right way, but our gut feeling told us that there
had to be something wrong. Our drummer was driving at the time, and there was
no way we could turn the big vehicle around and go back on the narrow path, so
we went on.. And on.. And on. Further and further up into the Czech mountains.
That was when we saw flashing lights and heard a siren behind us. The Czech
police officers were far from welcoming when someone invaded their privacy, and
we all had to go outside and got a pretty bad sermon. In Czech of course, so we
didn't understand one word. But their body language spoke for them. They guided
us down the hill and back to the highway safely though, kindly enough, so I
think they understood why they suddenly found 5 Norwegians wandering aimlessly
around on their private roads.
Christian Lamitschka (Ch.Lamitschka@t-online.de) for Country Music News International Magazine & Radio Show