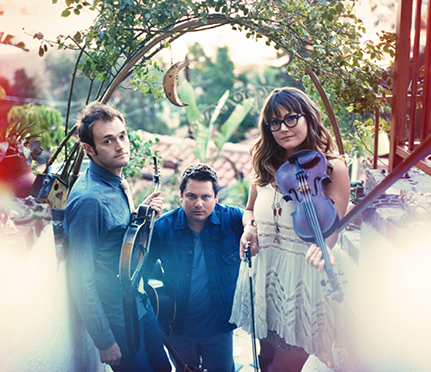 Multi-Grammy winners Nickel Creek (mandolinist, Chris Thile; guitarist, Sean Watkins; and fiddler,
Sarah Watkins) will headline Grey Fox Bluegrass Festival on Thursday, July 17th.

Grey Fox Bluegrass Festival:
A Who's Who of Bluegrass Music
in the Catskill Mountains

Oak Hill, New York: Any acoustic music fan would jump at the chance to see Nickel Creek, Del McCoury, Carolina Chocolate Drops, The Gibson Brothers, and Tim O'Brien
at one festival. The rest of the lineup could slack off after that. But
Grey Fox Bluegrass Festival never slacks. Instead it brings a veritable
Who's Who of Bluegrass—plus its roots and branches—to New York's
Catskill Mountains every July. This year's award-winning four-day
festival will run Thursday, July 17 through Sunday, July 20 on the Walsh
Farm in Oak Hill, New York.

The 2014 all-star lineup boasts more than forty bands,
dozens of Grammy, IBMA, and Americana Music Award winners, perennial
favorites and hot new talent on six stages. Grey Fox seeks to please
die-hard fans who have attended the event for years while reaching out
to new audiences. Thousands of fans from thirty-some states and about a
dozen countries will make their annual pilgrimage to see bands they
already know and love, and to be captivated by artists appearing for the
first time at Grey Fox.

This year the lineup includes:
Nickel Creek
, who has reunited this summer for the band's sell-out 25
th
anniversary tour; National Endowment for the Arts Fellow,
Del McCoury
,
who is celebrating his 75th birthday by appearing at only a handful of
festivals this summer; current IBMA Entertainers of the Year,
The Gibson Brothers
; Grammy recipients,
Carolina Chocolate Drops
; the award-winning Americana duo of
Tim O'Brien and Darrell Scott
; current IBMA Female Vocalist of the Year,
Claire Lynch
; Grammy winners,
Steep Canyon Rangers
; current IBMA Emerging Artists of the Year,
Della Mae
; Nashville songwriter extraordinaire
Jim Lauderdale
; guitar phenom
Keller Williams
with
The Travelin' McCourys
; current winners of the IBMA Album of the Year,
Balsam Range
; The hot, young, progressive
Deadly Gentlemen
from Boston; Missouri's favorite sons,
The Hillbenders
; and Maryland's multi-instrumentalist who loves to cook,
Frank Solivan & Dirty Kitchen
.
Fans will also be treated to 2012 IBMA Emerging Artist of the Year, Joe Mullins & The Radio Ramblers; Europe's premier bluegrass band, Red Wine, from Italy; and Americana songstress and writer, Nora Jane Struthers & The Party Line. Bands that recently caught producer Mary Doub's ears and eyes are The Steel Wheels from Virginia; Town Mountain from North Carolina; and Gangstagrass, an urban-rural combo that mixes bluegrass and hip hop. Returning fan favorites are Albany-based Jim Gaudet and the Railroad Boys; Minnesota's Barley Jacks who blend bluegrass, celtic and old-time music; and long-time hosts of the Catskill Dance Stage, John Kirk, Trish Miller and Quickstep from the Saratoga area. More bands discovered at the 2013 World of Bluegrass in Raleigh are North Carolina's The Barefoot Movement, and Austin, Texas-based Wood & Wire.
The lineup continues with California-based Brothers Comatose; the buttery-voiced Aoife O'Donovan; the highly experimental cellist, Rushad Eggleston; melodic banjo innovator and former member of Bill Monroe and the Bluegrass Boys, Bill Keith; and the infectious dance rhythms of Ohio's Mo' Mojo; The Revelers from Baton Rouge; and Colorado's hypnotically soulful Elephant Revival.
The festival's commitment to introducing new young talent to its
enthusiastic fans is proven each year in the form of the Grey Fox
Emerging Artist Showcase. Two crowd-pleasers who showcased last year
have been selected to play the Main Stage this year. They are the Lonely Heartstring Band (who met while students at Berklee College of Music) and Mama Corn, from central Pennsylvania. This year's showcase bands are Mala & FyrMoon (Switzerland); Red June (NC); Cold Chocolate (MA); Caribou Mountain Collective (CO); The Zolla Boys (CT); and three bands representing Berklee College of Music: High Rock Mountain, Twisted Pine and Ellie Buckland & Isa Burke.
As always, Grey Fox will be hosted by perennial favorites, Rounder Recording artists, Dry Branch Fire Squad.
The Who's Who roster intentionally ranges in style from
traditional bluegrass and old-time to contemporary bluegrass, newgrass,
world-beat, and music that simply defies labeling.
Grey Fox Bluegrass Festival
is one of America's most beloved and highly respected bluegrass music
festivals. It historically brings people from all over the world to
enjoy the outstanding lineup of talent offered each year. Once a year,
almost like magic, a community of tents and RVs, vendors, volunteers and
artists appears in a farmer's field in Oak Hill, NY about 30 miles
southwest of Albany. For four days each July, it is home to thousands of
bluegrass and roots music fans from as far away as Great Britain,
France, Italy, Spain, Norway, Sweden, Russia, the Czech Republic,
Australia, New Zealand and Japan.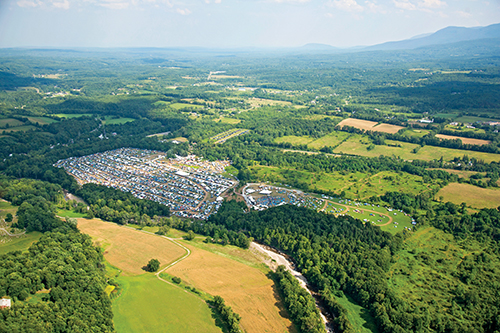 Grey Fox Bluegrass Festival, Oak Hill, NY. (Tyler Campbell, 2013)
While about a quarter of the attendees are day visitors, the
majority of Grey Fox fans come to camp, enjoy the summer weather, hear
their favorite bands, discover new artists, meet new and old friends —
and when the time is right they tune up their guitars, mandolins,
banjos, fiddles and basses and jam until they drop.
Discover bluegrass this summer in the beautiful Catskill Mountains. You might just wonder where you've been all your life!
Tickets: Full festival tickets (age 13 and up)
include camping and all festival concerts, workshops and dances. Kids 12
and under free with ticketed adult. Day tickets are available for
Thursday, Friday, Saturday and Sunday (camping not included). Call
888.946.8495 or visit www.greyfoxbluegrass.com
GREY FOX BLUEGRASS FESTIVAL BASICS:
Date: Thursday-Sunday, July 17-20, 2014
Location: On the Walsh Farm, 1 Poultney Road, Oak Hill, NY 12460
Website: www.GreyFoxBluegrass.com
Email: office@greyfoxbluegrass.com
Facebook: www.facebook.com/greyfoxbluegrass
Telephone: US: 888.946.8495 ~ International: 315.404.5738
Tickets: Full Festival Camping & Day Tickets available online and by phone.