Musicians Hall of Fame honors
Class of 2019
Alabama, Steve Wariner, Don
Everly among inductees
By Preshias Harris for Country Music News International Magazine & Radio Show
Vocalists might spend more time in
the spotlight but it's the musicians who create the unforgettable
sounds that are an integral part of every song. It was the
musicians' night to take center stage at the Musicians Hall of
Fame, Tuesday, October 22. The Class of 2019 were honoured with
medallion presentations followed by a gala concert at
the Schermerhorn Symphony Center in Downtown Nashville. Among the
honorees were the legendary band Alabama, singer-songwriter and
guitarist Steve Wariner, Don Everly, the Surfaris, renowned musicians
from Muscle Shoals and more. See
below for a full list of this year's inductees.
I caught up with Teddy Gentry,
founding member of Alabama, on the red carpet before the induction
ceremony. I asked him what this special event meant to him.
"Being honored among this
quality of musicians here is a little extraordinary. This is the
cream of the crop and to be recognized in the same way as these guys
is really a great honor," said Gentry.
Alabama was formed in 1969 in
Forth Payne, AL, by cousins Teddy Gentry, Randy Owen and Jeff Cook.
Blending country, Southern rock, pop and even bluegrass elements,
Alabama racked up more than 40 number one hits on the Billboard
country charts, many of which crossed over into the pop charts. With
sales of more than 75 million records, they are recognized as the
most successful band in country music history.
Steve Wariner has enjoyed a
successful career as both a singer and a songwriter having released
eighteen studio albums and charted more than fifty singles on the
Billboard Hot
Country Songs chart. But his induction honors his remarkable talent
as a guitarist and multi-instrumentalist. He was signed to RCA
Records Nashville in 1976 by the iconic Chet Atkins who was the
company's vice president.
On the red carpet before
the induction ceremony, I spoke to Steve Wariner. I reminded him that
he is one of only four guitarists that Chet Atkins designated as a
Certified Guitar Player (CGP) in his lifetime. I asked him if he
could recall his thoughts and feelings when he heard that he would
receive that honor.
"Chet
surprised me with it," recalled Wariner. "He asked me to come
down to Café Milano. He used to play there on Monday nights. So I
went down there, not knowing that he had just beaten me in the
Grammys. We were both up for a Grammy and he beat me. So he said,
'You've got to come to Café Milano tonight.' He made me a CGP
that night and I was like, 'Oh my God! I can't believe it!' And
then Chet reaches behind his amp and says, 'Oh, by the way, I want
you to have this.' He gave me his Grammy! And that same night, he
made me a CGPandgave
me a Grammy! [laughs] So… an unbelievable memory."
Steve modestly added, "I
really feel there would have been a lot more CGPs, though, because
Chet got really sick after that and he quit doing it. Chet loved his
buddies and he would have done that periodically. But I was so
honored."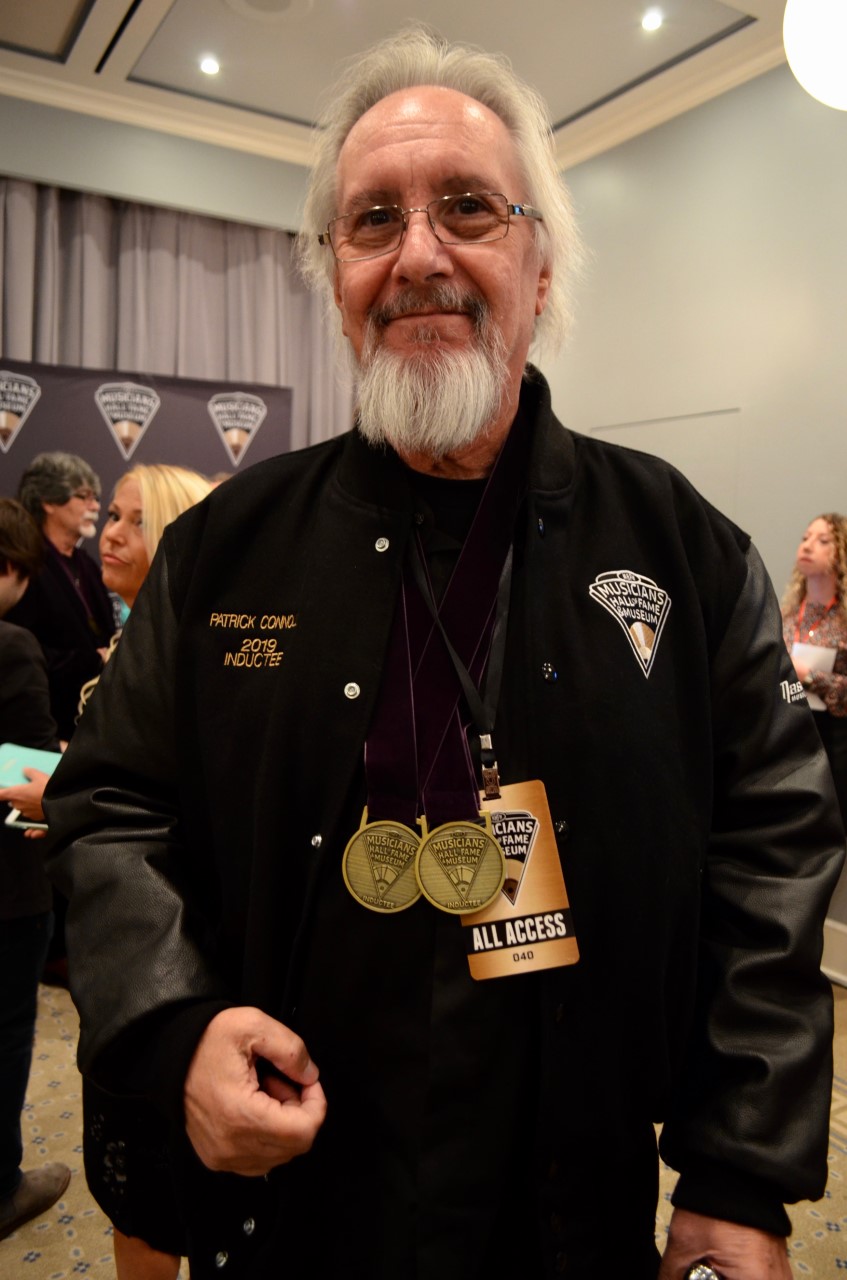 There was another Chet
Atkins/Steve Wariner connection earlier in the day when Atkins was
the 88thstar
added to the Music City Walk of Fame. Also added were Lady
Antebellum, Clint Black, Mac McAnally and DeFord Bailey. (Atkins and
Ford were inducted posthumously.) Wariner was selected by Atkins
family to represent Atkins at the ceremony. Former inductees include
Johnny Cash, Vince Gill, Alan Jackson, Miranda Lambert, Martina
McBride, Keith Urban, Hank Williams, Trisha Yearwood, Little Big
Town, Kenny Rogers and more.
I spoke with Mike
Connolly, brother of Pat Connolly who was the bass player and
founding member of the Surfaris. Mike was at the ceremony
representing his brother who was unable to attend. Mike told me some
of the background to "Wipe Out" that became a massive surf music
hit for the Surfaris.
"They'd recorded
"Surfer Joe" and the engineer said, 'We need a B-side,' so
the drummer, Ron Wilson, started playing a cadence and they named the
song "Wipe Out" right on the spot," said Connolly. "My
brother went outside and got a piece of plywood and they broke the
wood. It all happened like that," he said snapping his fingers.
They did this on the spur of the moment to sound like a surfboard
breaking.
"The song was released
on DFS Records, it started getting played on [radio station] KFWB.
People started calling the station asking them to play the song.
Three months later they were on the road with the Beach Boys. It was
lightning-struck!" The song went on to sell more than a million
copies, earning a gold disc and peaked at No. 2 on the Billboard Hot
100 in 1963.
One of the aspects that set the
Musicians Hall of Fame apart from other music institutions are its
sometimes quirky categories. This year, Don Everly was recognized
with the Iconic Riff Award for his opening guitar riff on the Everly
Brothers' hit, "Wake Up Little Susie." The moment you hear that
unique, uptempo riff, you instantly know that this can only be "Wake
Up Little Susie," even if you weren't even born in 1957 when it
first became a hit across pop, country and even R&B charts.
A personal note: some years
ago, I was able to present a long-forgotten family photo to my
cousins Don and Phil Everly. It had been in the possession of my late
grandmother and showed them as very young boys performing in a radio
studio. To mark the occasion of Don's award, I am presenting
another copy of the photo to the Musicians Hall of Fame.
Some of the honorees' names
might be familiar but many of these highly influential musicians
might be unknown to all but the most dedicated fans.
The small Alabama town of Muscle
Shoals could have remained unknown to anyone apart from its own
inhabitants had it not been for a small group of unlikely musicians
that played a crucial role in the success of recording artists across
pop, country, Southern rock, soul and R&B genres for more than
three decades. Together they created what became known as the 'Muscle
Shoals Sound' on countless hits still being played on the radio and
streaming playlists today. The Musicians Hall of Fame honored the
original members of the group in addition to members of the Muscle
Shoals Horns. Mega stars from Mick Jagger to Aretha Franklin have
acknowledged the role that these musicians played in their success.
As another example, inductee Felix
Cavaliere was a founding member of The Rascals as keyboard player and
vocalist on massive hits including "Groovin'," "Good Lovin',"
"People Got to Be Free" and "A Beautiful Morning." Their
initial recordings were released under the name The Young Rascals,
due to a dispute about the name from another group. Even many fans
of the Rascals' songs may be unfamiliar with Cavaliere's name,
and now the Hall of Fame has turned the spotlight on his unique
musicianship.
Also on hand to pay tribute to
honourees were artists who know how much these musicians have
contributed to the world of popular music. Among the artists who
were invited to appear: Jason
Aldean, Mandy Barnett, Garth Brooks, Brooks & Dunn, Zac Brown,
Vince Gill, Keb' Mo' and Paul Simon. Many of the honourees also
performed during the gala.
Full list of Musicians Hall of
Fame 2019 inductees
Felix Cavaliere


Steve Wariner

The Surfaris
(Bob Berryhill, Pat Connolly, Jim Fuller*, Ron Wilson*)

Don Everly,
"Wake Up
Little Susie" for Iconic Riff Award

ALABAMA
(Jeff Cook, Teddy Gentry, Randy Owen) will
receive the first Lifetime Achievement Award

Original Muscle Shoals Rhythm
Section (David
Briggs, Jerry Carrigan*, Norbert Putnam, Terry Thompson* and
Friends: Earl "Peanutt" Montgomery, Joe South*, Reggie Young*)

Muscle Shoals Horns
(Harrison Calloway*, Ronnie Eades, Charles Rose, Harvey Thompson)

"The Players"
(Eddie Bayers, Paul Franklin, John Hobbs, Brent Mason, Michael
Rhodes)

Owen Bradley*

Billy Sherrill

Bob Taylor

* posthumous family
accepting award
# # #
PHOTOS:
Left to right: Jeff Cook, Teddy Gentry and Randy Owen of Alabama. Photo credit: Royce DeGrie
Left
to right: Joe Chambers (founder of the Musicians Hall of Fame) and Don
Everly of the Everly Brothers. Photo credit: Catrina Engelby
Left to right: Steve Wariner and Garth Brooks perform at the Musicians Hall of Fame. Photo credit: Royce DeGrie
Michael Connolly accepting medallion on behalf of his brother Patrick Connolly of the Surfaris. Photo credit: Catrina Engelby
Felix Cavaliere of The Rascals. Photo credit: Catrina Engelby