LARRY GATLIN REMEMBERS FORMER FIRST LADY
BETTY FORD ON WEEKEND FOX & FRIENDS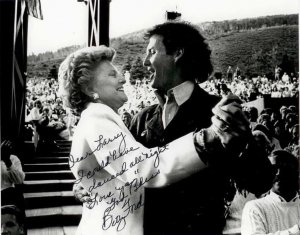 Gatlin Credits Ford for Sobriety, Saving Life
Nashville, Tenn. (July 9, 2011) – Tomorrow morning, July 10, on the weekend edition of the Fox News Channel's Fox & Friends, country music star Larry Gatlin remembers Betty Ford, former First Lady and wife of President Gerald Ford.
Gatlin, a recovering alcoholic and drug addict, credits Ford in helping him reach sobriety and ultimately, for saving his life.
"By her actions and her example of sainthood, I am alive today," notes Gatlin. "Miz Betty, as I called her, was the one who made it OK for us drunks to 'come in from the cold.'"
Ford passed away yesterday at the age of 9
3.
Read Gatlin's Betty Ford remembrance commentary HERE.