LARRY GATLIN AND BILLY DEAN TAKE ON TERRORISTS IN
NEW SONG, "AMERICAN WITH A REMINGTON"
In Less than 24 Hours, Video Reaches Over Five Million on Facebook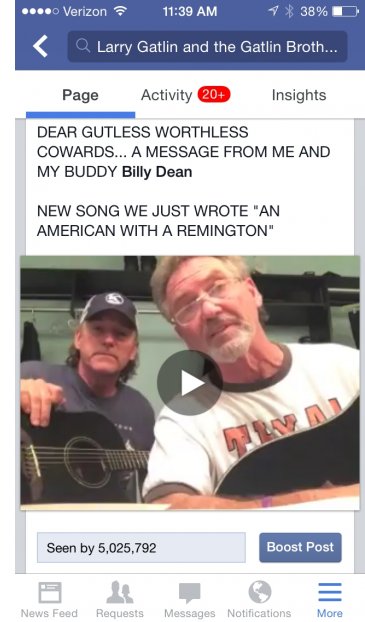 Nashville, Tenn. (October 1, 2014) – Yesterday, while in between shows in Branson, Missouri,
GRAMMY® Award-winning
country music singers
Larry Gatlin
and
Billy Dean
got together to write a song about an issue weighing on their minds.
The recent beheadings of innocent people prompted
Gatlin and Dean to pen "American With A Remington."
The song was written in just a few hours and an acoustic video
performance of the tune was immediately uploaded directly to Facebook.
In less than 24 hours, the video has reached more than five million people.
"Folks
are stirred up about this stuff and they should be," says Gatlin.
"These gutless, worthless terrorist cowards are attacking innocent
people and we as a nation won't stand for it. We're pissed off and we
hope this song delivers a message to the bad guys."
Dean
adds, "The feedback we have gotten from this song has been overwhelming
and with good reason. It has reached over five million people on
Facebook in just a few hours, which tells us something about the
temperature of the situation. People are mad as hell and t
here's an army of Americans who know how to use a gun and who respect life, liberty and the pursuit of happiness."
View the acoustic performance of "American With A Remington" on YouTube by clicking HERE.
In the days to come, Gatlin and Dean are planning to record a studio
version of the song and release it through iTunes and other digital
media platforms.