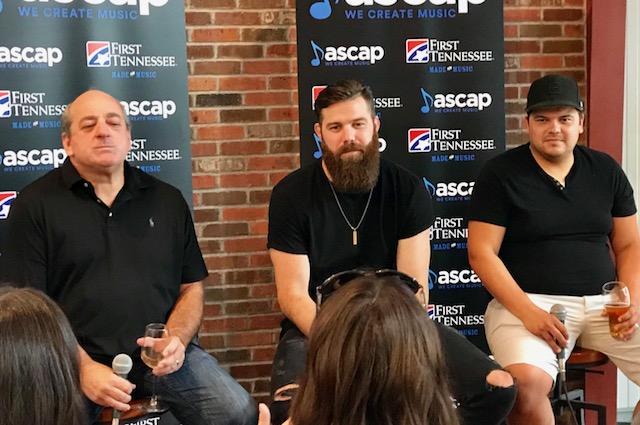 Jordan Davis Interview by Preshias Harris for Country Music News International Magazine & Radio Show
Jordan Davis and his co-writers got
together with music industry colleagues and friends to celebrate a Number One.  But it was a unique celebration in more ways
than one.  'Singles You Up' topped
Billboard's Country Airplay charts in April, triggering the Number One party,
held Monday, July 30, at Nashville's Fat Bottom Brewery.
Additionally, Davis was presented with plaque
marking RIAA's certification of the song's Platinum status. During the
ceremony, it was also noted that 'Singles You Up' has already chalked up more
than 200 million streams.  Adding a
cherry to that sundae, Country Aircheck stated that 'Singles You Up' was the
'most played' track on country radio for the first half of 2018.
Remarkably, this was his single release,
making all the song's achievements even more unique.
Davis was joined by his co-writers, Justin
Ebach and Steven Dale Jones, during a press session prior to the presentation.
I asked all three of them if they had left the writers' room knowing they had a
hit with 'Singles You Up.' And could they have imagined scoring 200 million
streams?
'You know you've got something'
"When I had my first hit, they didn't have
streams," said Steven.  "I remember
loving it ['Singles You Up']. I remember getting the demo and playing it for my
wife, and that's usually the key.  I play
her five songs a year and I write a hundred and fifty. So that's when you know
you've got something."
Justin had a similar story.  "I think I was telling my wife last week," he
said.  "I wrote 'Sleep Without You' for
Brett Young which was a big hit and, once again, a first single on a new
artist, and I literally told her last week – I was playing a [writers'] round –
and I was like, 'Singles You Up' is bigger than 'Sleep Without You.'  I mean both are great, I'm grateful for both
of them. But this song has just taken on a crazy life. The speed of it and just
how much people are holding on to it… So, no, I don't think I imagined this!
[laughs] You asked if it had happened before and I'm like, kinda, but not like
this."
'I didn't want to screw it up'
Jordan had vivid memories of the writing
session.  "That day, that write was, A.,
getting to see Justin again, because we've written before. And B., trying not
to have [Steven] not write with me again. I didn't want to screw it up,"
he recalled.  "I knew the name Steven
Dale jones and I was nervous. I was up early. I was trying to come up with
something to bring to the room and show that I'm not just in there for him to
write me a song. I've never told him this, but that was the goal of that write.
And what came out of it was ten times more than me just walking in and being,
like, 'all right dude, show Steven Dale Jones that you can write a song.
Please, just do that.' So definitely, it exceeded my expectations."
Justin noted that he writes with a lot of
artists but it's great to work with artists who know their phrasing, they know
their lyrics they want to say.  "Not
every artist can do that, and that's just a testament to him," said Justin. "As
much as 'Singles You Up' was a collective and a group thing and may not be
totally always the lyric he would say, it's definitely come out that, looking
across the album, his phrasing is in there. His melodies are in there, his
lyric is in there. That doesn't happen for a lot of artists."
'Take It From Me' climbing charts
The follow-up single, 'Take It From Me,' is
already charting. (#38 for the week of August 4, Billboard Country Airplay
chart.) Jordan recalled that there was a lot of discussion about which song
would be his first single: 'Singles You Up' or 'Take It From Me.'
"I've said this from day one, I fought
pretty hard for 'Take It From Me,'" said Jordan.  "That's why we have people that we trust in
our corner. I've got people that I trust like crazy and they were a hundred
percent right.  I think 'Take It From Me'
is a little bit more 'me' lyrically, and I think you can see a few more of my
influences on some of those lyrics."
This may be Jordan's first Number One, but
it is no overnight success.  He came to
Nashville to be a songwriter and spent several years co-writing and honing his
craft. "The artist thing was something that came along, I think, after
struggling to get a publishing deal to be honest with you," he admitted.  "I felt that I had a specific way that I
wrote songs and a unique way that I delivered them. It just so happens that I
found some people that wanted to take a chance on me and make a record."
Both 'Singles You Up' and 'Take It From Me'
are taken from Jordan Davis' debut album, 'Home State (MCA Nashville).  The album, produced by Paul DiGiovanni, was
released in March 2018. Jordan co-wrote all twelve tracks. Music and more at
Jordan's website.  https://www.jordandavisofficial.com  See the official 'Singles You Up' video at
YouTube here. https://www.youtube.com/watch?v=0hjqGN-9anA
PHOTO CREDIT: Catrina Engleby /
NashvilleMusicLine
# # #