JEFF BATES SET TO RELEASE CONWAY TWITTY
TRIBUTE ALBUM, ME AND CONWAY
Loretta Lynn Joins Bates on Newly Recorded Version of Classic Duet,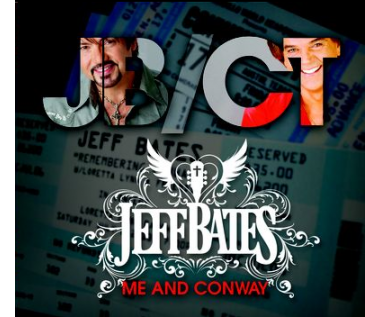 Nashville,
Tenn. (October 14, 2014) – For years, radio DJs and the country music
industry have raved about the vocal similarities of country singer Jeff Bates and the late Conway Twitty. On November 11, 2014, Bates will finally satisfy those who have said it for years, when he releases ME AND CONWAY (Sony RED / Red River Entertainment), his tribute to the country legend.
"People
always told me I sounded like Conway and though I never agreed, I
always took it as a compliment," explains Bates. "I think it's because
we were both from Mississippi, enunciated similarly and we both have
that gravel sound in our voices. In 2002, when I met with Joe Galante
and Renee Bell at RCA for the first time, I performed 'Long Slow Kisses'
and 'I Wanna Make You Cry' for them and I learned that Renee had been
Conway's A&R rep at MCA and she had called the meeting to find out
who the guy was that reminded her so much of her friend, Conway. I went
to great lengths to explain that I really didn't sound as much like him
as she thought I did and if she would just A/B our voices side by side
and listen she would hear huge differences. She just smiled her sweet
Renee smile and said, 'Honey, it's not a bad thing at all. Yes, you
sound like you but when you sing I hear Conway's soul in your voice!"
It
was a battle Bates would continue to fight at radio for years.
He heard, "You sound like Conway Twitty" and even "You sound too much
like Conway Twitty!" Finally he decided to let it go. "If people
wanted to think that I sounded like him then so be it," he says. "I
could spend my life arguing about it or I could just continue to write
songs and sing what I felt. Then about three years ago I decided I
would 'own it.'"
Bates
decided to record a new album with six Conway songs and six others so
that fans could hear the differences and similarities for themselves.
On Me and Conway, Bates has included renditions of Conway Twitty classics, "Don't Take It Away," "Lost In The Feeling," "I'd Love To Lay You Down" and "That's My Job."
Bates was honored beyond comparison when Country Music Hall of Fame and Grand Ole Opry member Loretta Lynn agreed to sing with him on her classic Conway duet, "After The Fire Is Gone."
Lynn, who has not recorded the song with anyone since the original
version with Conway, agreed after she heard Bates sing the song at her
Hurricane Mills Tennessee Ranch annual Conway Twitty Weekend. It's been
43 years since the song was released in 1971 when it went to Number 1
on the charts for two consecutive weeks. Now, more than four decades
later, the song will be heard again, introducing a new generation of
fans to one of the greatest country music duets ever recorded.
Lynn
says of Bates, "He is one of the best singers I've ever heard in my
life. I love him and Conway Twitty would have loved him!"
"Conway
just always seemed to say the things I needed to say or wanted to say
when I couldn't find the words," says Bates. "I would sing his songs in
nightclubs and at shows throughout my career because those songs, his
songs, meant something to me personally. I never met the man but he
absolutely had a major impact on my career. I hope he would be proud of
this tribute to him."
Me And Conway Track Listing:
4. She's Got A Single Thing In Mind
6. I'd Love To Lay You Down
11. Heaven Is A Hell Of A Woman
12. After The Fire Is Gone (duet with Loretta Lynn)
Signed to RCA Records in late 2002, Jeff Bates released his debut album Rainbow Man in May 2003. A second album, Leave The Light On, was released in 2005 on RCA. The album was followed by Jeff Bates in 2008 on the independent Black River Entertainment. Bates' two RCA albums accounted for seven chart singles on the Billboard country
charts, of which three reached the Top 40: "The Love Song," "I Wanna
Make You Cry" and "Long, Slow Kisses." Bates has been active in his
works of compassion, collecting for organizations such as Toys For
Tots and others. In 2005, a concert in Hattiesburg, Mississippi raised
$25,000 for Hurricane Katrina relief in his home area.