It Ain't Over: Out Of The Shadows: Mom Signs Record Deal At 55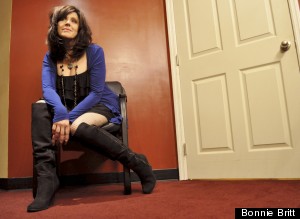 By Lori Weiss
From the time Etta Britt was a young
girl, she was singing back-up for Diana Ross. It's just that Diana
didn't know it. Because Etta was in front of her bedroom mirror in
Louisville, Kentucky — hair brush in hand, as a microphone, of course
— pretending she was one of the Supremes.
"I'd stand there for hours," Etta
laughed, "and pretend I was on stage. And my brother would come in and
tease me and I'd throw the hairbrush at him."
But Etta showed him. She went off to camp
in sixth grade and decided to sing a song in the talent contest and out
of 16 acts, Etta took first place.
"That was the moment I fell in love with
singing," she recalled, "the moment that I knew it was the only thing I
wanted to do with my life. That trophy they gave me — that was my
Grammy."
So no one was surprised when Etta was
chosen to be part of the Kentucky All State Choir or even when she ended
up on stage at the American Music Awards, as part of Dave and Sugar, a
country music trio, best known in the 70s for songs like "The Door Is
Always Open" and "Tear Time."
"I had just joined Dave and Sugar two
weeks earlier," Etta said. "I finished unpacking the U-haul truck and
settled in and there we were up on stage presenting an award. I had 15
steps to walk down in this long gown and all I could think was please
don't let me fall down these steps. That was not what I wanted everyone
in Nashville to think about when they heard the name Etta Britt."
Etta made it down those steps just fine
and went on to become known not as the girl who tripped on the stairs,
but as an important part of a successful country music group. Her star
was rising on the Nashville scene — until Dave decided his could shine
brighter if he went out on his own and began a solo career — "Sugar
free."
"At that point, I didn't really know many
people outside the band," she said. "But I started making demos and
knocking on the doors of record labels. I did back-up sessions and some
jingles, just trying to get something going."
But in the meantime, there was something
else going on: Etta had fallen madly in love with her husband Bob Britt,
a guitarist, and the two married and started a family.
"We were struggling musicians," Etta said
sadly, "with two little babies and no money. Something had to give, so I
gave. I took a back seat so Bob could get his guitar career going."
So while Bob went on the road with groups
like The Dixie Chicks, John Fogerty and Wynonna, Etta watched over
their daughters Hannah and Bonnie and did what she could to make ends
meet. She waited tables, cleaned homes and sold real estate, but through
it all, she took every opportunity she could to do a recording session
or sing back-up for groups that were performing in Nashville.
What she couldn't have known was that, 20
years later, one of those artists she backed-up would circle back and
put her center stage.
"I thought maybe they were starting a
publishing company," Etta said with a grin, "and they were interested in
one of my songs. So, when Sandy said she had an ulterior motive in
asking me to lunch, I wasn't all that surprised.
"But then she said they were starting a
record label — to give a home to artists who were a little bit older,
who they thought never got their shot — and they wanted me to be the
first person they signed. I had to look around to see who she was
talking to! I wanted to do cartwheels around the room!"
The women were, indeed, starting a new
label and calling it Wrinkled Records. But they don't define "Wrinkled"
in the way one might think. Sandy and Katie, who are both over 50, see
their label as the latest wrinkle in the ever-evolving music business —
music that's ageless.
"Before I knew it," Etta said, "I was in
my first pitch meeting. There I was in the big chair and people were
playing songs they wanted me to record!"
And these weren't just any songs. Even
singer/songwriter Michael McDonald was sending over music for her to
consider. And two of his songs are on Etta's new CD, "Out of The
Shadows," right there next to songs she wrote herself -– "Quiet House"
and "She's Eighteen" — which speak to the empty nest she and Bob are
sharing now that the girls have moved out on their own.
"Those are real tears you hear when I'm
singing those songs," Etta said. "Hannah and Bonnie have turned out to
be amazing women and they're off charting their own course. And now I'm
doing the same. It's all timing. I'm a real believer that things happen
when they're supposed to happen — in their own time."
And they're happening in the way the
couple first hoped they would, early on in their careers. Etta is
singing and Bob is right there on guitar. He also produced her CD,
bringing in many of the musicians he's been performing with for years.
And now they're on the road together, touring with Delbert McClinton and
Paul Thorn.
"When I walk out on stage, I often say
'You're probably wondering who I am. Well, I'm a 55-year-old woman who
just got her first record deal.' And I get a standing ovation.
"Just like the title of the CD, I feel
like I'm coming out of the shadows," Etta said with a tear in her eye.
"And now I'm showing my daughters that it doesn't matter what your age
is — you can still make your dreams come true."
Etta Britt with be on tour with
Delbert McClinton this summer, beginning July 27th at the BB King Blues
Club in New York. To find out when she'll be in a city near you, you can
visit EttaBritt.com. Her new CD is available on wrinkledrecords.com,amazon.com and itunes.com.