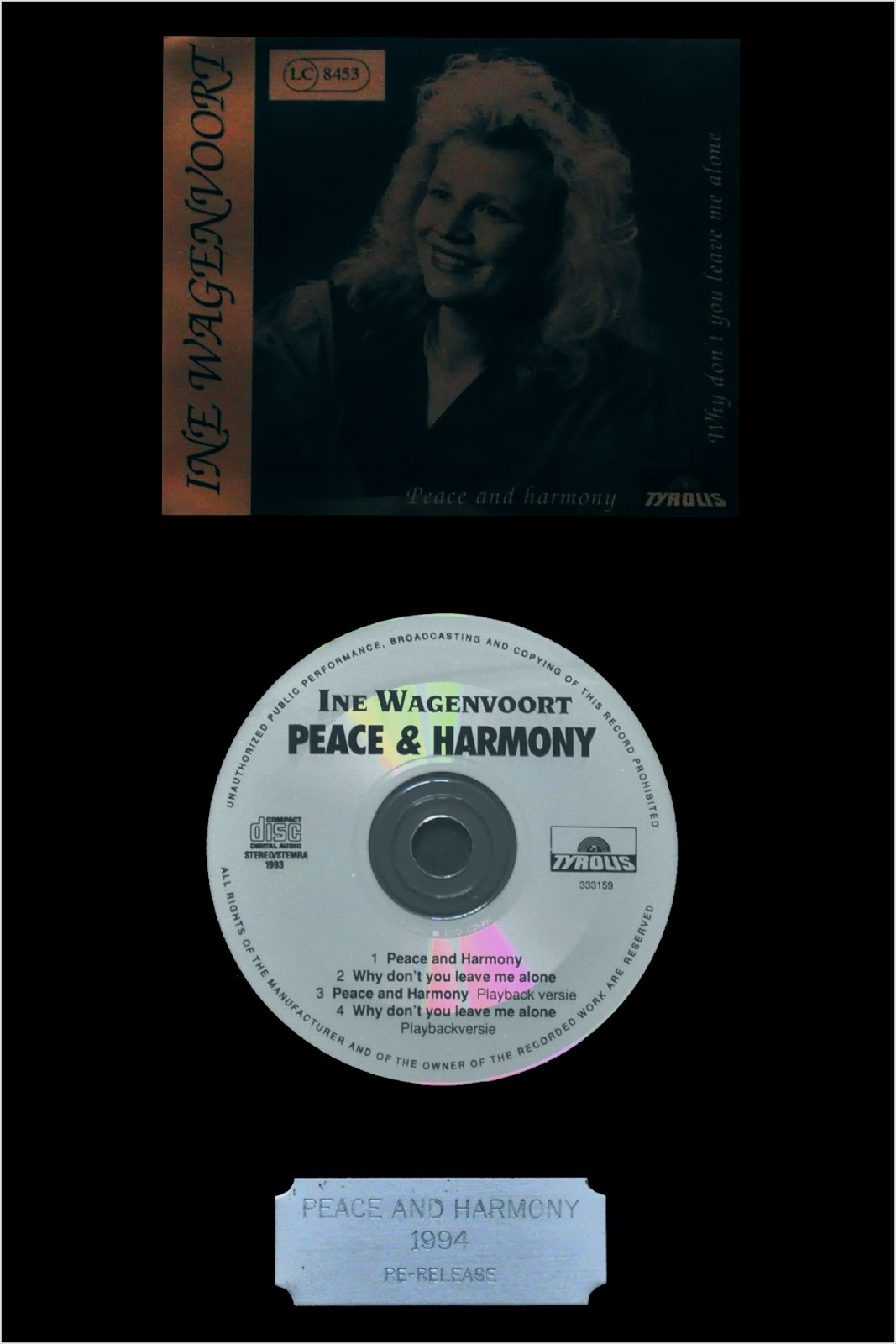 An Interview with Oscar Award Winning Star Singer Ine Wagenvoort from
the Netherlands
By Ismaila
M.S.Naban,The Gambia, for Country Music News International Magazine & Radio Show
Netherlands
Singer, Madam Ine Wagenvoort, and her Digital Face Art Artist, son, Mr. Robin
Wahenvoort Artist, are acclaimed winners of multiple international awards in
their respective disciplines.
In this
online interview with Journalist Mr. Ismaila M.S. Naban, alias Nabs, of The
Gambia, West Africa, the country Singer tells us about her singing career,
which started at tender age; and her parents, among other things.
Good
morning Madam Wagenvoort. Can you please tell us a little about yourself?
I was born
on the 28th of March 1959 in Warnsveld, a small town near Zutphen in the
Netherlands. As a baby, I was always smiling, cheerful and singing the whole
day. As a toddler, I already told my parents, what I wanted to be in the
future:
a singer
! At that time my parents had their own family band called "The White
Stars", and made Hawaiian music. My mother was the singer of the band and
my father accompanied my mother on the guitar while my uncle played the steel
guitar in the band. I grew up in a very musical family. It was, therefore, not
surprising that at the age of four I already began singing children's songs,
accompanied by my father on the guitar. We practiced every day and I always
tremendously enjoyed this study hour and it made me very happy. My father
was working as a psychiatric nurse at the P.C. Borsthuis in Hengelo in the
Netherlands. Later this name would be changed to Trivium. One day, the director
of the nursing home asked my father, if I and his other guitar students, would
give several performances for the very old and sick patients who felt so bored
and very depressed. Of course, we accepted and so it happened. It was rewarding
and it was the beginning of my singing career. We performed successfully for
many years in the nursing home.
At the
age of 18, I met my future husband, who was also in the music business. Shortly
after this we married. I perfomed singing, accompanied by my husband on the
guitar. We won many prizes in talent contests throughout the country and gained
more fame. Meanwhile, me and my husband also became the proud parents of
two beautiful daughters and a beautiful son. Our happiness seemed te be ever
lasting.
I saw
these wonderful children, as a culmination of the love between me and my
husband. But one day – my daughters must have been about 3 or 4 years old and
my son 9 months old – my husband left me for another rich woman. The
world collapsed for me and at that time I seemed inconsolable. But I fought
back and I started now with solo performances and in addition to that writing
and composing my own songs. It was the Austrian Record Company Tyrolis that
discovered me. They were very much impressed by my voice timbre and found that
my voice was much reminiscent to the Canadian Country and ballad singer Ann
Murray.
In the
year 1993, my first single CD "Peace and Harmony" was released in the
Netherlands and obviously I was very proud. On the CD there were two
selve composed songs about the terrible war at that time going on in the Former
Yugoslavian Republic. It was my emphatically wish, that in cooperation with the
Dutch Red Cross, all the revenues of her newly released CD single would benefit
the war victims of the Former Yugoslavian Republic. And so it happened that I
gathered 10.000 guilders for food,
clothing and medicine for the poor people.
Meanwhile,
I got fantastic reviews in newspapers, especially in the Dutch Country Magazine
called Country Gazette. I received throughout the country invitations to
perform. As a result of my success, the Austrian record company decided
to release an entire album with the title:"For my Friends." I
composed seven original songs for this album, that first came out in 6 European
countries but now is being sold globally.
In
Austria, the first song from my album titled "Turn around" was
a big hit. I was also nominated in 1994 as the most promising talent in the
Country Scene and best country singer of the year. In 1997 there was a Dutch
record company called "Ivory Tower", that recorded wit me a CD with
the title "Als een Fata Morgana". Again, I composed, together with my
producer two Dutch and German songs. Meanwhile I noticed more and more how hard
it was for me to combine motherhood with my singing career as a single mom. I
finally decided to give priority to the first and to educate my three children
and yet only temporarily, stop my singing career.
At this
time my children are adults and go their own way and this gives me space to
restart my singing career. I now perform quite a lot in Germany and the
Netherlands as a country singer with a successful, swirling country show at
weddings and country parties and at any other party. On 4 December 2012,
my new CD-Single en DVD has been released and is called: Keep your head high.
The music and Lyric is by Erik van Egmond. This song was dedicated to my son,
Robin Wagenvoort, who became seriously ill years ago. Fortunately, Robin
is recovering and you can watch him in the video clip while he is playing the
steel guitar. I wanted to cheer Robin up by singing this song for him and
giving Robin a lot of strength and courage.
I have
been nominated twice for the European Golden Country Oscar 2013 and the
European Country Music Euro Masters 2013!
In 2018,
I finally received my first International Golden Oscar by the Art and Culture
Organisation Costanza in Italy for my lyrics and singing.
What
motivated you into singing, especially country Music?
As I
said, my parents had their own band and played Hawaiian music. My father and my
uncle have visited Indonesia and lived there for a long time and loved besides
the Hawaiian music also Country music. Indonesia also loves country music. My
father always played country music at home or listened to this type of music a
lot at his long-playing record, so I also got the love for this style of music
too. He listened a lot to the music of Johnny Cash and Jim Reeves but also
loved Blue Grass music.
How long
have been singing?
I have
been singing since my fourth age.
How many
Albums, if any, have you released?
I have
just released one album called For My friends and 5 cd's.
What are
the successes you registered in your career?
My first
CD I released in 1993 called Peace and Harmony of which the lyrics and music
are mine, in which I donated 10,000 guilders in royalties to the Dutch Red
Cross, for the war victims in Yugoslavia, for food, clothing and medicines.
This was for me in a spiritual way of succes for helping people who where
damaged by war.
In 1994
my own written ans composed song : Turn around was a big hit in Austria.
In 2013,
I have been nominated twice for the European Golden Country Oscar and the
European Country Music Euro Masters 2013.
In 2017, I
had for two months a huge hit in the USA at the Radioprogram of Mr. Jerry Mac
at Nashville.
In 2018,
I received my first International Golden Oscar and The World Directory of
Artists Award of the Italian Art and Culture Costanza Foundation for my Lyrics,
and singing and in that same year, I received The International Talents and
Professional Award from the same organisation.
Can you
tell us about the awards you won?
As I told
you already in 2018, I received my first International Golden Oscar and The World
Directory of Artists Award both awards came from the Italian Art and Culture
Costanza Foundation by Mary and Alessandro Costanza, and in that same year
also, I received The International Talents and Professional Award from the same
organisation. This was a great honor to be able to receive this from an art and
culture organization with a lot of prestige on a world level. It is a pity that
the Netherlands has never given me such a rating.
Which of
your songs are considered more popular?
Ofcourse,
my ballads songs but when you perform, you cannot only sing ballads because
otherwise people fall asleep; so I also have a lot of danceable music such as:
Turn around, Ticket for a Midnight train, I still Miss some one etc. etc.
How
appealing is your music to Americans? Do you have listeners beyond US and among
the young generation?
The
Americans love my music. At this moment, I have been offered beautiful new
modern country songs that have not yet been released by leading composers from
Nashville. It is a new kind of country music with a POP content and a nice
beat. As you can see, there is still a lot of work ahead but I do it with a lot
of love. I was born to be a singer just like my son Robin was born to be an
artist as well. He makes beautiful carved faces and has already won more than
20 International Awards and two golden oscars and I am very proud of him.
What are
the challenges you are facing in your musical career?
The
challenge for me is to show that I am able to sing not only country music but
also other styles of music. At this moment a new CD has just been released by a
German Record Company called J.T.M. Records with two German Schlagers with the
title: Du bist der Mann meiner Traume and Wie eine Fatamorgana, lyric and music
are by Ine Wagenvoort and my former producer Herman Bultman.
Your new
CD is out. Can you tell us a little about it?
There is
a big German TV program called immer wieder Sonntag that has shown interest in
my music and and my new CD and it would therefore a great honor and also a
breakthrough in my music career as a singer I will be invited to perform there
next year for television.That seems fantastic to me and that's how the German
public can get to know me for the first time. I would love that so much.
What
future musical projects do you have?
Releasing
new country CDs in the direction of Nashville and breaking through to Germany
with beautiful new modern pop schlagers. And then I wait and see what is most
appealing to the fans. Maybe both of them catch on and I don't have to make a
choice in the style of music that are both dear to my heart that would be
great.
What is
your message to the Fans?
Music has
a message, and when I perform, I feel happy and want to give love to my fans.
My message to my fans is: enjoy every day and enjoy my music because life lasts
only a short time. Enjoy it every day. I love my fans.
Thanks
for talking to us.
It is a
great honor and pleasure my dear friend Nabs; you are my best friend. I really
do hope you like my answers. Warm regards and hugs from your Dutch friend Ine
Wagenvoort.
You're
welcome. Keep it up, Ine Wagenvoort.