Eric Burgett Interview
by Savina Todorova for Country Music News International
Eric Burgett is paving his own trail of stand out country music with 88 keys. Growing up on the family farm in Latham, Illinois, Eric 's career began when he started performing on an old upright piano at his parents tavern … The KORN KRIB. Family, farming, and Hometown memories are the inspiration for Burgett's music. His radio single "Sometimes Late At Night" was released August 21, 2020. And his digital streaming release "New York" was made public January 1, 2021. Eric's previous radio single "Swing Low, Sweet Old Cadillac" peaked at #28 on the Music Row Country Breakout Chart. The debut extended play "Pass It On" was released August 2019.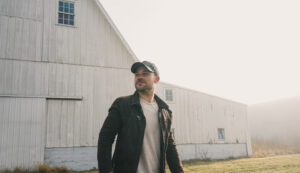 When was the last time you performed on stage with fans and audience?
This past weekend in Orlando, FL at Ole Red. I played an acoustic show.
When is your last CD and how's it doing?
I've been releasing more singles lately (every 6 weeks) and we've had a really great response.   I'm excited to be putting out more new music this year for my fans!
Do your fans mob you everywhere you go or do they respect your privacy?
I wouldn't say "mob", but overall I feel like they respect my privacy.
Many music fans today get their information about artists online.  Do you have your own website and what will fans find there?
Yep! www.ericburgett.com is where you can find all info about me and my music. My fan club keeps on growing everyday and I'm appreciative of folks who take the time to join. If you join my fan club, you'll be "in the know" of all my upcoming releases, music videos, and other fun content!
Tell us about the fan club and how people can join it.
On my website you can click on the button that says "Fan Club" and be added to the mailing list and get first-hand info about new releases and all-things Burgett!
What is the best compliment a fan has ever given you?
"Your music gets me through tough times…" I hear this a lot via social media, emails, messages. The fact that my songs can be an inspiration to folks is such an awesome feeling. I write songs from an optimistic angle and I think that has something to do with how a song can brighten up someone's day. I love hearing from fans. Please, keep sending me messages and keep up with me on my socials! Love to hear from you!
What's your favorite song that you wish you could have recorded?
"Walking in Memphis" by Marc Cohn. First of all, I enjoy playing the piano part. Once you hear that opening piano part, it seems so iconic and timeless, along with the lyrics…"I put on my blue suede shoes, and I boarded the plane…" the song takes you on a journey through one of the most important historical/ musical/unique towns out there and I feel he same sort of emotions every time I sing it at my live shows. It has been fun sharing my rendition of "Walking in Memphis" and follow in the footsteps of artists like Lonestar, Cher, and others who have done the same.
What message would you like to send your European fans?
Thank you, Thank you for supporting my music from all the way over in Europe. It means a lot that my music can travel that far and be an inspiration to y'all. Thank you, Thank you, THANK YOU for supporting my music from all the way over in Europe. It means a lot that my music can travel that far. My #1 goal for when I put music out is that it can hopefully resonate with folks anywhere from all backgrounds of life. I hope to make it over there to perform for y'all soon. Email me some of your favorite venues you love to hear love music at and I hope to plan a tour in the next year!
Fans are always hungry for good road stories.  Do you have one you can share with us (come on don't be shy)?
Other than getting stranded on tour out in the dessert, I got nothin! It was a pretty eventful time, that's all I'll say 🙂 I used to play keyboards on the road for another country artist and we were playing shows out west one summer. We got stranded on tour out in the desert on our way back to Nashville. You never know what can happen out on the road! It was a pretty eventful time.
Describe what a perfect day is like for you?
Any day I get to wake up and work on music is a perfect say 🙂 THE perfect day is any day I get to wake up and work on music, write a song, come up with song ideas, work on the next lyric/music video. Being a creator is such a fun thing to do in today's world because there are so many ways to connect with people via technology. The possibilities are endless with Instagram, tiktok, etc. I'm always thinking of the next move 🙂