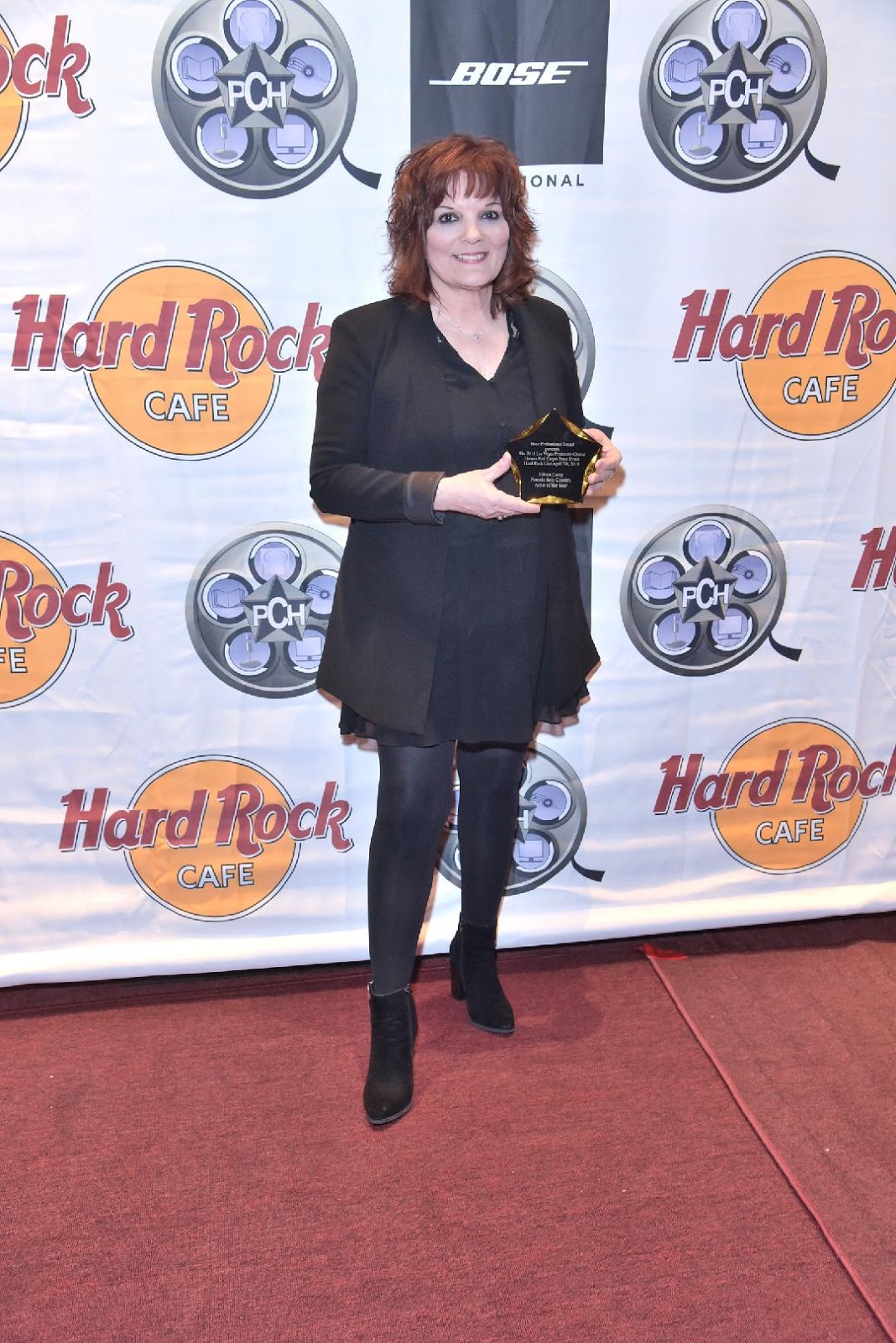 Indie Country Pop Star Eileen Carey Continues Her Unprecedented
Rise to the Top. Awarded Las Vegas Producer Choice Honors Award April 7th!
(Actress
turned singer adds another voice. Her TheMusicMom.com advice and
support blog site. "Another opportunity to give back," Carey says.)
California country-pop singer-songwriter
Eileen Carey, the Los Angeles Music Award's Female Country Artist of 2017 and
New Music Weekly's Country Breakthrough Artist of the Year 2018, received
her third award of 2018, the Las Vegas Producers Choice Honors Award for Female
Solo Country Artist of the Year a couple weeks ago at the Las Vegas Hard Rock
Café, on April 7th where she performed her popular Good
Bad Girl set to an approving industry full house.
"Carey—a little bit cosmopolitan, a
little bit country, a true musical chameleon, blending pop and rock and country
influences with ease. Fans have recognized Carey's star-quality for years, but
now the critics are starting to take notice as well. – ElmoreMagazine.com
Indie Carey's sky-rocketing career can
be called unprecedented as the performer regularly matches the draw of the
iconic acts she has been sharing the stage with. She regularly tops New Music
Weekly's Country, AC/Hot AC and Top 40 Charts, and in 2017 NMW awarded her the
2017 Crossover Artist of the Year for her .
Eileen Carey has had one of her best years to date. We have to
give her big congratulations as her Good Bad Girl pulled off some amazing chart
success from country to mainstream. (Buck McCoy, New Music Weekly, Dec. 2017)
Eileen has a couple of Nashville dates
coming up, "my home away from home," the singer says. She is
performing at the Nashville Sync Summit on the 18, 19 of May, her performance
last December at Mark Frieser's Hollywood Sync Summit landed her a sync
shopping deal with Rinse-the-Sync in the UK. "It is something that I am
looking forward to," says Carey, "there is nothing that expands your
brand and increases your profile in the world of music today, then film,
television and advertising."
Another date that has Eileen excited is
her sharing a stage at the Whiskey A-Go-Go with Willie's kid Rayleen Nelson on
July 6th of this year. "I wouldn't have thought that I'd get a chance to
share a stage with Rayleen at the Whiskey, but I am exciting to meet her," says
the songstress also known for her incisive blog called the music mom
(themusicmom.com) for entertainers that are raising children.
"My Music Mom advice blog keeps
growing. I have spent more time on it this past year, and it seems to be
bearing fruit," Eileen says. "When I am not blogging myself I bring in articles
and ideas from around the parenting campus. " Whether posting from other
sources as a recent Billboard.com news piece on the value of music therapy, as
the Academy of Country Music recently honored, to a piece from WeHaveKids.com titled
Healing the Hurt From an Emotionally Absent Mother, or a direct blog from my
experience, the site continues to resonate with a growing audience. "The world is
filled with ups and downs," she says of her blog's mission, "so I want to
help people see things in a more positive light and find a better place in
their lives."
Sources say the hitmaker will be releasing a new single this coming month. We fans eagerly looking forward to it!
The singer offers a downloads on
NoiseTrade.com in exchange for your subscription to her newsletter. An email
address.
Eileen Carey Interview in the Huffington Post 2017 http://www.huffingtonpost.com/entry/590a77a1e4b03b105b44bf33 Cover story in the Pasadena Weekly 2017 https://www.pasadenaweekly.com/2017/02/16/breaking-big/e Grab the music https://noisetrade.com/eileencarey/good-bad-girl