Dick Flood Interview Part 5
by Christian Lamitschka for Country Music News International Magazine & Radio Show
Dick Flood Interview Part 5 by Christian Lamitschka for Country Music News International Magazine & Radio Show
Lamitschka: What hopes and desires do you have?
Answer: Aside my prayers for world peace and global understanding, my 'self' wishes are for my books to be read and my music to be heard all across the world.
Lamitschka: What has been the biggest disappointment in your life?
Answer: As old as I am I have more than one answer to that question;
Careerwise I could start with this one; Way back in 1962 my DICK FLOOD musical career was growing by leaps and bounds. "Another Stretch of Track" was my third release on Epic Records and it had jumped to #20 in the charts. I was really on my way. My next single release was to be a beautiful country style arrangement to my song "I'll See You To The Door", and I believe that it had every chance in the world of going all the way to #1. The country music fans across the nation and all the DJs were primed and ready for that next release. The seeds to my success had been planted.
DICK FLOOD was most definitely on his way to stardom! But the time came to release it and Epic did not release it. I called my A&R man Mr. Jim Foglesong and he said "Don't worry. It's comng out soon". But it didn't get released. I called him again and was told the same thing. "Don't worry it's coming out soon." This went on and on for about three months until I finally realized that Epic Records had dropped me and almost all of their country artists from their roster. Oh what a disappointment that was for me. And what a blow it was to my musical career.
My situation is best explained on page 125 in Chapter 20 in my DICK FLOOD autobiography "My Walk Among the Stars";
"What had happened is this; Epic had signed a young pop singer by the name of Bobby Vinton. His first release on Epic was a song entitled "Roses Are Red My Love" written by Al Byron and Paul Evans. Immediately it jumped into the pop charts and never stopped climbing until it reached all the way to number one. It probably sold over a million records. The powers that be at Epic had decided why fool around with these country singers that may sell five thousand records when we can make millions with Mr. Bobby Vinton. And that is the reason we were all dropped.
To this day I believe that that next release on Epic would have been a smash hit. It was definitely my time. The momentum was there. The timing was right. My fans and country music DJs all across America were ready and waiting for it."
I believe that it is well worth noting here that the title of the song is "I'll See You to the Door" and as recently as 2015 it was used in the popular television series iZombi. And my original demo of it can be sampled on youTube. Just click on; Youtube; Dick Flood "I'll See You to the Door".
Here is a photograph of me with my Epic Records A&R man Mr. Jim Foglesong. Picture was taken during one of our recording sessons in 1962.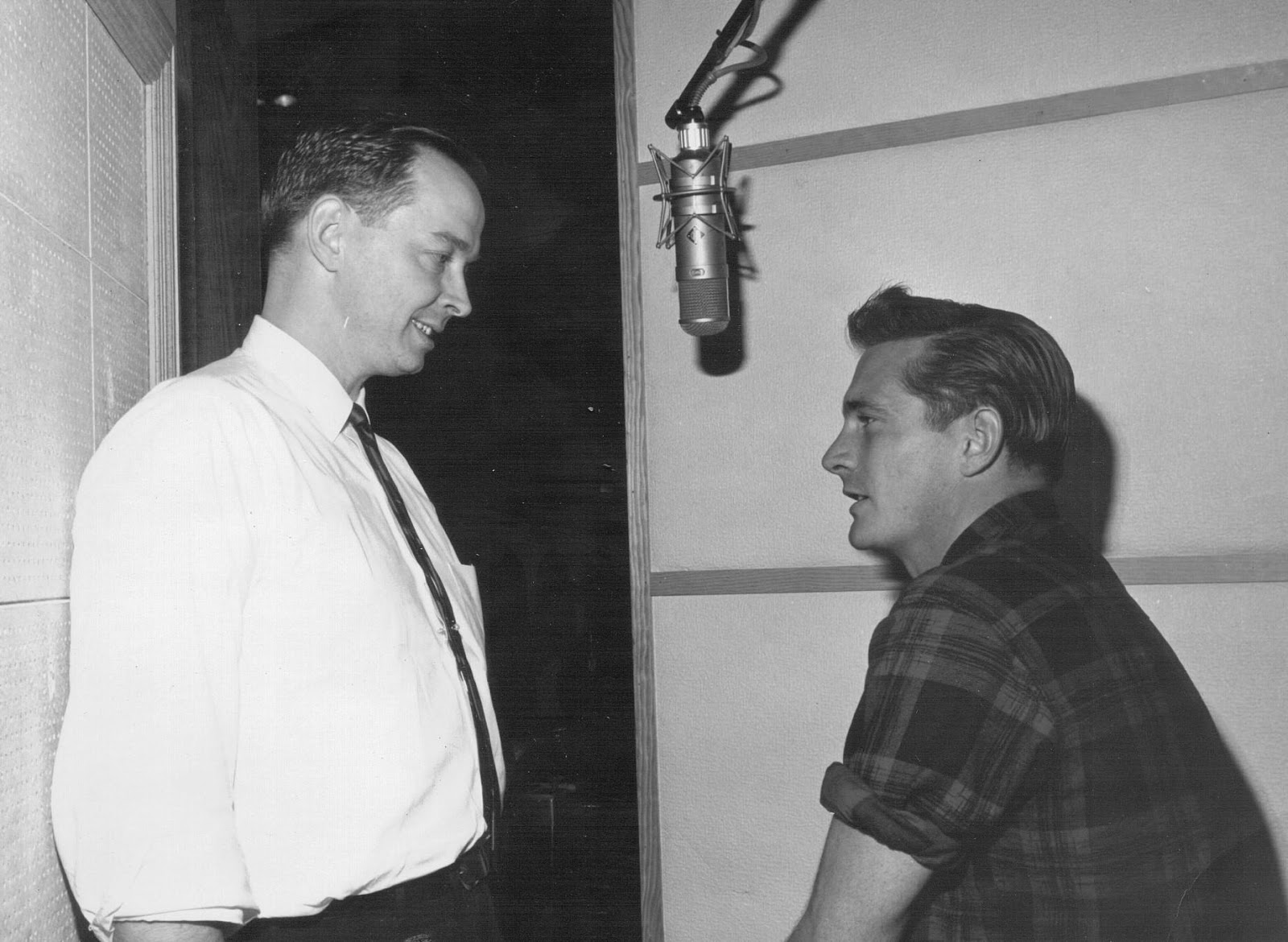 Forty -two years later in 2004 Mr. Jim Foglesong was inducted into the Nashville Country Music Hall of Fame.
Lamitschka Many European fans travel to the United States to attend the several of the music festivals for the opportunity to see so many of their favorite artists, bands and celebrities. Will you be participating and how will the fans be able to find you?
Answer: Because of the corona virus I will not be appeaing very often in public.
Unless it gets canceled I do plan to be doing a few shows at the big Georgia Wildlife Federation's "FISHARAMA"SHOW, Feburary 21-23, 2021
Lamitschka: Is there any place you haven't played that you would like to?
Answer: Maybe I'd like to perform someday somewhere in Merry old England;
Way back in 1956 while on a USO tour of Europe my partner Billy Graves and I were called back early to begin performing as regulars on the CBS Jimmy Dean Television Show. We had been to France, Germany, Italy, Malta, Africa, and our next step would be England. We were called away before we finished that tour. So I never got to see England. Maybe I'd like to go there to perfom someday. I'd also love to go back to Germany. Oh boy! I remember the food and the beer. And I especdially enjoyed the comradery of everyone singing in the clubs at night.
Lamitschka: What can your fans expect to see when they see you in concert?
Answer: Well now, because I have grown so old and some body parts do not function like they used to do I must sit while I do my shows. My fingers do not let me play guitar like I used to but I can strum a little and back up my some of my songs with my big ole' Martin accoustic. But mostly I tell my stories and sing kareoke to the tracks of my songs.
Lamitschka: When you're on tour, do you have time to play to tourist?
Answer: Oh yes and I often did. And it was great fun. Sometimes though a visit to the streets of a foreign land can be downright dangerous. Like the streets of Saigon or North Africa back in the 60s. I was appearing in Casablanca at a U.S. Army Base. My troupe and I had a few hours to kill before showtime and our show's ventriloquist Mr. Alex Houston, and I decided to visit the streets of Casablanca just to see 'what's up'. And to tell the story in detail of what happened that day is the following excerpt from Chapter 5, page 33 of my autobiopgraphy "My Walk Among the Stars";
"At that time the French were still occupying the country and French Foreign Legionaires could be seen in their classy blue and white dress uniforms. Most of the women kept their faces veiled and the people were dressed in traditional Arabic garb just like in the movies. I had never seen a live camel up close before and in the streets of old Casablanca camels could be seen just about everywhere.
Little kids kept pestering us for money candy or food. They would grab our shirt sleeves pulling at us. And we almost had to smack them to make them leave us alone. Then an older man grabbed me by the arm and started showing me fake gold plated braclets and other jewelry that he was selling. I remember thinking that maybe this guy could tell me where I could find some more Turkish wedding bands. So I reached into my pocket and pulled out one of my brand new Turkish wedding bands to show him.
Then suddenly to my complete surprise, quick as a flash and without a word that Arab grabbed the ring out of my hand and jammed it into his pocket! I yelled, "Come on buddy that's not your ring it's mine! Give it back or prepare to do battle!"
I grabbed his arm and began to twist it behind his back as I had been trained to do in the army. With his other hand he drew a huge dagger from under that foul smelling ragged and food stained robe he was wearing! I was forced to let go of him so I could deal with that dagger. All too suddenly it had become a life or death struggle over a simple two dollar Turkish false gold plated wedding band. I was facing him ready to try to take that dagger away from him when thank God a huge Casablanca police man came to my or maybe his rescue!
The policeman spoke very little English but he seemed to understand the situation. He quickly drew his pistol and pointed it at the man's head while demanding that he release that dagger to him. The man complied and in Arabic the officer then told that man to give me back my ring. The man jabbered something in Arabic that sounded very nasty, and he pulled my ring out of his pocket and threw it to the ground.
I all but screamed at him, "Pick that thing up you………..!" But again the policeman came to our rescue. With his one hand holding tightly to the arm of that culprit he very calmly bent down, and with his other hand he picked up the ring and handed it to me.
Then he handcuffed that fellow and took him away. Needless to say Alex and me were very much relieved that the incident was over and that we were both still alive. I never did find a way to get some more of those rings but I guess it's just as well."
That story and a whole lot more may be found in my DICK FLOOD
autobiography "My Walk Among the Stars"
Lamitschka; Do fans mob you everywhere you go or do they respect your privacy?
Answer: I wouldn't say I was ever mobbed but way back in the early sixties during the intermissins of our shows we often held a 'meet and greet' session out in front of the stage. During those times I was usually swamped by pretty huge crowds of especially young women. It was always done respectfully.
Lamitschka: Many music fans today get their information about artists online. Do you have your own website and what will fans find there?
Answer: I have two websites and two Facebooks;
DICK FLOOD's website is www.dickflood.com
and OKEFENOKEE JOE's website is www.okefenokeejoe.com
All of my CDs and books are advertised and available for purchase at both of my websites and both websites are loaded with plenty of pictures and stories.