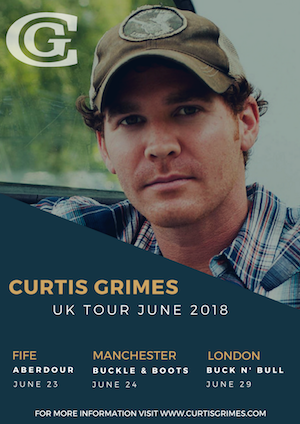 US country singer-songwriter Curtis Grimes has
announced his first tour of the UK this June, with shows in London,
Manchester & Scotland, and more dates to be announced. Grimes, whose
recent single 'Born To Die' became his latest #1 hit on the Texas radio
chart last month, rose to fame among American audiences on season one
of The Voice, and has since had over 14 million streams for his original
songs, building a career as a national touring artist, headlining
sold-out shows and opening for the likes of Aaron Watson and more.
The 2016 full-length collection 'Undeniably Country'
received highly positive reviews in magazines such as Country Music
People (5*) and No Depression, who described it as an album that "most
certainly lives up to its title"; and also includes the fan-favourite
'From Where I'm Standing', written by Thomas Rhett, Chris Janson, and Jaron Boyer (who
wrote Cole Swindell's recent #1, 'Flatliner'); and 'Right About Now',
one of the top five most streamed Texas/Red Dirt singles on Spotify with
nearly 1m plays to date, co-written by Grimes with his producer Trent Willmon (Little Big Town, Cody Johnson, Randy Houser).
In
his own words: "I'm very excited to announce that I will be doing my
very first UK Tour this June. This is something we have been working
towards and it's going to feel good to play some country music overseas.
Looking forward to seeing you there!" Dates are as follows:
June 23rd – The Woodside Hotel, Aberdour (Fife)
June 24th – Buckle & Boots Festival, Stockport (nr Manchester)
June 29th – Buck n Bull, London

Check out the music video for 'Born To Die' and lyric video for 'From Where I'm Standing' here.