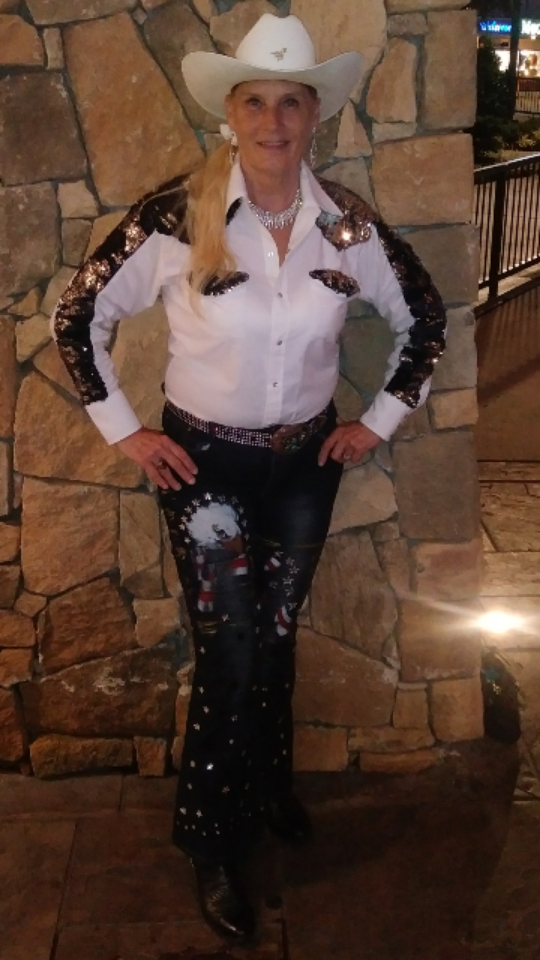 I am Cowboy-Lone, I come from Denmark.
I am a Songwriter and a Traditional/Classic Country singer
I live 13 years in the U.S. A.
I most of all, I enjoy Performing for people.
I love to see the smiles on the faces, and hear the applause when they like my music.
I begin to sing in 1997 on my horse Rico. I have a dream where I set on a horse and sing,
and I start to do it. I have performing in Sweden / Germany / Norway / Denmark.
Now when I come to U.S.A. I have sing in Wild Horse Saloon, Nashville. /
Nashville Palace. TN/Tonight Theater. Pigeon Forge TN / Hot Spot.
Huntsville, Al. / VFW Decatur. Al./ Fraternal Order Of Eagles. Decatur,
Al.
Mexican Restaurant Mi Oaxaca. Huntsville. Al. For 1 year every Friday.
My song I sing, is some of my own /
Other Songwriter's/ and Old Country.
Here is my home page: www.cowboy-lone.com
I like to travel. I have my own equipment.
Here is some complements.
From your friends in Canada.
Violet Campbell.. Campbell Productions and Promotions
I've won the following 36 awards:
Traditional Gospel Female Vocalist Of The Year 2001
Best Of Texas Traditional Country Rising Star Female Vocalist 2001
C.M.O.A. The American Eagle Awards Of Gospel Female Vocalist Of The Year 2002
Best Of Texas International Country Female Artist Of The Year 2002
The Golden Eagle Award For Modern Country Entertainer Of The Year 2002
The Silver Eagle Award For Traditional Country Vocalist Of The Year 2002
The Silver Eagle Award For Modern Country Vocalist Of The Year 2002
Best Of Texas European Recording Artist Of The Year 2002
N.C.M.F Pro – Top – Female Vocalist Of The Year 2004
Best of Texas LLSCMA International Country Music Hall of Fame 2005
GCGMA AWARDS.MOST PROMISING VOCALIST OF THE YEAR * 2009
GCGMA AWARDS.MOST PROMISING ENTERTAINER OF THE YEAR. 2009
GCGMA AWARDS.MOST PROMISING ENTERTAINER OF THE YEAR. 2010
TCMA.TN. AWARDS. MOST PROMISING FEMALE VOCAL OF THE YEAR 2010
TCMA.TN. AWARDS. MOST PROMISING FEMALE ENTERTAINER OF THE YEAR 2010
The Akademia Music Award of BEST COUNTRY SONG: WALKING AND TALKING 2017
The Akademia Music Award of BEST CHRISTIAN/GOSPEL SONG. DEAR SANTA 2017
The Akademia Music Award of BEST CHRISTIAN/GOSPEL SONG. THE LAST FAREWELL 2018
The Akademia Music Award of BEST COUNTRY SONG: A REAL COWBOY 2018 NACMAI. TN. MOST PREMISING SONGWITER OF THE YEAR NEW GOSPEL THE LAST FAREWELL 2015