CMA Music Festival, PSA, Photo Shoot, New Music – All in a Week's Work For STEPHEN COCHRAN PROJECT!
Nashville, TN (June 23, 2011) – Earlier this month, Drive Music Nashville's Stephen Cochran Project (SCP) wrapped up a successful 2011 CMA Music Festival / 40th Fan Fair!

Stephen Cochran Project kicked off the week riding in the CMA Music Festival Kickoff Parade. The week continued with SCP logging in six shows in three days – including a fan club party and two after parties.
SCP's Stephen Cochran also filmed the Blue Star Families "This Country Cares" PSA on Friday. Cochran closed out the week with his favorite part of CMA Music Festival – meeting fans in the Fan Fair ® Hall on Sunday.
"My favorite part of every CMA Music Festival is getting to spend time with the true fans. Our touring schedule doesn't let me go everywhere. The CMA Music Festival experience lets me share time with fans from here and abroad. It always amazes and humbles me to see the amount of fans we have gathered over the years. Our drive is to keep making music that keeps them coming back every year!"
"The CMA Festival is something I've enjoyed as a fan and as an artist. It helped me know how a fan wants and deserves to be treated. At the end of the day the fan is our boss, and we should do everything in our power as artists to make them feel that way."
Immediately following one of his booth signings, Cochran took off running to the Chevrolet Sonic 360 Booth, where he had everyone laughing in stitches as he jumped into an impromptu photo shoot. Upon arrival at the booth, he was promptly handed an outfit, which he happily donned for photos. Minutes after, his photo was made into a rotating 360 video image and shown on the booth's large screen television. Rotating image can be seen here:
http://www.social-gen.com/cma11/?u=f17B
.
Cochran shares how this photo shoot has become a tradition: "A few years ago at the CMA Festival Fan Fair Hall, a few of my best friends – Kelli, Amy and Brandi – had an idea to take photos at the Chevy booth. It has been three years now, and we have made it a tradition to make the funniest photos possible. I think the 2011 picture takes the cake!"
Despite losing his voice, getting to spend time with fans and sharing his music with them makes the week's frenzy of activities all worth it for Cochran. "The band and I definitely left everything out there at this year's CMA Music Festival. Six shows in three days, followed by signing over 2,000 autographs, it's the least we can do for the people who made my dreams and my life possible." He adds,
"If it was up to me I would sign autographs so long it would make Garth Brook's hand hurt!"
With another CMA Music Festival behind him, Cochran turns his focus back to creating music.
"We're back to doing what we have been all year: recording, recording, recording. We have a new album coming soon. I've been writing and arranging like a mad man! We have some great songs to still be laid down and an active tour schedule. We're just trying to do it all."
He continues, "We have a lot of ground to cover in a short amount of time, so it's on! No doubt the country boy Marine in me has stepped it up!"
Stephen Cochran's CMA Music Festival Photo Recap: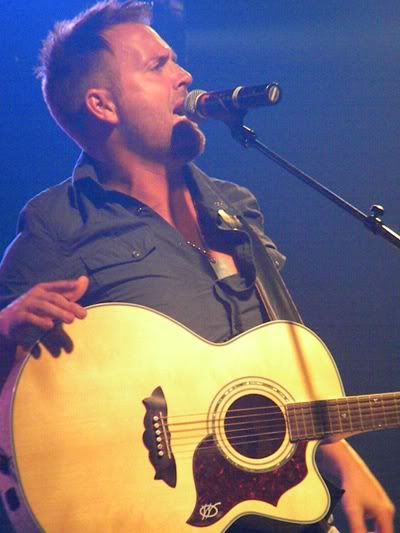 Stephen Cochran at Cadillac Ranch! (Photo credit: Julie Phillips)
Six shows in three days – that's rockin' it Stephen Cochran Project style! (Photo credit: Julie Phillips)
Cochran dons a costume for an impromptu photo shoot. (Photo credit: Estella Pan)
Suited up for the photo shoot! (Photo credit: Estella Pan)