NATIONAL MEDIA RAVES AS CJAYE LEROSE NEARS
3 MILLION YOUTUBE HITS
LeRose Hailed as "21st Century Loretta Lynn"
Reader's Digest, Fox News, Vintage Guitar Magazine, SiriusXM, Virginian-Pilot,
AOL and Roughstock.com Applaud LeRose on Debut Album
Social Media Starlet Boasts 37 Thousand YouTube Channel Subscribers,
19 Thousand Twitter Followers, 18 Thousand Facebook Fans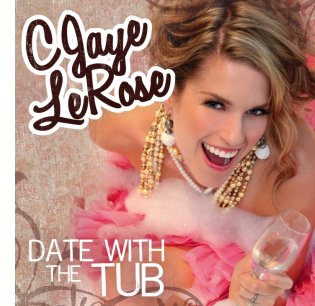 Nashville, Tenn. (October 11, 2011) – Blossoming Country music singer CJaye LeRose may currently be an unsigned artist but with a social media following that swallows up several of Nashville's major label talents, there's no denying that she's a force to be reckoned with.
LeRose, with nearly 3 million YouTube hits and 37 thousand channel subscribers, 19 thousand Twitter followers and more than 18 thousand Facebook 'likes,' released her debut album, Date With The Tub

,

this past July. The news media has since taken notice, giving LeRose national notoriety.
Here's what a few of America's critics are saying about LeRose:
Reader's Digest:
"CJaye LeRose's new album introduces a sparkling new talent who combines a sweet old country sensibility with a fresh new sound. The songs stay with you long after you've finished listening to the CD."
-John Alexander, Senior Music Editor
Vintage Guitar Magazine:
"She (CJaye) has Dolly Parton's charm, Roger Miller's wit, Loretta Lynn's incisiveness, and the under-rated June Carter Cash's smoldering passion."
-Rick Allen, Music Reviewer
Fox News:
"The Texas native's tunes are charmingly lighthearted… she's modeled herself after the artists she's admired growing up, like Deana Carter and Shania Twain.

"
-Aaron Schrank, Online Editor
Virginian-Pilot:
"CJaye LeRose can be described as sexy, sassy and surreal… like a 21st century Loretta Lynn, but stronger."
-Frank Roberts, Music Critic
AOL The Boot:
"Many of her songs are delivered with tongue firmly in cheek, and her good-natured humor and fresh approach to country music is allowing fans to learn more about her every day."
-Stephen Betts, Online Editor
SiriusXM Satellite Radio:
"CJaye LeRose is a bright, effervescent personality with a heart as large as her talent."
-John Marks, Director of Country Programming
Roughstock.com
"'The Porch'… is equal parts Dolly Parton charm and Pam Tillis strength."
-Matt Bjorke, Online Editor
In 2009, LeRose created her own YouTube channel to raise awareness about animal adoption, but it was when she started posting videos of her songs that she began receiving multitudes of hits.
Earlier this year, LeRose made the move from her home in Houston, Texas to Nashville, Tennessee. The decision was a major leap of faith but with thousands of fans behind her, she didn't lack support.