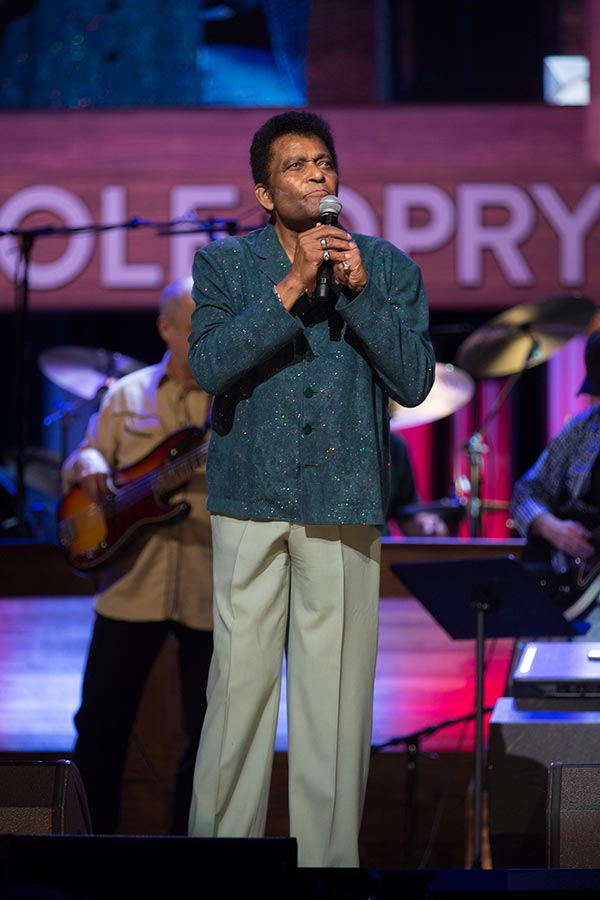 CHARLEY PRIDE CELEBRATES 25th
OPRY MEMBER ANNIVERSARY
NASHVILLE, Tenn. –
Country Music Hall of Fame member and Recording Academy "Lifetime
Achievement Award" recipient Charley Pride celebrated his 25th
Anniversary as a Grand Ole Opry member with appearances on the Opry this
weekend. Pride, who made his Opry debut in 1967, performed extended
Opry sets in celebration of his milestone anniversary. Opry flagship
station 650 AM WSM (wsmonline.com) saluted the award-winning artist with a "Country Pride Weekend."
Upon his Opry induction 25 years ago, Pride recalled his initial dream
of baseball stardom. "It's as if I had made it in baseball and they came
up to me and took me to Cooperstown and said, 'This is where your
plaque is going to be – beside Babe Ruth, Lou Gehrig, Jackie Robinson,
and Hank Aaron."
Pride's fellow Opry member Carrie Underwood is set to mark ten years
with the Opry on two shows Fri., May 11. Among other artists scheduled
for the Opry and Opry Country Classics in May are Trace Adkins, Bobby
Bare, Terri Clark, Easton Corbin, Jordan Davis, Larry Gatlin & the
Gatlin Brothers, Craig Morgan, Lorrie Morgan, Rascal Flatts, Darius
Rucker, Marty Stuart, and Brett Young. Tickets are available at (615)
871-OPRY and opry.com.
Charley Pride also recently announced he'll be performing at the 2018 CMA Fest, on Friday, June 8
at 8:00 pm at Nissan Stadium. Pride will be sharing the stage that
evening with a host of other modern country staples including Blake
Shelton, Carrie Underwood, and Old Dominion.
Tickets can be purchased on the CMA Fest website, by clicking here.
Charley Pride Tour Dates:
May 13 – Opry le Daniel @ Millennium/ Derry, Northern Ireland
Jun 07 – Charley Pride Fan Club Breakfast / Nashville, Tenn.
Jun 08 – CMA Music Festival @ Nissan Stadium / Nashville, Tenn.
Jun 09 – Ryman Auditorium / Nashville, Tenn.
Jun 16 – Horseshoe Casino / Bossier City, La.
Jun 30 – Cypress Bayou Casino / Charenton, La.
Jul 14 – Renfro Valley Entertainment Center / Mt. Vernon, Ky.
Sep 15 – Crystal Grand Music Theater / Wisconsin Dells, Wis.
Sep 28 – Dosey Doe (The Big Barn) / The Woodlands, Texas
Oct 05 – The Welk Resort Theatre / Branson, Mo.
Oct 26 – The Welk Resort Theatre / Branson, Mo.
Nov 07 – TCU Place / Saskatoon, SK
Nov 09 – Conexus Arts Centre / Regina, SK
Nov 10 – Club Regent Event Center / Winnipeg, MB
Be sure to follow Pride on Facebook and charleypride.com.
About Charley Pride:
Charley Pride is celebrating more than 50 years as a recording artist.
He has enjoyed one of the most successful careers in the history of
country music and is credited with helping to break color barriers by
becoming the first black superstar within the genre. A true living
legend, he has sold tens of millions of records worldwide with his large
repertoire of hits. A three-time GRAMMY® award and Recording Academy
"Lifetime Achievement Award" winner, Pride has garnered no less than 36
chart-topping country hits, including "Kiss An Angel Good Morning," a
massive #1 crossover hit that sold over a million singles and helped
Pride land the Country Music Association's "Entertainer of the Year"
award in 1971 and the "Top Male Vocalist" awards of 1971 and 1972. A
proud member of the Grand Ole Opry, Pride continues to perform concerts
worldwide and has toured the United States, Canada, Ireland, The United
Kingdom, Australia and New Zealand over the last several years. For more
information, visit CharleyPride.com.
About The Grand Ole Opry:
The Grand Ole Opry® is presented by Humana®. Opry performances are held
every Friday and Saturday of the year, with Tuesday night shows through
December and season Opry Country Classics shows on Thursdays. To plan an
Opry visit, call (800) SEE-OPRY or visit opry.com.
The Opry presents the best in country music live every week from
Nashville, Tenn. Celebrating nine decades of entertainment, the Opry can
be heard at opry.com and wsmonline.com,
Opry and WSM mobile apps, SiriusXM Satellite Radio, and its flagship
home, 650 AM-WSM. The Grand Ole Opry is owned by Ryman Hospitality
Properties (NYSE: RHP). For more information, visit opry.com.
Photo by Rachael Black, courtesy of the Grand Ole Opry