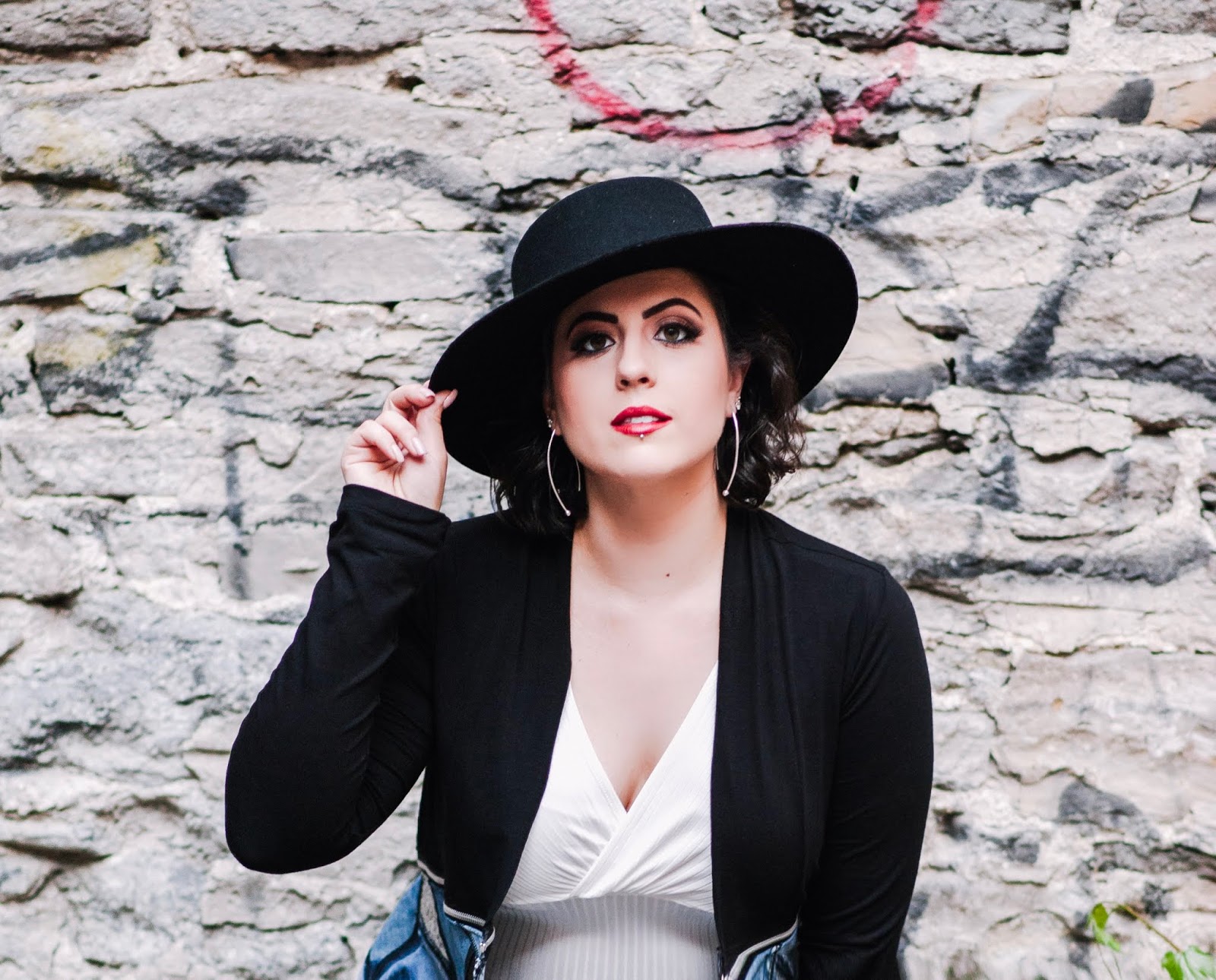 Bree Taylor Interview by Christian Lamitschka for Country Music News International Magazine & Radio Show
Lamitschka:
Music has many new fans throughout Europe who may be hearing about
you for the first time. How would you describe yourself and the music
you play to someone who has never seen or heard you?
Answer: 
My name is Bree Taylor
and I am a country pop artist from Toronto, ON, Canada. My music is
pretty unique but I would say if you could blend Carrie Underwood and
P!nk then you'd get pretty close to me and my sound. I am a very
emotional storyteller in my lyrics and like to play with dynamic
melodies in my music. I believe in being unapologetically yourself
and that is something I preach to my fans and express through my
music as well.
Lamitschka:
Your current single is being played by radio. What do you feel is
special about this song that makes people want to hear it?
Answer:
My
current single
"Drive" has been out to Canadian country radio and doing well.
The music video has been thriving with over 70k views in just over a
month as well. I think what people are really loving about this
single is that it is showcasing a different side of me – the fun,
outgoing and loving life unapologetically side. It is an upbeat road
trip song that helps people to escape their day-to-day lives and
enjoy life for a few minutes. I think that is why the video has been
doing so well, because it adds the visuals of California where it is
warm and bright and beautiful and really makes people feel like they
are there which is exactly what I wanted people to feel with the
music video. I feel like all these elements showcase what is special
about the song and why it has been doing well.
Lamitschka:
What is your favorite song among all the songs you have recorded and
what's the story behind it?
Answer: 
It is so hard to
choose one favourite song out of a body of your work and songwriting
because each song is a piece of me. If I had to choose, it would be
my song "What You're Looking For" because it was my first time
getting more into a pop/country sound and really let me see that that
was where my music belonged. It is also a very personal story for me
with something that I went through with a guy who was cheating on his
girlfriend and making me feel like he wanted us to be together but
clearly didn't know what he wanted and it was a therapeutic moment
for me to let go and close that chapter of my life emotionally.
Lamitschka:
Do you have any interesting stories about how fans have been affected
by your music?
Answer:
I always
LOVE when fans connect with my music. I was told by a couple at one
of my shows a while back that my song "The Feeling" was their
song. They felt that my song spoke to them and described their
relationship and feelings for each other and it was such a beautiful
moment to hear that my music could affect people on such a deep level
that they deemed it "their relationship song".
Lamitschka:
Who inspires you musically and how deep do your musical roots run?
Answer:
Music
for me goes way back to my childhood. I was born to a
mix tape my Dad made specifically for my delivery so I truly believe
it was something I was born to do. I grew up surrounded by music and
by parents who although had no musical ability, loved music and
inspired us to explore different genres. I was lucky to have a family
who believed in me and my dream at a young age and who put me in
music lessons and allowed me to go after my dreams. I started writing
music at a young age, just in forms of poems and lyrics but always
had a lot I wanted to say and am now so lucky to be doing this for a
living. Everything inspires me from experiences I have to emotions
that I feel or others close to me go through. Usually my music is
something specific to me and my life or something that I connect to
in some way so that I can express the emotions needed in the song.
Lamitschka:
As an artist, you so many tasks such as recording, touring,
interviews. What do you like best, what's your favorite activity?
Answer:
I
love all of it! It is
something that I truly, deeply love and enjoy every aspect of and
that is how I know it is what I really want and am meant to do. I
love writing and recording because those are my creative outlets
where I get to channel my emotions and stories into songs that people
can connect to and I love performing and touring because I get to
connect with listeners and fans at shows and see how my music affects
them. Interviews and promotions are fun for me because it I am a huge
chatterbox and love to talk about my music and goals and promote the
songs that I have worked so hard on. Each step is important and has
its own beauty and enjoyment to it for me so I couldn't choose just
one.
Lamitschka:
What drives you?
Answer:
Destiny
and purpose are what
drive me. I feel that this is what I am meant to do and for so many
reasons. I have been through a lot thus far in my life, more than
most people my age have been, but I know that it is for a reason and
a greater purpose and they are best expressed through my music. Music
is my creative and emotional outlet and writing a song is so
therapeutic for me that I know the emotional journey that I go
through is to be able to share them through my music for others to be
able to relate to or connect with as music was for me growing up. I
have been very open about my history and experience with depression
and anxiety and going through those things at such a young age and
struggling through the journey I have has fueled me to keep going to
help others. I have become an advocate for mental health awareness
and have a mission to not only create more awareness on the topic but
to let people know that they are not alone and that it is okay to be
going through what they are. I have a plan for a foundation that I
want to start when I am able to create a mass movement through my
music/brand that will hopefully help change people's lives for the
better. All of these things are what drive me to keep going and to
not give up on this dream of having a global music career.
Lamitschka:
What's unique about you that will differentiate you from other
artists?
Answer:
What
is unique about me is that
I truly know who I am and am not afraid to be my true self and
express myself honestly. I am an open book and love interacting with
my fans as much as I can. I appreciate them so much and know that
they are the reason that I get to keep doing what I love and I show
that gratitude and appreciation on my social media and after shows
when meeting them. I feel that I am relatable and down-to-earth and
that shows in every aspect of my music and my brand. I also feel that
my sound is unique due to my diverse musical influences and
background so it is hard to find someone who sounds like me. I also
have a different look and image than most artists out there doing
similar things in music. I feel that I represent the average,
everyday woman and that people can relate to me because of that. I
think through being unapologetically myself and showing fans through
social media and my music that I am just like them, going through the
same events and emotions in life – that sets me apart from everyone
else out there.
Lamitschka:
What moments in your career stand out in your memory as highlights
and achievements which you are proud of?
Answer:
Going
on a 12-city Canada
wide tour in 2018 promoting my first album was a huge milestone in my
career that I am proud of. I loved travelling with other artists and
being able to perform each night for fans and connecting with
audiences in different cities sharing my music. I was also recently
nominated for Mississauga's "Best New Artist" which was such an
honour and achievement in my career. It's been so great to have a
city supporting me and my career and recognizing all the hard work
that I have been putting in.
Lamitschka:
When you get time off, how do you like to relax?
Answer:
When
I am not doing music related
things and I am able to have time off to enjoy life I love to spend
time with friends and family. I love to cuddle up with my dog and
watch netflix. I love going to the gym and yoga classes and curling
up with a good book. I love to go hiking and spend time in nature and
to travel when I get the chance. But truthfully I don't feel like
music, performing or any part of it are work. I genuinely love this
and love that it is my life and I want it to be my life full-time so
I am able to grow my brand and tour the world and reach as many
people as possible.
Lamitschka:
Many music fans today get their information about artists online. Do
you have your own website and what will fans find there?
Answer:
My
website is www.BreeTaylor.com
and they'll find
tour dates/shows that I am booked on, links to my social media and
ways to find me and connect with me online and videos/music videos.
Christian
Lamitschka ( Ch.Lamitschka@t-online.de
) for Country Music News International Magazine & Radio Show