BELLAMY BROTHERS PRAISE THE LORD WITH NEW GOSPEL ALBUM, PRAY FOR ME
Dove Award-nominated Country Music Duo to Release Second Gospel
Album on September 4
Pre

-orders Available Starting Today Via i-Tunes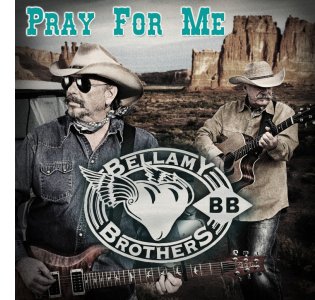 Nashville,
Tenn (August 7, 2012) – After sparking much controversy and support
with their first Gospel album, respected multi-platinum selling Country
music duo and Dove Award nominees The Bellamy Brothers will soon release their second Gospel composition. Pray For Me, set for a late summer release, features
14 original Gospel songs with heartfelt, inspirational messages and is
one of more than 50 albums released by Howard and David Bellamy. The
album will be released on September 4 and is available for

pre

-order today via i-Tunes.
The
Bellamy Brothers have received much support and recognition in their
career spanning almost four decades, including two Dove nominations and a
GRAMMY nomination for the Best Country Performance by a Duo or Group. Named the Top Country Duo by Billboard,
the pair has also set the record for the most duo nominations from both
the Academy of Country Music (ACM) and the Country Music Association
(CMA).
The group's first Gospel album, Jesus Is Coming (And Boy Is He Pissed), sparked
much controversy with the title track but was later nominated for two
Dove Awards from the Gospel Music Association and received rave reviews
from critics. The success of this album, along with their history of
singing Christian music from an early age, pushed the duo to create
their second Gospel album.
"We
decided to record our second Gospel album because Gospel and Christian
music is one of our favorite genres," says David Bellamy. "We also
received such a great reaction from our Jesus Is Coming album we did a few years ago, it seemed like a natural progression from that album to the new one."
"Creating
this new album was a labor of love for us, and an element we hope we
can always add to our variety of projects," explains Howard Bellamy.
The duo is more widely known for their success in Country music, although

they've


gained respect in the Gospel and Pop genres as well. The Bellamy
Brothers have received numerous No. 1 hits on both the Pop and Country
charts. Their hit "Let Your Love Flow" received the distinguished BMI
Five Million Performance Award in 2009, and broke into the UK Top 20
Country charts again—34 years after its release. The hit was also
featured in a UK television commercial and on the critically acclaimed
AMC television series "Breaking Bad."
Pray For Me Track Listing:
1. Jesus

Ain't

No Stained Glass Window
6. God

Ain't

Finished With Me Yet