BELLAMY BROTHERS & FRIENDS CLIMBING
HIGHER THAN SWISS ALPS
Album Currently at #5 on Swiss Music Chart Features Kris Kristofferson,
Crystal Gayle, the Bacon Brothers, Carlene Carter, Jesse & Noah and More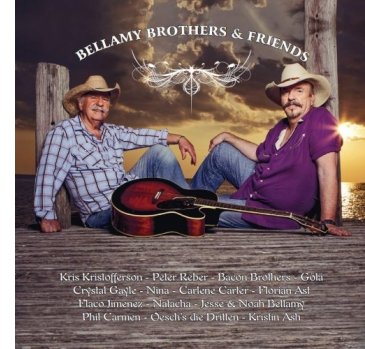 Nashville, Tenn. (July 16, 2013) – The Bellamy Brothers' new international album, Bellamy Brothers & Friends: Across The Sea (Universal Music Switzerland) continues to rise, landing at the #5 spot on the Swiss Music Chart this week. In addition, the album has taken the top spot for album sales four weeks in a row in Switzerland.
The Bellamy Brothers are no strangers to European success. Bellamy Brothers & Friends is
their third major release in Europe in the past three years. The album
is a collaboration of Swiss/American music. It features a collection
of established American and European artists including Kris Kristofferson, Crystal Gayle, the Bacon Brothers, Carlene Carter, Jesse and Noah Bellamy, Kristin Ash, Gölä, Natacha, Florian Ast, Yodel Volksmusik Group's Oesch's die Dritten, Phil Carmen, Peter Reber, and Nina.
"We're extremely grateful to all the artists who took part in this album", expressed David and Howard Bellamy. "It is a unique Swiss/American collaboration and an international music experience that we're very proud of."
The album is currently available for purchase in the United States via
iTunes
.
In addition to Bellamy Brothers and Friends' growing success, David Bellamy recently recieved the news of his 2013 nomination for the Nashville Songwriters Hall of Fame. David Bellamy joins Randy Owen, Ronnie Dunn and Toby Keith in the Songwriter/Artist category.
The
GRAMMY-nominated Bellamy Brothers have consistently given listeners
exceptional, genuine music for more than 35 years. They have released a
total of 52 albums with 20 No. 1 Hits and toured 65 different countries
throughout the course of their career. The Bellamy Brothers were named
Top Country Duo by Billboard, nominated for a record number of Duo
nominations by the ACM and CMA, and received BMI's Five Million
Performance Award in 2009 for "Let Your Love Flow."
Bellamy Brothers & Friends: Across The Sea Track Listing:
1. Swiss American Yodel (Bellamy Brothers / Oesch's die Dritten)
2. The Rock (Bellamy Brothers / Gölä)
3. Tear (Crystal Gayle / Nina)
4. Butterfly (Carlene Carter / Florian Ast)
5. 36 Cents (Bacon Brothers / Kristin Ash)
6. The Light Is Shining On You (Jesse & Noah Bellamy)
7. Me And Bobby McGee (Kris Kristofferson)
8. Banderas (Bellamy Brothers / Natacha)
9. The Other Side Of The World (Bellamy Brothers / Flaco Jimenez)
10. Kiss Me Now (Carlene Carter)
11. Delta Dawn (Bellamy Brothers / Kristin Ash)
12. Coming Home To You (Jesse & Noah Bellamy / Nina)
13. Borderline Down (Bellamy Brothers / Phil Carmen)
14. Bahama Mama (Bellamy Brothers / Peter Reber)
15. I'll Be Missing You (Crystal Gayle)
16. Achy Breaky Heart (Bellamy Brothers / Gölä)