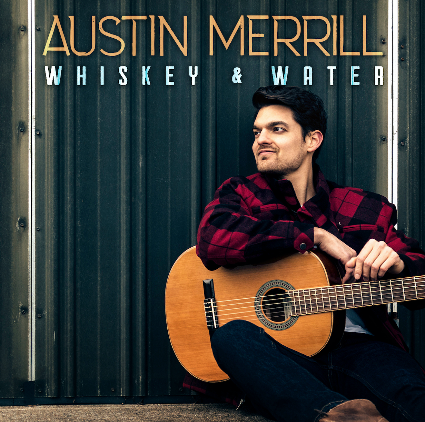 With a rich, distinctive voice and a knack for writing powerful songs with catchy melodies, singer/songwriter Austin Merrill is
proving to be one of country music's brightest rising stars. His unique
sound is both traditional and modern, a seamless blend with mass appeal
that feels just as much at home on stage as it does on the farm. With Grammy-award winning producer Mark Bright (Carrie Underwood, Rascal Flatts, BlackHawk) at the helm, listeners can expect his debut EP, Whiskey & Water, to be available at all digital retailers and streaming services on April 26th.
Together, they have crafted an impressive 5-track project that embraces
Austin's 90's country upbringing while showcasing his contemporary
songwriting and Bright's musical vision that will effortlessly
transition to the ears of today's Country listener. Impressively, every
track on the project was penned solely by Austin himself.
Music played an essential role from an early age for the Oregon native,
helping forge a strong sense of individuality and creativity. Country
music was family music for Austin, and the influences of his favorite
childhood artists, such as Alan Jackson, Vince Gill, and Shenandoah, can
still be heard in the music he writes and sings today. While the dream
of a fruitful Country music career is on the horizon, Austin first came
to town as an award-winning upright bassist and accomplished sax player.
After graduating from Vanderbilt University, Austin answered another
lifelong calling that he could no longer ignore: he joined the U.S. Army
and is currently commissioned as a Lieutenant in the Tennessee Army
National Guard. Being an officer in the Army has taught him countless
life lessons and given Austin the chance to serve the common good while
pursuing a burgeoning music career.
Whiskey & Water Track Listing:
You'll Come Knocking
The Leaver
Like A Woman
Whiskey & Water
Jeep Grand Cherokee