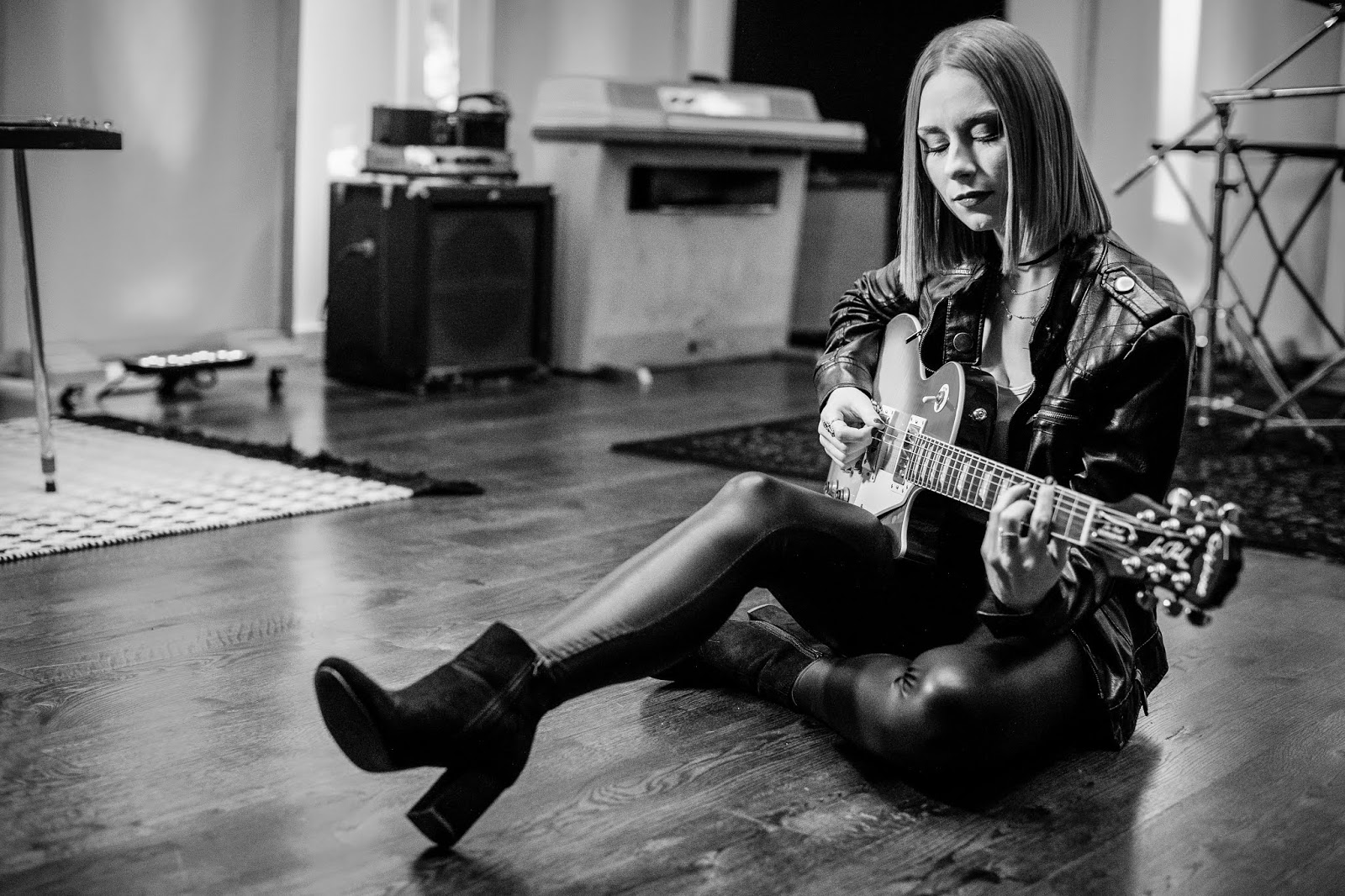 Alyssa Trahan Interview by Christian Lamitschka for Country Music News International Magazine & Radio Show
1. Lamitschka:  How was the last year for you? What were your highlights?
Answer:  It was honestly really great! I sort of "re-introduced" myself with a new sound and released a lot of new music. I was also on the road a lot and opened for Tanya Tucker and Sara Evans. It was my busiest year for sure, but I always say better busy than bored! A big highlight was my "Blue Fire Tour" over the summer. I got to see and meet so many people, and every minute of it was amazing, no matter how tired I was!
2. Lamitschka:  Do you write the songs yourself? If not, how do you go about finding the songs for your CD?
Answer:  I do! Every song I have ever released was either written by myself or with a co-writer. Therefore, all my songs are very personal and come from things I've actually been through.
3. Lamitschka:  What inspired you to become a songwriter?
Answer:  I never had a moment that I thought "I want to write songs". It's something I just naturally started doing when I was really young. I would make up these little poems and melodies just for fun. I didn't realize I was writing songs until I was around 10 or 11. At that point, I saw that every artist and songwriter played guitar, so I asked my dad to teach me how to play guitar so I could put chords to my lyrics and really start writing. When I found out people made a career out of it, I knew that's what I wanted to do.
4. Lamitschka:  Who is your biggest critic, yourself or others?
Answer:  I am definitely my biggest critic. I'm sort of a perfectionist, so I could go on editing something forever. Even though this is a very competitive industry, I like to think that my only competition is myself. I have to be better today than I was yesterday and keep growing.
5. Lamitschka:  When you get time off, how do you like to relax?
Answer:  I really like to read, go to the gym and hang out with my cats! I'm an introvert, so I love alone time rather than going out.
6. Lamitschka:  What can your fans expect to see when they see you in concert?
Answer:  They can expect hair flips, sass, and tons of energy! I love performing and I have always felt at home on stage. I always give 110% when I'm performing so my live shows are very energetic and fun. I jump around a lot or at least try to, it's pretty hard to jump when you're wearing heels!
7. Lamitschka:  Many music fans today get their information about artists online. Do you have your own website and what will fans find there?

Answer: I do! It's www.AlyssaTrahan.com. I'm also all over social media, which is all linked on my website! I love talking to fans online, it's so cool to connect with people from all over the world. 
8. Lamitschka:  Tell us about the fan club and how people can join it.
Answer:  Yes! The Trafam Club is where I share a ton of exclusive content, like live-stream concerts, unreleased demos, blog posts, and so much more. I also message and talk to fans regularly! You can join by going to www.Patreon.com/AlyssaTrahan
9. Lamitschka:  Who inspires you musically and how deep do your musical roots run?
Answer:  I'm inspired by all music, every genre and every artist I've ever heard. Some key influences for me growing up were Carrie Underwood, Taylor Swift, Dixie Chicks, Faith Hill and Dolly Parton. My musical roots run pretty deep, my family is very musical. My dad plays guitar (he's actually in my band!) and was in several bands before I was born. He was also always playing guitar around the house when I was a little kid. My grandmother played the organ in church, my mom played piano, my brother played guitar, my sister played the silver flute, and I have several family members that play music in church. So I was surrounded by music growing up!
10. Lamitschka:  As an artist, you have so many tasks such as recording, touring, interviews. What do you like best, what's your favorite activity?
Answer:  My favorite thing is always the writing. I consider myself a songwriter first. There's just something so therapeutic, honest and healing about songwriting. I never feel like I'm "over" something until I write about it. Songwriting is where I really get to create art and say what I want to say.