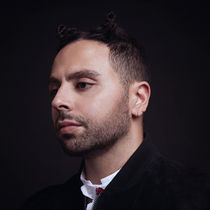 XOV veröffentlicht neue Single "Nebula"
Geboren im Iran, aufgewachsen in Schweden, ausgewandert in die USA, zurückgekehrt, von Lorde mitentdeckt und schließlich sogar beim "Tribute von Panem"-Soundtrack mitgewirkt: Die Rede ist natürlich von XOV, bürgerlich Damian Ardestani. Er hat sich mit Songs wie "Animal" und "Lucifer"(Gold in D) eine immer weiter wachsende Fangemeinde aufgebaut und die kann sich nun auf ein weiteres Highlight freuen:

Am Freitag erscheint "Nebula", die neue Single von XOV und nach "ATARAX" bereits der zweite Vorgeschmack auf die gleichnamige "nebula EP" des schwedischen Sängers, die am 30.11. veröffentlicht wird. Passend zur neuen Single gibt es auch ein kunstvolles neues Video, das XOV zusammen mit Regisseur Phil Griffin (u.a. Amy Winehouse, Prince) aufgenommen hat. "Nebula"
handelt davon aus alten, destruktiven Mustern auszubrechen und für sich
selbst eine neue Welt zu kreieren, um ultimativ ein besserer Mensch zu
werden, eine Vision, die sich auch im Video widerspiegelt, wie XOV selbst berichtet: "When
the song was finished and I listened to it I envisioned a human
monument – bodies of different colors that form a statue-like monument
with their movements and together create something beautiful. A tribute
to humanity." Umgesetzt wurde diese Idee in enger Zusammenarbeit mit dem belgischen Künstler Jan Fabré, der XOV sowohl sein Atelier als Drehort als auch Tänzerinnen und Tänzer für das Video zu "Nebula" zur Verfügung stellte.

Das Video zur neuen Single "nebula" feiert morgen, Freitag, Premiere!