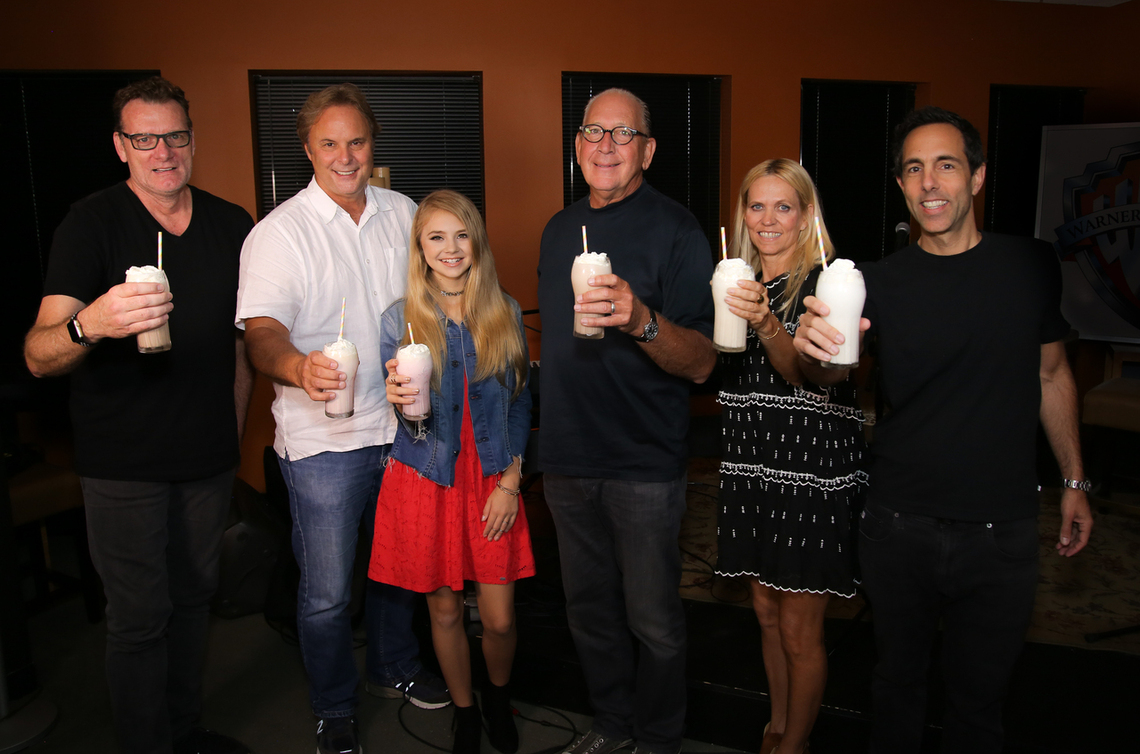 WARNER MUSIC NASHVILLE SIGNS SWEETY HIGH'S RISING STAR TEGAN MARIE
Following Success On The Media Platform For Gen Z Females,
13-Year-Old Singer-Songwriter Becomes The Youngest Country Artist Signed To Warner Music Nashville
Pictured (L-R): Peter Strickland (CMO, WMN), Scott Hendricks (EVP A&R, WMN), Tegan Marie, John Esposito (Chairman and CEO, WMN), Veronica Zelle (Co-Founder and CCO, Sweety High), and Frank Simonetti (Co-Founder and CEO, Sweety High)
Photo Credit: Sweety High
NASHVILLE, TN and LOS ANGELES, CA (August 18, 2017) – Warner Music Nashville and Sweety High proudly announced today the signing of singer-songwriter TEGAN MARIE
to Warner Music Group's renowned Nashville division. At just 13 years
old, she is the youngest Country artist signed to the label and the
youngest female in 45 years – since Tanya Tucker signed with CBS Records
(Sony) in 1972 – to ink a major label Country record deal. From Flint,
MI, Marie was first discovered by leading Gen Z girls' media platform
Sweety High and has since catapulted into the national spotlight with
several high-profile media performances and appearances including ABC's Good Morning America, PBS' star-studded special Smokey Robinson: The Gershwin Prize, and the 2017 Radio Disney Music Awards. She will celebrate the milestone moment with making her debut at the Grand Ole Opry tonight (8/18).
"This
new generation is passionate about Country music. Tegan Marie, with the
kind of natural talent already resonating with audiences, represents a
new breed of digitally-savvy artists that we want to be a part of," said
John Esposito, Chairman and CEO, Warner Music Nashville. "What
attracted us to Tegan Marie was her voice and a confidence that was
beyond her years. Her success on Sweety High and in social media
exemplifies not only how Country talent can be nurtured on these
platforms but also how we will reach the next generation of music
consumers."
The
young vocalist's early foray into music began with her father uploading
her cover videos of songs by stars such as Carrie Underwood onto the
Sweety High platform when she was just 7 years old. The company, focused
on the youth market, recognized Marie's potential to become a voice for
her generation and started working to foster her talents.
"The
moment I saw Tegan Marie's early videos I knew she had the ability to
speak to young girls at an important time in their lives," said Veronica
Zelle, Sweety High Co-Founder and Chief Creative Officer. "Working
closely with her these past years, and witnessing her growth, I'm
thrilled that a forward-thinking label like Warner Music Nashville has
welcomed her to their roster." Her co-founding partner, Sweety High CEO,
Frank Simonetti, added, "In this deal with Warner Music Nashville both
Tegan Marie and Sweety High have gained a great partner that believes,
like us, in doing whatever it takes for their artists."
Marie's
major milestones include the release of the song "Lucky Me," to benefit
the children affected by the water crisis in her hometown of Flint, and
her breathtaking rendition of Florida Georgia Line's #1 hit song,
"H.O.L.Y.," which racked up over 17 million views on Facebook alone. She
has amassed over 75 million video views and receives over five million
engagements online each month. Marie has also had a string of impressive
performances, sharing the stage with singers Cam and Smokey Robinson,
and duetting with Kelsea Ballerini. This past spring, the young vocalist
appeared at CMA Music Festival and California's popular Country music
festival Stagecoach to great acclaim. Critics praised her performance
with USA Today hailing, "Marie has the personality and the voice of a future star, and she definitely has the always hard-to-define 'It.'"
The
rising star also just wrapped up a six-city tour with Pepsi MidAmerica
and is currently writing with hitmaker Nathan Chapman (Taylor Swift) for
her first album.
For more information on Marie, visit teganmarie.com.
Follow her on Facebook, Twitter, Instagram and YouTube.
About Warner Music Nashville:
Warner Music Nashville was created in 2009 with the goal of expanding
the presence of WMG and its family of labels has had in the Nashville
music community for more than 60 years. Under the leadership of Chairman
& CEO John Esposito, the division is home to Warner Bros.
Nashville, Atlantic Nashville, Elektra Nashville and the LoudMouth
comedy label.
About Sweety High:www.sweetyhigh.com
Sweety High is an empowered destination for Gen Z females. As a
vertically integrated media company consisting of a website, content
studio, SH Music and SH Insights, they employ data, premium content,
talent and audiences to create and distribute the cultural conversation.
Focused on both entertainment and lifestyle, they've enjoyed
partnerships with Disney, NBCU, America's Got Talent, Macy's, Sony and
Live Nation among many others.
###