U.S. MILITARY WIDOW AUTUMN LETENDRE
DEBUTS PATRIOTIC ALBUM TODAY, FLAG DAY
Raise Your Flag Album Dedicated to United States Military Personnel
Letendre Recognized Nationally By First Lady Michelle Obama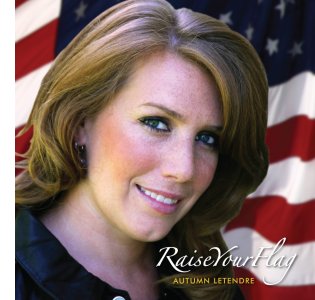 Nashville, Tenn. (June 14, 2011) – Country music newcomer Autumn Letendre is celebrating today's Flag Day with the release of her debut country album, Raise Your Flag.
The 10-track album is the result of Letendre's inspiring and powerful story as a military widow and single mother. Fittingly, Letendre is the solo author of all but two songs on the album. Letendre's story has been recognized nationally by First Lady Michelle Obama.
In 2003, Letendre's husband, U.S. Marine Corps Captain Brian Scott Letendre, was deployed to Iraq while she was preparing for the birth of their child. The morning after Dillon was born, the radio across the hall of her hospital room announced: "The war has begun. Our troops have crossed into Iraq." With mixed emotions of the joy of their son and fear for her husband's safety, Letendre picked up her journal for strength and began to write "Daddy Loves You." She wanted her son to know just how much his father loved him and wrote the song as a story which she sang to her newborn son over and over again as they waited for Brian's return.
On May 3, 2006, Letendre received the news that no military spouse ever wants to hear. Her husband Brian had been killed while conducting combat operations in Al Anbar province, Iraq.
"That moment is hard to describe but if you can imagine a room that falls silent but everyone is still talking, that's what happened with me," says Letendre upon recalling the moment she was informed of her husband's death. "I saw mouths moving but it was so silent, because you're just trying to comprehend what's being told to you."
She cherished the moments that she was able to sing "Daddy Loves You" to Brian when he came home from his first deployment. As she considered songs for
Raise Your Flag
, Letendre knew this song, the first song she had written during an important time in her family's life, had to be included.
A native of Bloomington, Indiana, Letendre first began writing songs in the fifth grade while sitting on the front steps of her childhood home. It was then that she started writing her poems with a melody. Her love of writing grew further while composing letters to her father. Autumn explains, "I would spend all day writing him and placing it under his pillow just before bedtime. I waited in my room with great anticipation, hoping to hear him find my masterpiece. I would tell him to not discuss the letter with me, but to please write me back, and he always did. He would leave his letter propped up on the bed to make sure I found it and I remember smiling the whole time as I read his words." Autumn's fans are not the ones smiling as they hear her heartfelt words pour over beautiful melodies, like her title cut, "Raise Your Flag" which is also the first single being released to radio. Eight songs from her journals can be heard on her debut album, including a song that her husband was able to hear before his final deployment.
"My debut album is a dream come true. I never in my wildest dreams could have dreamt that life's circumstances would have inspired me to write 'Raise Your Flag,'" says Letendre. "Releasing my album on Flag Day is truly an amazing feeling
and a sincere tribute to all of our troops and their families."
Click HERE to view the music video to "Raise Your Flag"