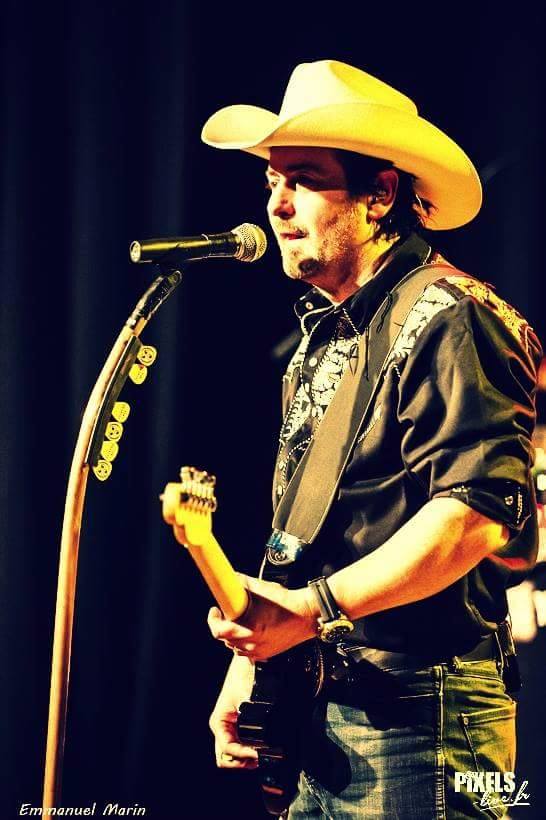 Tim Bradley Interview by Christian
Lamitschka for Country Music News International Magazine & Radio
Show
Lamitschka: Music has many new fans throughout
Europe
who may be hearing about you for the first
time. How would you
describe yourself and the music
you play to someone who has never
seen or heard
you?
Answer: I'm first over all a guitarist so I'm for
the
most influenced from guitar leggends like Stevie Ray
Vaughan,
Eric Clapton and Mark Knopfler. Therefore
in my music you will
always hear the guitar like a
protagonist. My stile can simply be
called New Country
Music.
Lamitschka: How was the last year for you? What
were
your highlights?
Answer: onest In the 2017 and 2018 I got a stop
with
the music and found interest for other things. So
from
settembre 2018 I restare with a new progect and new
Label.
Lamitschka: What is your latest CD and how's
it
doing?
Answer: My lasted cd is My Red Hot Tractor and
cpuld
be better but I dont had a good promotion.
Lamitschka: How did you choose the title for the
CD?
Is there a story behind the name?
Answer: the idea for the title came out
because
the album songs story talk about, farms,
friendship,
cowboys and simple life and pepeople. So the name,
My
Red Hot Tractor will include all these things
Lamitschka: Do you
write the songs yourself? If not,
how do you go about finding the
songs for your CD?
Answer: Yes I do, and have the total control
over the
final result. I have with my producer Paolo Pizzi
a
collaborationship for the work on the new album and
with him
is very easy to choice the right way to do the
songs done.
Lamitschka: Please tell us about the songs on
your
album (influences, etc).
Answer: like I prevliosly sad I really focus on
the
elettric guitar so the songs sound run for the most on
it.
The new album talk about, My return, love friendship
and is
included two featuring with one song in spanish
top, for the
mexican and spanish fans.
Lamitschka: What is the difference between your
last
CD and your current one?
Answer: I feel I now really got one step over,
more
professional and the songs sound more concrete and
deeper
Lamitschka: Your current single is being played
by
radio. What do you feel is special about this song that
makes
people want to hear it?
Answer: the first single and video ha Back in a
Time
and talk about my return to the scene and I really like
this
song, I think is a really one good single
Lamitschka: What will your next single be?
Answer: The next one will be the thirt single and
will
be one featuring with one other artist that call's
Cris
Mantello, He as more tradizional country style and
togheter
se got a very interesting sound. This song will
be in english and
spanish top.
Lamitschka: What kind of songs do you like to
record
the most?
Answer: I love to record balade bur faster songs
too,
depends of what kind of ispiration I have
Lamitschka: You did a duet with Cris Mantello .
How
did that happen to come about?
Answer: He recorded the dobro parts in my song
Back
in a Time and after that we came out we had to do
something
togheter
Lamitschka: What is your favorite song among all
the
songs you have recorded and what's the story
behind
it?
Answer: no easy to decide because I love most
of
them but I can tell you I love Six Pack of Beer because I
love
to play it live for all the fast guitar parts
Lamitschka: There's a lot of work that goes into
a
number one hit. What did it take to make it in your
case?
Answer: I always try to focus on a melody that have
to
be simple and direct so the people will easy remember,
so
this is the first things I looking for to decide if the
song can
be one hit or not
Lamitschka: Do you have any interesting stories
about
how fans have been affected by your music?
Answer: a lot of things has append but the thing that
is
been more impressed in my mind is the fans that sing
my
songs during my show, the know the words and
this is a big goal
for me
Lamitschka: Who inspires you musically and how
deep
do your musical roots run?
Answer: Stevie Ray Vaughan and the passion and
love
he had to play his guitar
Lamitschka: What do you think about today's
music
scene versus its post and where do you see it going in
the
future?
Answer: I'm for the protesa but only when the past
will
not be forget, se have always to remember where se
come
from and what the music ad be for us all in the
60/70/80/90 years
Lamitschka: What do you think about today's
music
industry?
Answer: buissnes, X Factor, American got's talent
etc
Lamitschka: If you had the chance to change
something
about the music industry, what would it
be?
Answer: i "just" wish they dont going to
far from the
origins only for buissnes interest
Lamitschka: As an artist, you so many tasks such
as
recording, touring, interviews. What do you like best,
what's
your favorite activity?
Answer: I love it all
Lamitschka: Are you doing anything to take
music
beyond its current borders or are you happy where it
is?
Answer: I just do what I feel with the hope people
will
like it
Lamitschka: What moments in your career stand
out
in your memory as highlights and achievements which
you are
proud of?
Answer: when I got a chance to record and perform
in
Nashville
Lamitschka: Any thoughts of retirement ahead?
Answer: Yes I had but is over…
Lamitschka: Who is your biggest critic, yourself
or
others?
Answer: notting will only do my best
Lamitschka: When you get time off, how do you like
to
relax?
Answer: family, horses and motocross
Lamitschka: Is there anything in your life that
you
would change if you could?
Answer: more chances to show what I can do
Lamitschka: What hopes and desires do you have?
Answer: play my guitar and songs on stage
more
possibile
Lamitschka: Is there any place you haven't played
that
you would like to?
Answer: Germany
Lamitschka: What can your fans expect to see
when
they see you in concert?
Answer: a big show
Lamitschka: When you're on tour, do you have time
to
play tourist?
Answer: not so much
Lamitschka: Do fans mob you everywhere you go or
do
they respect your privacy?
Answer: I love my fans so that is never been a
problem
Lamitschka: Many music fans today get
their
information about artists online. Do you have your
own
website and what will fans find there?
Answer: I use for the most Facebook or
Instagram
where they will find all possible infoLamitschka: What's
the best compliment a fan has
ever given you?
Answer: thst I'm original and my sound and voice
is
unique
Lamitschka: What's your favorite song that you
wish
you could have recorded?
Answer: wait on a woman by Brad Paisley
Lamitschka: What message would you like to send
your
European fans?
Answer: to follow me because I will be out the
next
May 22 with my new album and more single and
video!!
Lamitschka: Fans are always hungry for good
road
stories. Do you have one you can share with us (come
on
don't be shy)?
Answer: when I playd a show in Norway I saw front
the
stage a cat fighting
Lamitschka: Describe what a perfect day is like
for
you.
Answer: my concert day