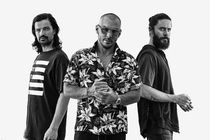 THIRTY SECONDS TO MARS kündigen neue Single an: "Walk On Water" erscheint am 22. August ++ TV-Premiere bei den MTV VMA 2017
Vier Jahre nach dem Album "LOVE LUST FAITH + DREAMS" dürfen sich die Fans rund um den Globus endlich auf eine neue Single von Thirty Seconds To Mars freuen: Am 22. August erscheint "Walk On Water". Thirty Seconds To Mars-Mastermind Jared Leto erklärt: "Nach
vier langen Jahren, Hunderten von Tagen, Tausenden von Stunden,
Gazillionen von Sekunden, haben wir es endlich geschafft, ein einzelnes
Lied zu beenden. (..) Ehrlich gesagt, wir vermissen euch alle.
Wir können es kaum erwarten, wieder auf Tour zu kommen und wir könnten
nicht stolzer sein, die erste Single aus unserem neuen Album mit Euch zu
teilen. Und ja, wir arbeiten seit vier Jahren daran. Als wir das letzte
Album herausgebraucht haben, gab es keine selbstfahrenden Autos, keine
Figdet-Spinner, Präsident Trump war immer noch der Typ bei 'The
Apprentice" und Jon Snow war noch nicht einmal gestorben. #Spoiler
Alarm"

Einen Teaser-Clip veröffentlichten Thirty Seconds To Mars hier. Die Single "Walk On Water" erscheint am 22. August weltweit und wird wenige Tage späte bei der Verleihung der MTV Video Music Awards am 27. August TV-Premiere feiern.