THE MARSHALL TUCKER BAND UNEARTHS VINTAGE RECORDINGS FROM HISTORIC 1977 ENGLISHTOWN CONCERT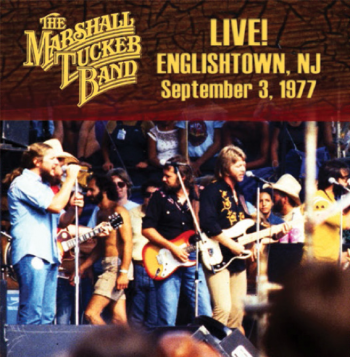 Nashville, Tenn. (August 25, 2014) – This fall, the legendary MARSHALL TUCKER BAND (MTB)
will release live recordings from its historic 1977 Englishtown, New
Jersey concert that reportedly drew more than 150,000 fans. LIVE FROM ENGLISHTOWN is set to hit the marketplace on September 30, 2014 via the band's Ramblin' Records and will be distributed nationally through RED Distribution.
MTB lead singer and founding member Doug Gray
notes, "The 1977 Englishtown concert was one of the largest shows in
the history of The Marshall Tucker Band. This album was made from a
copy of the original 37-year-old recording and although the audio
quality is not perfect, we wanted to make it commercially available to
our fans. Our
best efforts were used to make this live concert sound as good as we
possibly could with the source we had on-hand. This concert is a
historic event, attended by tens of thousands of fans. These recordings
will give fans and those who attended a chance to relive that special
day by hearing the original MTB lineup in its prime."
The
70-minute concert originally recorded on September 3, 1977 features the
original band performing their biggest hits including, "Can't You See," "Heard It In A Love Song," "Fire On The Mountain," "24 Hours At A Time," and "Searchin' For A Rainbow," among others.
Gray
adds, "Looking back, this concert was just unbelievable. It was one of
the most moving experiences in the history of The Marshall Tucker
Band."
About The Marshall Tucker Band
Forty-three
years ago, The Marshall Tucker Band was founded in Spartanburg, SC.
Thanks to hits like "Can't You See," "Heard It In A Love Song," "Fire
On The Mountain," and "24 Hours At A Time," the 5x Gold, 3x
Platinum-selling southern rock group has sold millions of albums. MTB
songs have been featured in major motion picture films and television
shows including Breaking Bad, Blow, The Box, Swing Vote, Half Nelson, My Name Is Earl, Cold Case Files and Good Guys. CMT (Country Music Television) named the MTB's "Can't You See" the #4 Greatest Southern Rock Song. The MTB's debut album, The Marshall Tucker Band, reigns as Gibson Guitar's #5 Greatest Southern Rock Album. UltimateClassicRock.com crowned the MTB's "Can't You See" as the #1 Southern Rock Song and in 2013, GRAMMY® Magazine named the group's logo as one of the most distinctive and iconic brands in music.
Live From Englishtown Track Listing:
1. Never Trust A Stranger
2. Searchin' For A Rainbow
3. Heard It In A Love Song
10. Can't You See