THE MARSHALL TUCKER BAND SET FOR
CMA MUSIC FESTIVAL DEBUT
MTB to Perform Thursday, June 6 at 11:00 AM on
Transitions Performance Park Stage in Heart of Downtown Nashville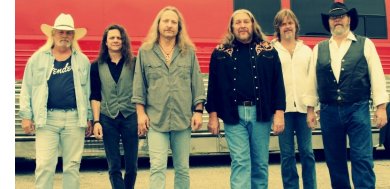 NASHVILLE, Tenn. (May 23, 2013) – For the first time in
CMA Music Festival
history, the legendary
Marshall Tucker Band
(
MTB
) will perform, bringing a taste of classic Southern Rock to Nashville, Tennessee's country music extravaganza.
The MTB will help kick-off the four-day event when they make their CMA Music Festival debut performing on the Transitions Performance Park Stage on Thursday, June 6 at 11:00 AM.
MTB lead singer and founding member Doug Gray
notes, "We are so excited to have been invited to perform at country
music's largest live music festival. We're looking forward to helping
kick this thing off and rockin' CMA Fest 'Tucker-style.'"
Transitions
Performance Park is located in the Walk of Fame Park on Demonbreun
between Fourth and Fifth Avenues. The park is FREE and open to the
public from 10:00 AM–6:00 PM Thursday, June 6 through Saturday, June
7 and from 10:00 AM–5:00 PM on Sunday, June 9.
For more information about the 2013 CMA Music Festival, please visit
CMAfest.com
.
About The Marshall Tucker Band
Forty-one
years ago, The Marshall Tucker Band was founded in Spartanburg, SC.
Thanks to hits like "Can't You See," "Heard It In A Love Song" and "Fire
On The Mountain," the 5x Gold, 3x Platinum-selling southern rock group
has sold more than 15 million albums to date. MTB songs have been
featured in major motion picture films and television series including
Blow, The Box, Swing Vote, Half Nelson, My Name Is Earl, Cold Case and
Good Guys. CMT (Country Music Television) named the MTB's "Can't You
See" the #4 Greatest Southern Rock Song . The MTB's debut album, The
Marshall Tucker Band, reigns as Gibson Guitar's #5 Greatest Southern
Rock Album. Recently, UltimateClassicRock.com crowned the MTB's "Can't
You See" the #1 Greatest Southern Rock song ever recorded.