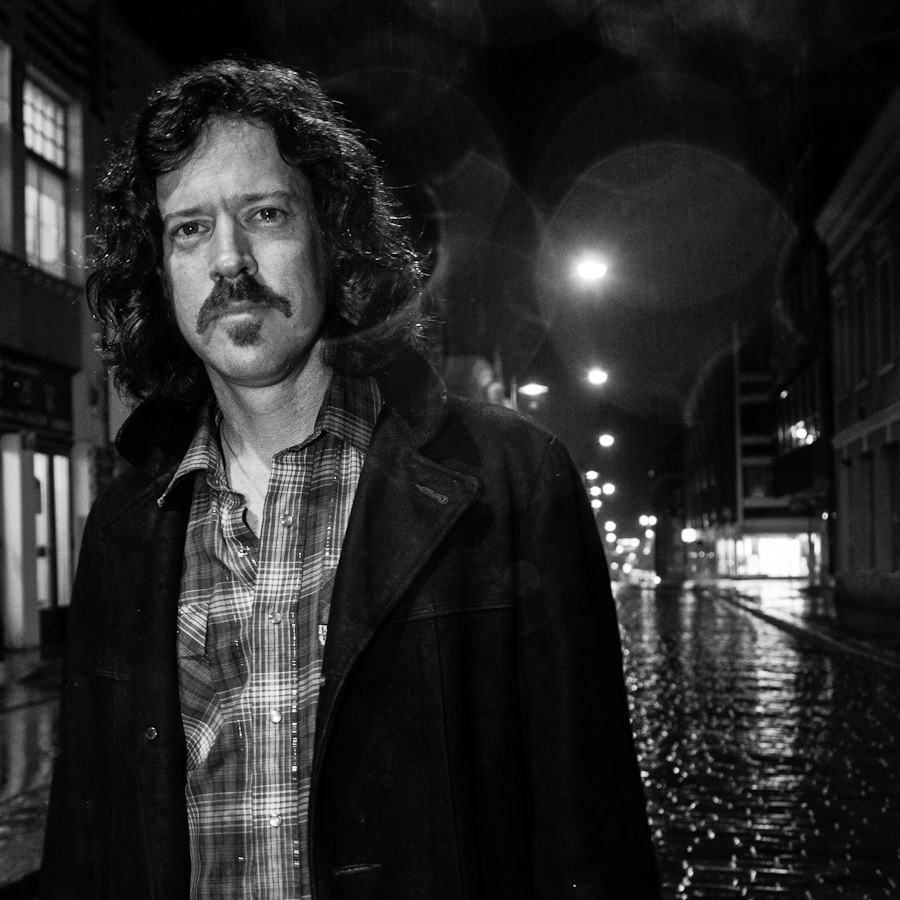 Ted Kamp Interview by Christian Lamitschka for Country Music News International Magazine & Radio Show
1
Lamitschka: What is your latest CD and how's it doing?
Answer: My newest CD is
Walkin' Shoes. In Europe, it came out late last year when I flew
over to play a 3 week tour of shows in Sweden, Germany, the U.K. and the
Netherlands. I released the record in America in March 2019. It made it
onto the Euroamericana Radio Chart and has
been getting great reviews both in Europe and America. It's now just
going to American DJs so we'll see how many will spin it but I've had
many fans and reviewers say it's my best record and, of course, that's
always great to hear.
2
Lamitschka: How did you choose the title for the CD? Is there a story behind the name?
Answer:
As I was writing and compiling the songs for the record I started to
notice a bunch of the songs were either about traveling, about life on
the road or used the road a s a metaphor, were
directly about making music or missing my family while I'm away from
home making music. I then shaped the rest of the record to work within
those themes or expand upon those ideas and feelings. I decided to name
the album Walkin' Shoes because if you want to go out and
explore or make a change in your life, the first thing you need to do is
put on those shoes, get out of the house and get out into the world to
make it happen. Most of the songs on the record
have to do with the journey, the travels and experiences that make you
who you are rather than actually focusing on reaching any destination.
3
Lamitschka: Do you write the songs yourself? If not, how do you go about finding the songs for your CD?
Answer:
Yes, there are 13 songs on the record and I wrote or co-wrote all of
them. Actually, I've written or co-written almost every song on all of
my 11 albums with the exception of maybe 4 covers.
Some of the notable co-writes on this record are "Paid By The Mile"
with Sam Morrow (that song made it onto his new record and mine),
"Written in Stone" and "Highway Whisper" (with Carey Ott), "Freeway Mona
Lisa" (with renowned Dutch singer and songwriter
Eric de Vries) and "Home Away From Home" (with Pi Jacobs and Dutch
music duo the Spek Brothers).
Sometimes
I'm driven to write a song by myself. Sometimes it starts with a
melody, sometimes a groove and sometimes with a poetic idea or a
feeling. But I love co-writing too. I had
a publishing deal in Nashville for 4 years and have co-written A LOT of
songs. Now I usually write with friends or artists so we can hopefully
write a song for one of our records or just for the inspiration of doing
it. I'm not a fan of most modern mainstream
country and I have a hard time writing or making music I don't like so I
haven't been going to Nashville a lot to write in recent years. I
prefer the freedom of letting yourself go where the song wants to go and
not be limited by what you think some Kenny
Chesney or Taylor Swift fan may like or understand.
4
Lamitschka: Your current single is being played by radio.What do you feel is special about this song that makes people want to hear it?
Answer:
"Heart Under Pressure" is an anti-Dear John letter about being there for
a friend who is hurting and in need. I read an article about longevity
and eating right to have a healthy heart which got me thinking about the
heart as being an actual muscle. In music,
we often talk about heartbreak as an end of the world kind of feeling
and I wanted to write a song about the heart as an actual muscle that
can outlast any emotional pain we might be going through. I wanted to
let the heart and it's continual beating be a
metaphor for our ability to endure and outlast whatever struggle comes
our way. I co-wrote this song with an old friend and great
singer/songwriter, Mark Webb from Greenville, South Carolina. He
originally contacted me and sent me the beginnings of a new song
he was working on called "Heart Under Pressure", I told him about my
heart as a muscle idea and we then worked on the lyrics and brought the
two ideas together and have the song come from the perspective of a
friend comforting another friend in need. The world
is pretty overwhelming and confusing place right now and we all need to
be reminded that we can make it through the hard times and that our
hearts under pressure really can lead the way and pull us through it
all.
It's
a moody but somewhat classic singer / songwriter California Country
song and it features a an old friend and great artist Jaime Wyatt on
harmony vocals. With the release of
Walkin' Shoes, we also just shot and released video for it.
Here is the link to the Heart Under Pressure video:
https://www.youtube.com/watch?v=9vblp9-T0zI&feature=youtu.be&hd=1
5
Lamitschka: What will your next single be?
Answer: My next single will be "Home Away From Home".
I
have been making music for a living since the day I finished college
over 20 years ago. I've played in other people's bands, played solo and
in my own bands, and have done more
freelance gigs and recording sessions than I can count. When you decide
to make original music and not play covers, you simply need to leave
town and explore more markets and and places to play so traveling has
been a part of my life for most of my adult life.
I
started putting out my own records and coming to Europe a little over
10 years ago. I love it and really relate to life and attitudes over
here. I have been back every single year
to do a 2 or 3 week tour so I feel now like it's a home away from home
for me. Not only do I have many great friends who are musicians,
promoters and music loving fans but one of my grandfathers was Dutch and
a grandmother who was German. They had children
and then moved to the USA after World War II. When I come to play in
Europe I get to meet more cousins and get closer with the family I know
already. One thing I love when I come here is learning about my own
family and instincts which are actually quite based
in my Dutch and German roots.
I
wrote "Home Away From Home" about a year and a half ago when I was on
tour in the Netherlands. I was traveling with a songwriter and friend
from L.A. named Pi Jacobs. We met up
with two brothers from Rotterdam I have been friends with and done
shows with named Michiel and Coen Spek. We got together to write the
afternoon of one of our shows, started jamming and the sentimental
positivity of being with old friends in a familiar place
hit me really intensely. I said "we gotta write a song called home away
from home" and thank fully everyone else in the room agreed. We wrote
most of the song that afternoon. I maybe rewrote a few lines and write a
few extra ones later, but we had 95% of the
song that afternoon.
I made a video for the song which is mostly footage I took and while I was on tour in Europe in Nov. and Dec. of 2018.
Here is the link to the Home Away From Home video –
There
is a actually another video of this song on Youtube that we made the
afternoon we wrote it. We were at a Jolanda Haanskorf's house in
Vlaardingen, NL. She has helped arrange many shows for
me over the years and we have become good friends over the last decade.
She introduced me to Michiel and Coen as well. So we were hanging out
and writing in her living room that afternoon. She filmed us jamming on
it and put it up on youtube right away.
6
Lamitschka: How much creative control do you have over your music?
Answer: 100%. I'm
a singer songwriter, bass player, a producer as well as an independent
artist. I have my own indie record label called PoMo Records so I can
make the kind of music I want and
put it out when I want to (or at least as often as I can afford!). I
have licensed some records to other larger labels including Dualtone
Records, but in those cases I made the album, they liked and then we
started working together. One
of the most beautiful thing about music is how you can follow the muse,
be inspired by different things and change your sound, focus or style
from year to year and album to album.
I definitely have some seeds of similarity between pretty much all of
my records. That;s part of what I love in music and that's become my
sound. But I try to let each song and each album be an experiment and a
chance to learn something new or express something
I haven't expressed before. When
you decide to do something for a living, as I have done with music, you
can't escape the constraints and needs of the workplace and the market
or the need to sell the thing you
make. Thankfully I love pop music, roots music and singer songwriter
music and have learned to play, write and sing them in a way that I like
and am proud of. I'm glad that as I search to be myself and say what I
want to say that there are other people out
there who relate to it and enjoy it.
7
Lamitschka:
Music has many new fans throughout Europe who may be hearing about you
for the first time. How would you describe yourself and the music you
play to someone who has never seen or heard
you?
Answer: I'm a
guy who writes songs and sings them. Mostly I work in the roots rock,
country and singer/songwriter genres and I have a strong dose of the
organic and acoustic rock of the 70's in my playing
and aesthetic. There are elements of soul, country and blues in my
music too.
Some of
my influences are the Band, Kris Kristofferson, Bonnie Raitt, Bob
Dylan, Jackson Browne, the Beatles, J.J. Cale, Waylon Jennings and
Willie Nelson and they all find there way into my music
somehow. I try to blend them all and still tell a story and be myself
so hopefully you can feel their influence or enjoy some kind of
familiarity when you hear my music, but at the end of the day, feels
like me.
Also, I
play bass when I sing and front my band. That's not as common. Now when
i play solo shows I switch between the acoustic guitar and the electric
bass depending on the song. That's even
more rare.
8
Lamitschka: What is the difference between your last CD and your current one?
Answer: Walkin'
Shoes was recorded mostly in L.A. with my friends of mine and for the
most part, it's a full band record. The tracks were mostly recorded at
my home studio, The Den, with some basic tracks
recorded at Hollywood Sound and Speakeasy Studios in L.A. One of the
songs, "Written In Stone" was recorded at the famous E Studio in
Helsinki, Finland with some of the best musicians in Finland: Tommi
Viksten, Tokela and Janne Haavisti, who play in my band
when I tours in there.
Some of
the most prominent friends and guests on the record are Brian Whelan on
guitars, keyboards and vocal harmonies (Dwight Yoakam, Jim Lauderdale),
Jamie Douglass on drums (Shooter Jennings),
John Schreffler on electric guitar (Shooter, Billy Joe Shaver), Eric
Heywood on pedal steel (The Pretenders, Son Volt), Dan Wistrom on pedal
steel and guitar (Rich Robinson), Jaime Wyatt (guest vocals), Sam Morrow
(guest vocals) and Emily Zuzik (guest vocals).
I also played many of the instruments on the record myself (electric
and acoustic bass, guitars, trumpet, trombone, Hammond organ and
percussion).
My last 2 records were actually quite different from this one, mainly in terms of instrumentation.
Flying Solo is a recordof mainly solo performances of me on acoustic guitar and vocals.
The tracks are either entirely live or with a few simple overdubs. 3
songs were recorded live on the air at radio stations around the USA, 3
were from a live solo show I did in Helsinki,
Finland and the other 6 songs were recorded at The Den, my home studio
in Los Angeles.
Here's a video of a solo acoustic song from that record:
Hold On – live in L.A. at the Hotel Cafe 7/23/18 – https://youtu.be/29AE4heOmiw
The Low and Lonesome Sound was my record just before that and
it features my solo bass playing and singing. 3 songs that were
recorded live on tour
in 2014 in the Netherlands at a great concert that is broadcast on the
Crossroads Radio program. The rest of the songs still retain the
minimalist bass-oriented approach but I recorded them at home. One of
the songs is a cover of the Townes Van Zandt song
'Tecumseh Valley'.
Here's a video of a solo bass and vocal song:
Every Little Thing You Need – from "Live at Locketts" – https://youtu.be/T2KDH-95_3I
Most of
my records are mainly full band so it was really nice to do that again
with Walkin' Shoes after these two more solo records.
9
Lamitschka: What kind of songs do you like to record the most?
Answer:
That's a hard one. There are so many kinds of songs and so many
different things can make a great song great. Sometimes I'm driven more
by the groove, sometimes it's the intensity of the
vocal performance and sometimes it's the story or poetry within the
songwriting itself. I try to marry the energy and instrumentation with
the part of the song I find most compelling.
10
Lamitschka: What inspired you to become a songwriter?
Answer:
Before I started seriously writing songs I was playing trumpet and bass
in various bands. I really loved making music, learning songs written
by the greats or my friends and then putting
my own spin on them. After a while I felt like i had enough to say that
I wanted to start writing my own songs so my friends could play along
with my songs rather than me always playing along with theirs. At first,
the lyrics didn't mean as much to me and
I was more concerned with the melody an the mood of the music. Once I
got into my mid 20's I felt I had more to say and I wanted to explore
with more poetic and personal songs. As I got into writing songs, I
started to really find and study the greats. Now
it's been bunch of years, hundreds of songs written and 11 albums of my
own original material. I'm proud of how far of come and excited to see
what Ill be inspired by in the coming ears and how my writing and songs
will continue to grow and change.