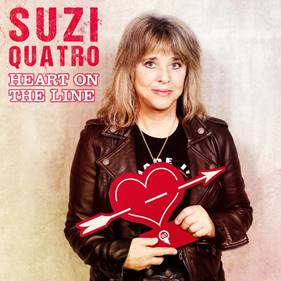 Suzi Quatro
Single: " Heart On The Line " VÖ: 06.12.19Steamhammer
Sogar im hochgradig Adrenalin-befeuerten Musikbusiness findet man ein solches Energiebündel wie Suzi Quatro
nur äußerst selten. Seit ihrem 14. Lebensjahr steht die Amerikanerin
nunmehr über 50 Jahre auf der Bühne, feuert regelmäßig ihre großen Hits
vom Schlage 'Can The Can', '48 Crash', 'Devil Gate Drive', 'If You Can`t Give Me Love', ' She`s In Love With You' oder 'Stumblin In',
mit denen sie in den 1970ern zur Ikone wurde, aus der Hüfte und
begeistert ihre Fans immer wieder auch mit neuen Songs. Kein Wunder
also, dass sie keinen Gedanken ans Aufhören verschwendet. "Ich gehe erst
in Rente, wenn ich mich umdrehe, mit dem Hintern wackele und es
herrscht Stille", erklärt sie wohlwissend, dass bis dahin noch viel Zeit
vergehen dürfte.
Suzisagt über ihren Song "Heart On The Line":
I cried when I did the vocal because it touched me at such a deep
level. I didn't stop the tears, just let them fall, and you can hear
that. That's all I want to say about this.
Weitere Infos: www.suziquatro.com
Tourtermine:
06.12.19 Suhl, Congress Centrum***07.12.19 Heilbronn,
Harmonie***13.12.19 Dresden, Kulturpalast***14.12.19 Jena, Sparkassen
Arena***15.12.19 Nürnberg, Löwensaal***17.12.19 Schwerin,
Congresshalle***18.12.19 Dresden, Kulturpalast***24.04.20 Neuruppin,
Kulturkiche***25.04.20 Dessau, Anhalt Arena***08.08.20 Mühlheim, Schloss
Broich***29.08.20 Rust, Europa Park***15.12.20 Leipzig, Messehalle