Seminars, Summits & Artist Fairs, Not This
Season.
(Part
Three: Country Radio Seminar, Sync Summit and RAW +)
By Eileen Carey
I've
been accused of playing everything from pop to country blues, to rock (LOL) to
traditional country to country rock, to Trisha Yearwood, Wynona Judd, The Eagles, Sheryl
Crow, Shania Twain, Madonna and (yes it is true!)The Rolling Stones….maybe the
truth is that all those influences have blended into my modern Country-Pop, Adult
Contemporary sound.
Country Radio Seminar (CRS)
Performance
at Nashville's Country Radio Seminar (CRS) was and is an essential part of my
album and single releases for some years. I would always attend and perform at
the Seminar to kick off another album or single, while doing an in office
performance of the single I was releasing through CDX a well thought of radio
distribution service. Country was a direction that
happened because of my love of songs and singers, and country radio was the
first to respond to my recordings. My first great music breakthrough came when
I covered the Patsy Cline song "Walking after Midnight," for a radio contest
"Out of Nashville" where my cover won the award over the established country
singers, and received national rotation play on a legendary Radio Network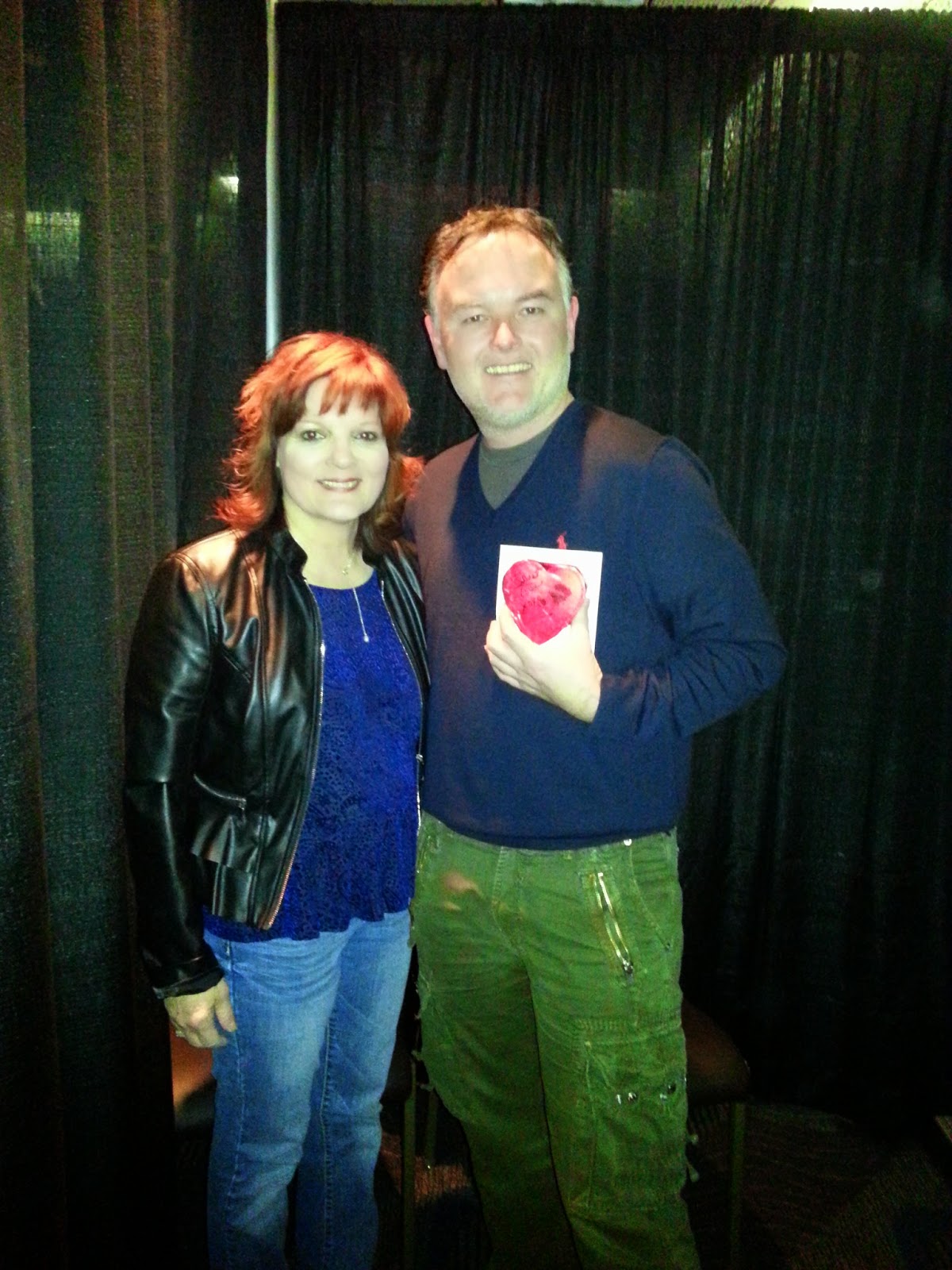 https://soundcloud.com/eileencarey/10-sweet-love?fbclid=IwAR0Kvtypxnsqaqr1rOO-8LNeDAhKxjHdsCvXCPvMwg1rgvL8j_o4tI3fpd8
Eileen
Carey & Band @ Rippy's Downtown Nashville Feb 20
My 2014 CRS performance at Rippy's in downtown Nashville, a popular honkytonk
where I have performed a number of times, including past Country Music Awards
as well as the Country Radio Seminars, was notably one of the most unique
experiences in my career. A couple decades back from 2014 Nashville experienced
a terrible tornado which wiped out whole streets downtown and has since always
been a part of the city's watch each season. We were dead in the middle of a
set that got off to a slow start due to some technical difficulties at the
start but we were gaining momentum in the packed room full of radio people when
the plug got pulled on us. I was completely baffled at first, not sure if that
was because our set was too pop for the crowd, or…and then the tornado sirens
began to scream get cover and the club staff started to direct the audience and
us to a underground garage where we spent the next hour, mingling with audience,
staff and performers. To the relief of all, the tornado just missed us and moved
on but it ended the music for the night in Nashville, and therefore my set.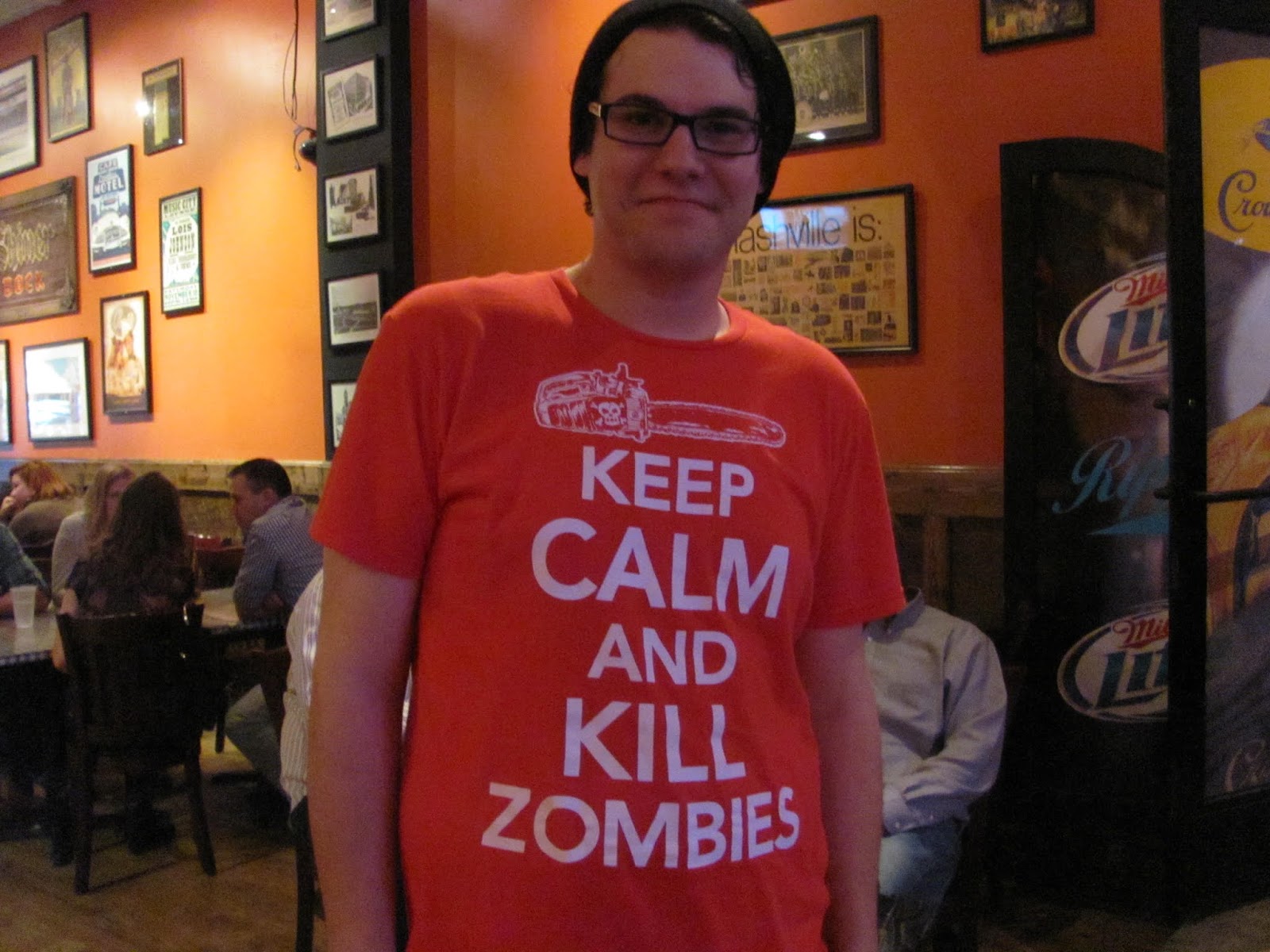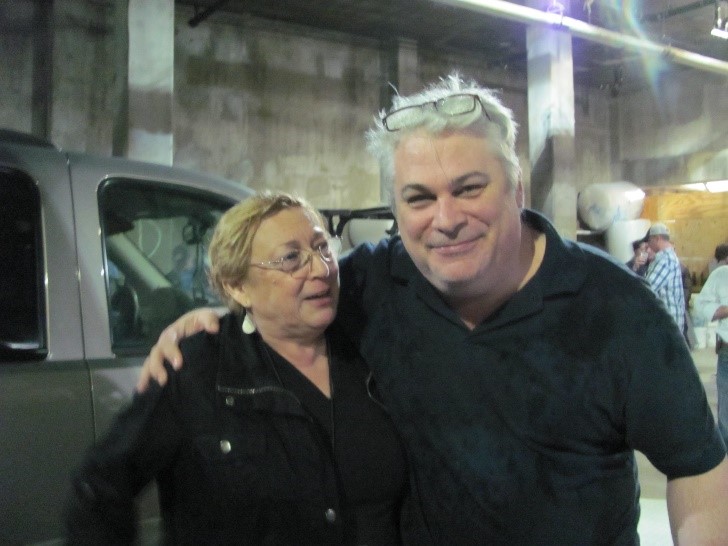 Our soundman at Rippy's???? Center my publicist and friend Susan Collier,
and her bud Flick who shot that night on video link below
https://www.youtube.com/watch?v=8uKH-aclKLw
Apart from performing and dodging bad weather, I was in
Nashville to showcase my fourth album, Let It Go, and meet radio programmers at
the 45th annual Country Radio Seminar. As always l did a series of interviews
with national and international media, and visited with radio programmers and
jocks in the convention center,
CRS
2015
EILEEN CAREY'S SHOWCASE
@ RIPPY'S NASHVILLE 6pm, THURSDAY EVENING FEBRUARY 26, 2015 429 Broadway,
Nashville, TN 37203, (615) 244-7477"Bottle Your Crazy Up" Music Video https://www.youtube.com/watch?v=4ejUG9kEGvs• PLEASE VOTE INDIE! EILEEN CAREY Nominated NMW
Female Country Artist of the Year http://newmusicweekly.com/?page_id=67190NMW Country Female Artist of the Year:
Carrie Underwood
Dolly Parton
Eileen Carey
Lee Ann Womack
Marianne Allison
Miranda Lambert
Morgan Riley
https://www.facebook.com/events/931658886856305/
Wall
of Fame at the CDX offices in Nashville CRS 2015
CRS
(Nashville, Friday evening February 24, 2017)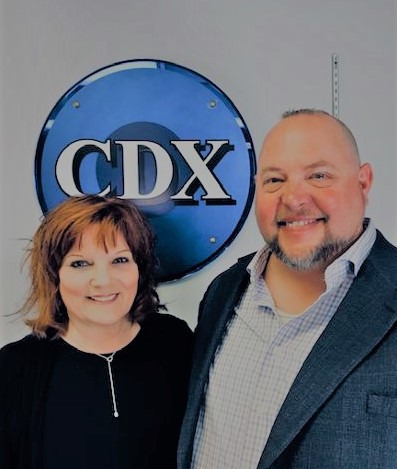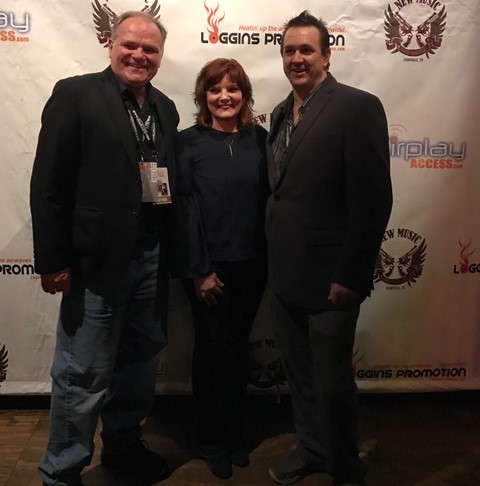 Larry Weir New Music Weekly & Paul Loggins Me and Joe Kelly CDX
Eileen Carey is hosting a luncheon during CRS
this year on Thursday, February 23rd at The Merchants Restaurant -401 Broadway (around the corner from the Omni
Hotel where CRS takes place now) (3rd Floor private area) 11:30 am-1:00 pm.Rippy's, Nashville, Friday evening February 24, 2017CDX Radio performance http://www.cdxnashville.com/
The
Sync Summit
Just
moments ago I was told that CEO Mark Freiser of the Sync Summit has to cancel
the August Summit in Nashville due to Covid-19. I was slated to perform for the
fifth time at the event, which has been instrumental in my developing my sync
business over these past three years. My past dates:
Sync
Summit,
El Cid, Hollywood, CA. California, December 2, 2018. Noon
Sync Summit Nashville, BB Kings
Nashville May 18, 2018 Noon
Sync
Summit, Moved to Ole Red, Nashvilleon the 22nd of September, 2019,
Noon.
Sync
Summit, Westwood, Tuesday, December 3rd, 2019, Noon.
Plan: Create an updated Pitch Letter
for Music Supervisors, License Buyers, pitching agents This small package
contains Eileen Carey's catalog CD of 4 album releases, three single releases
including her #1 New Music Weekly singles of In the Air and Good Bad Girl; and
Xmas single, a cover of Jingle Bell Rock.
Sync
Summit,
El Cid, Hollywood, CA. California, December 2, 2019. Noon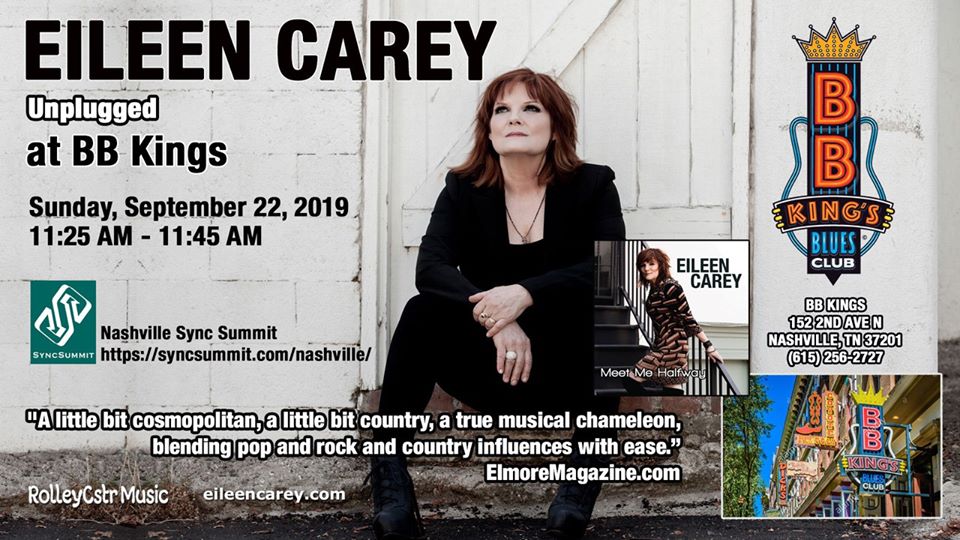 Recording
Artist Eileen Carey Returns To Nashville "My Home Away From Home" For Two
Acoustic Performances
Coming off a spectacular year, sharing the stage with the likes
of Wilson Phillips, Rita Coolidge and Albert Lee; while being awarded New
Music Weekly's AC/Hot AC Breakthrough Artist of the Year, the multi-award
winning, chart-topping singer-songwriter Eileen Carey returns
to her "home away from home," Nashville, TN, to continue her recording chores,
and to sing some of her hit material in two special acoustic performances, the
first at B.B. Kings on Sunday the 22nd of September, showcasing
her artistry at the Nashville Sync Summit; and at 6pm on Tuesday night the
popular Nashville eatery The Slider House.
ReverbNations #1 regional
Pop/Rock/Country Artist Eileen Carey's current #1 single Meet Me
Halfway, reached the coveted top spot on the NMW charts in record (no
pun intended) time and was the 7th time, following memorable
cuts such as Bottle Your Crazy
Up, Faith, Good Bad Girl, In The Air, That Town and the
feisty Anything That Reminds Me of You. The music video
of Meet Me Halfway shot up to 30,000 YouTube views in
weeks.
Since 2013, Sync Summit has connected
music makers, owners, and the people that use music in ads, at brands film, TV,
Game apps and the internet all over the world. Besides Nashville, the Sync
Summit hosts events in N.Y., LA, Singapore and Tokyo. Entrance to the 2 day
Summit (Sunday, Sept. 22 and Monday 23) can be purchased at the door or here:
BB Kings is located at 152 2nd Ave. N., Nashville, TN.,
37201. Phone # 615 256 2727 Or email Mark Frieser
The
Slider House is located in Midtown, Music Row, at 1907 Division St. Nashville,
37203, and is a great choice for dinner and a warm set
of unplugged music by hit maker Eileen Carey between 6 pm and 7 pm. Phone #
615 401 9863
https://logginspromotion.com/recording-artist-eileen-carey-returns-to-nashville-my-home-away-from-home-for-two-acoustic-performances/
RAW ARTIST FAIRS
RAW
Arts Event, Boulevard 3, Hollywood, May 19, 2017
(Music, Fairs & Festivals, Not This Season.
(Music, Fairs & Festivals, Not This Season.
The RAW event at
Boulevard 3 on Sunset Strip in Hollywood with a runway stage was exciting! One
of the most glamorous and unique engagements I have played. A Raw artist event
is a multi-arts event and for me it was exposure to a large audience of young
and groundbreaking creatives in everything from music to fashion, crafts and
performance art. I was thrilled at the reaction to my music, and the
coordinators offered me a spot on their San Diego event in the Fall.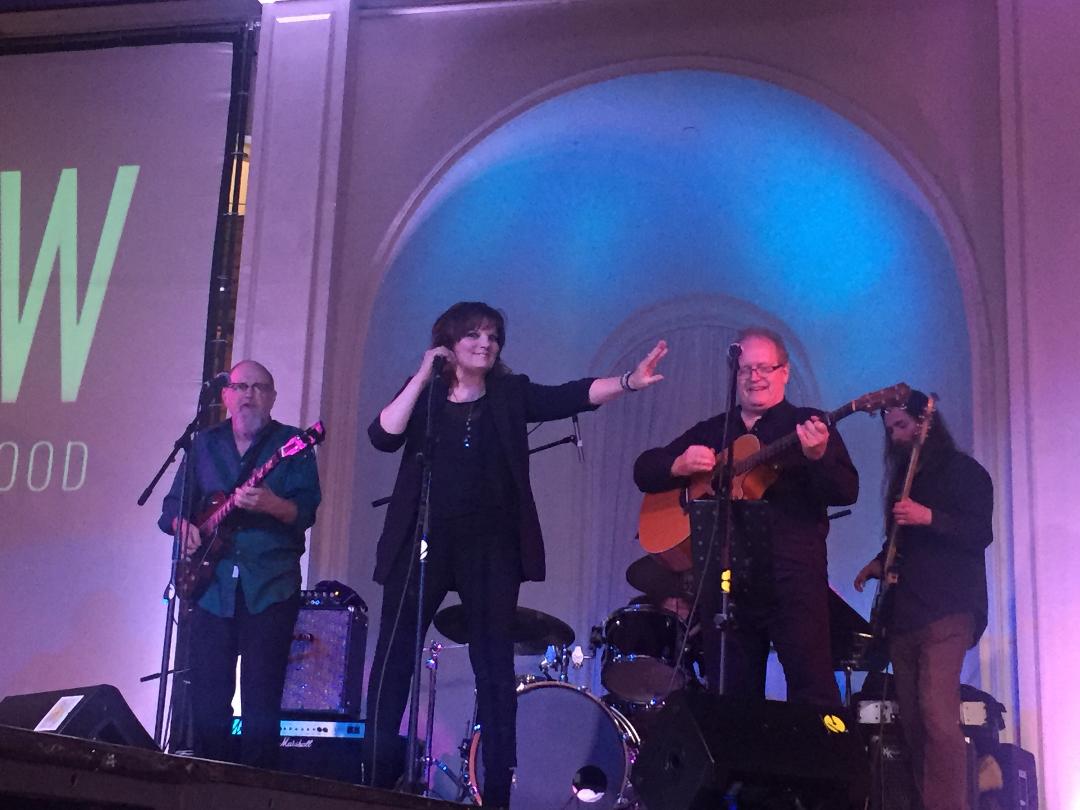 https://soundcloud.com/eileencarey/walking-on-sunshine
RAW Arts Event House of Blues in San Diego @ the RAW Artist
Showcase on Wednesday Oct. 10, 6pm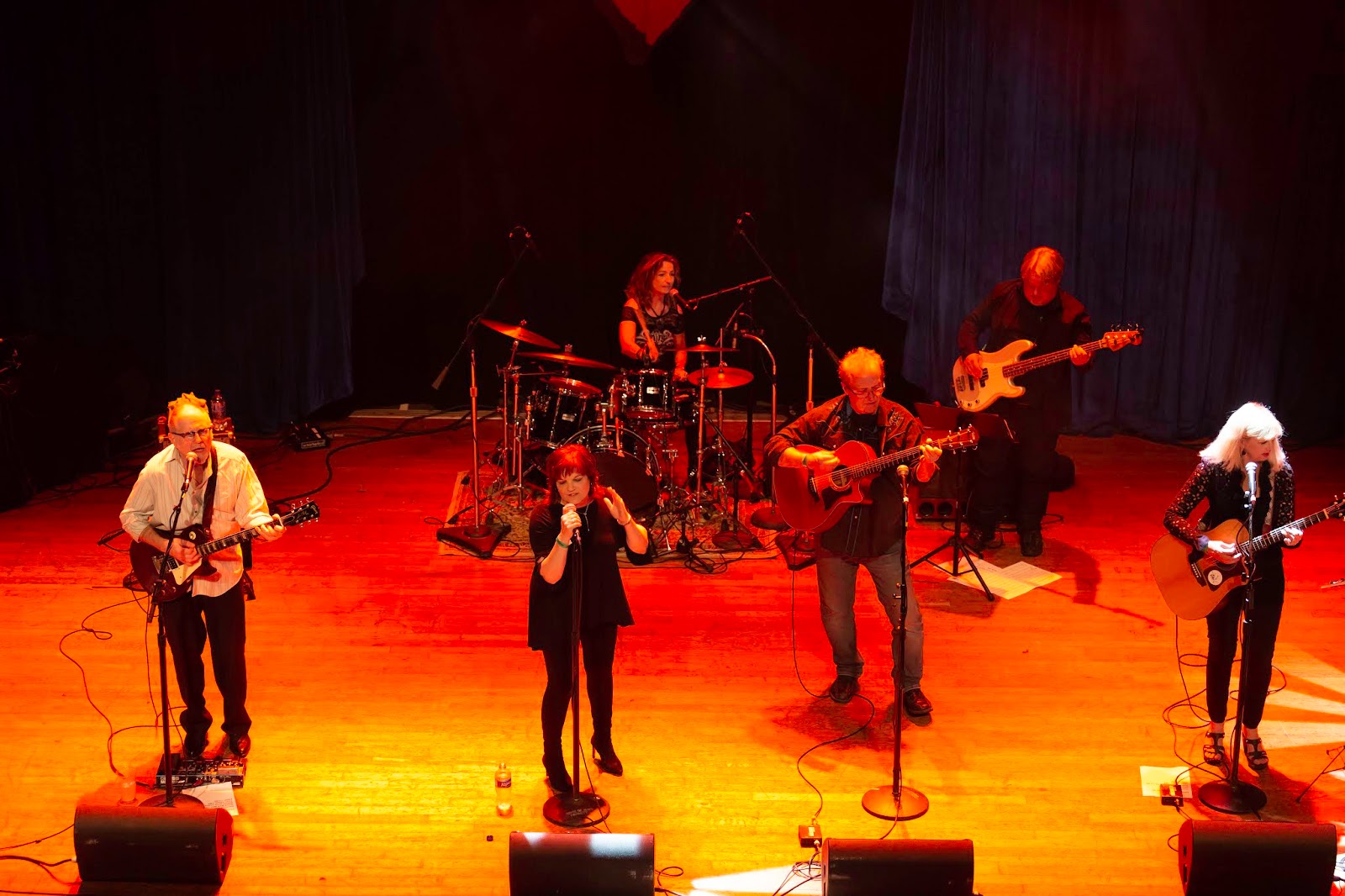 RAW: SAN DIEGO HOUSE OF BLUES 2018
RAW House of Blues San Diego
"Eileen Carey will have her
full band in tow performing on Wednesday – October 10,– 2018at The House of Blues
in San Diego, as part of the RAW Artist Showcase. A guaranteed sellout, this
show promised to highlight all of the fantastic songs that singer
songwriter Eileen
Carey has to offer.
RAW serves independent artists
with tools, resources, education and exposure needed to thrive and succeed in
their creative careers. RAW showcases indie talent in visual art, film,
fashion & accessories design, music, performance art, beauty, and
photography. Eileen
Carey's partnership with RAW promised to be spectacular.
This will be a very special night for Eileen Carey and her fans.
She will be singing her new single "That
Town" which has been climbing up the Radio Charts – 2 weeks in
a row, at New Music Weekly – #1 Country Main Charts, and Country Internet
Charts, and is also beginning to pick up momentum on College Radio as well.
Eileen
Carey is
a force to be reckoned with, a prolific singer/songwriter, she is on her way to
being a household name.(619) 299-2583" – RAW Artists
https://newmusicweekly.com/country-pop-artist-eileen-carey-set-to-perform-at-house-of-blues/?fbclid=IwAR1iDyjE5UzMxs-sQbAPiS8JrStKg9V_320lTClCNSzX2kMzOzkkqYz0Ku8
HEY EVERBODY, MY NEW SINGLE "KEEP
YOUR LOVE TO YOURSELF" DROPS THIS WEEK! STAY TUNED IN!!
July 31st, 2020
So You Want to Dance
2- Bottle Your Crazy Up