SAMMY KERSHAW SET TO RELEASE
A SAMMY KLAUS CHRISTMAS
New Holiday Album, Available on October 22, Includes Timeless
Holiday Favorites for the Whole Family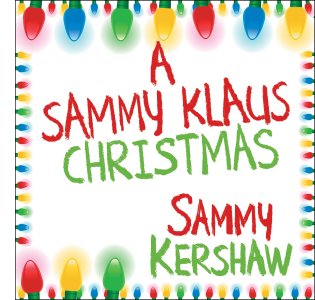 Nashville, Tenn. (October 11, 2012) – On October 22, multi-platinum selling country music star Sammy Kershaw offers up a collection of fun holiday favorites with the release of A Sammy Klaus Christmas.
The
ten-track album is chock full of Kershaw's signature style and
unmistakable vocals and includes classic sing-along holiday standards
like "Jingle Bells" and "Santa Claus Is Coming To Town," as well as
traditionals like "Silent Night," "The Twelve Days Of Christmas" and the
bluesy "Santa Claus Is Back In Town."
The
album also includes two versions of the classic Christmas tale, "Twas
the Night Before Christmas." Kershaw reads the traditional story on one
track and flavors a second version with his rich Cajun heritage.
"I
wanted to make a fun sing-along Christmas album that people of all
generations would be happy to listen to and children would enjoy," notes
Kershaw. "I also wanted the songs to take older people back to the
memories and sounds of Christmas when we were kids and I believe the
guys and I were able to pull that off with this collection of
great
songs
!"
A Sammy Klaus Christmas is available for pre-order now via i-Tunes as well as other major digital retailers.
About Sammy Kershaw
Since
his debut on the music scene in the early '90s, Sammy Kershaw has
remained one of the most consistent power hitters in country music with a
chain of major hit records and sell out tours. His focus is reclaiming
the roots of country music and recapturing the spirit that made it
great. Often referred to as the heir apparent to the legendary George
Jones, Kershaw's platinum albums have included such classics as "She
Don't Know She's Beautiful," "I Can't Reach Her Anymore," "National
Working Woman's Holiday" and
"Love
of My Life." Kershaw is a multi-platinum selling artist whose history
includes six gold and five platinum albums that have scanned in excess
of five million records.
A Sammy Klaus Christmas Track Listing:
1.
'Twas The Night Before Christmas
2.
Santa Claus Is Coming To Town
4.
That Spirit Of Christmas
5.
The Twelve Days Of Christmas
6.
Here Comes Santa Claus
7.
Let It Snow! Let It Snow! Let It Snow!
10.
Have A Holly Jolly Christmas
11.
Santa Claus Is Back In Town
12.
'Twas The Night Before Christmas (Cajun Version)