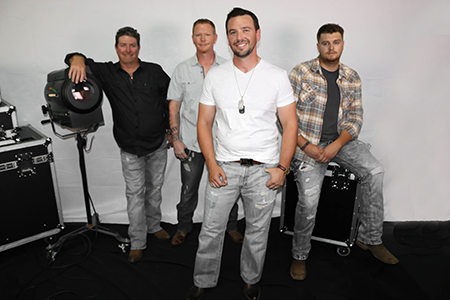 RiverShine, a new band from the Louisville, KY area has released their rhythmic debut single, "The Lover," and delivered to radio via both PlayMPE and CDXNashville
for download and radio airplay. Fans can find the new music which is
available for download and streaming on all digital platforms including
Apple Music, iTunes, Amazon Music and Google Play here.
The single and forthcoming album was
produced by Mark Slaughter, from 1990's Rock & Roll band Slaughter
and by mastered by Sal Oliveri, known for his work with million-selling
superstars such as Pink and Kenny Chesney and mixed and edited by Jetlag
Michael Sanders.
Early response from the digital release has been overwhelming with
positive reactions. The combined views of the single on digital
platforms has exceeded 30K.
"We are so excited to get our single out to all the digital platforms
and we cannot wait for everybody to hear the song. We are looking
forward to hearing it on radio everywhere," said the band members of
RiverShine. "It is a dream come true to get our this new single out to
the people who love country music. We hope when you hear "The Lover" you
will be an instant fan!"
About RiverShine:
The band RiverShine has developed a reputation for
electrifying the touring circuit around their native Louisville area for
a while now, but 2018 has them positioned to take their music to the
next level. With an album "The First Ride," new single, the rhythmic
"The Lover," being released, the future looks bright for this band of
four equally – yet diverse – musical talents to soar into the musical
stratosphere! Band members, lead singer Bill Green, bassist Adam Cave,
drummer Kyle Brading and guitarist Dave Jr. have found the right
connection to bring them their unique sound. Green is a natural in
music, performing in his high school choir at age seventeen, an
All-State singer in the state of Kentucky and forming member of popular
cover band, The Louisville Machine and played for My Pet Octopus. Cave
won an Outstanding Musician award while in school, and honed his
instrumental skills with Parousia, a popular Christian Rock Band.
Brading spent time in the bands Ichthus and Walk on Water, and opened
for Savannah Jack and Firefight, and has played such events as PBR. Dave
Jr. has played for and opened for artists such as Eric Church, Jason
Aldean, Gary Allen, Terri Clark and more. He was also in the house band
at the famed Coyotes night club in Louisville.