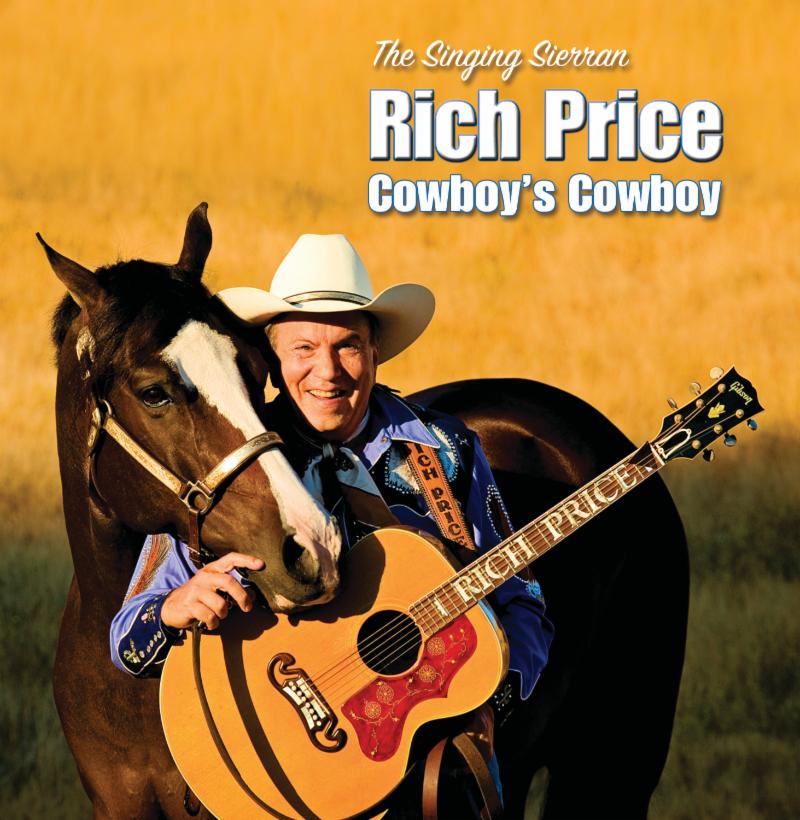 Veteran entertainer Rich Price has been announced as one of the top
five finalists in the Western Music Song category for the Academy of
Western Artists Awards. The announcement was made this weekend on Billy
Bowles Swinging' Country Show on KSSL. This is Price's first nomination
with performances over the past two years at the event which honors
singers and songwriters in country, Western swing and western music
categories, as well as saddle makers, poets, chuckwagons and other
artistry that upholds western heritage.
This is a wonderful honor for Price as he sends out a heartfelt
thank you to all of the wonderful DJs around the world who have shared
his recordings for decades.
Rich Price, who is known as The Singing Sierran, is nominated for
his new single, Cowboy's Cowboy, which was recorded with the Nashville
A-Team on Adonda Records Nashville. The warm harmonies along with
Price's recitations are reminiscent of the silver screen cowboy
recordings that define western music.
The song pays tribute to one of the greats as the chorus rolls
along, "The Cowboy's Cowboy, John Wayne….A legend, a hero, a king. The
tumbleweeds whisper his name."
The 23rd Annual AWA Awards will be held March 14, 2019, in the
Brown Lupton Ballroom in Fort Worth, Texas on the campus of Texas
Christian University. The event is open to the public. Tickets are
available now. Prices increase February first. Visit www.awaawards.org to order tickets.
In the meantime, fans can also look forward to Price's appearance
in the upcoming movie, "The Happy Worker." Rich plays a singing cowboy
in the scene shot on set in Utah. Rich Price co-wrote the song he
performs in the movie on the set with the movie's co-writer, Steve
Feinberg based on the idea of the movie's director, Duwayne Dunhamwho is best known for his work on such blockbusters asTwin Peaks, Raiders of the Lost Arkand Star Wars: Episode V – The Empire Strikes Back.
Rich Price will also begin shooting the next season of his popular
family-friendly, country music tv show, Cheyenne Country, this March
near his home at the foothills of Yosemite National Park.