RESTLESS HEART STILL BEATING STRONG
Country Music Hitmakers to Release 'Playlist: The Very Best of Restless Heart'
on May 21
14-Track Album Includes Never-Before-Heard Songs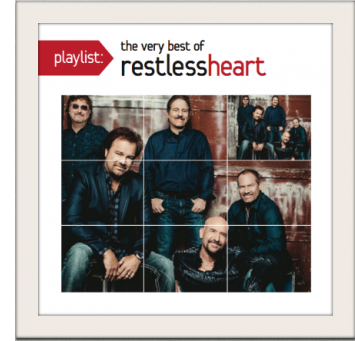 Nashville, Tenn. (April 23, 2013) – In celebration of 30 years, country music hitmakers RESTLESS HEART are returning home to their first label to release music, old and new, in commemoration of the three decades. On May 21, 2013, RCA / Legacy will unveil the latest addition to its artist compilations with the release of Playlist: The Very Best of Restless Heart. The 14-track album includes 12 of the group's biggest hits, and two new songs, previously unreleased.
Boasting
a cargo of four gold-certified albums, six No. 1 hits and nine Top 10s
released within a 7-year period (with a career total of 27 charting
country singles), Restless Heart was for a time the "fast movin' train"
described in the band's 1989 Top 5 single of that same name. Formed in
1983 in Nashville, Restless Heart soon gained a head of steam,
delivering half a dozen consecutive country chart-toppers between 1986
and 1988. With that string of successes, the band briefly derailed
superstar group Alabama, then enjoying an unprecedented run of No. 1
hits that continued uninterrupted from 1980 through 1987. Restless Heart
was the first country band to successfully challenge Alabama's
revolutionary 1980s reign, and 1987 saw the release of three No. 1 RH
singles compared to only one from Alabama, whose seven-year No. 1 streak
was broken that year.
But
Restless Heart was no copycat band. The group's sound was refreshingly
different, drawing as much from pop and rock as from the country well.
"That Rock Won't Roll" and "Wheels" showcased clean, supple lead guitar
from Greg Jennings, while Dave Innis brought a
contemporary flair with tastefully employed electronic keyboards, also
adding expressive, country-styled piano to key tracks like "Big Dreams
In A Small Town" and "Say What's In Your Heart."
Whether
upbeat or bittersweet—the group did both equally well—Restless Heart's
true fingerprint was in its rich, soaring harmony vocals. All five
members contributed to the shimmering choruses heard on Restless Heart
classics like "Fast Movin' Train" and "A Tender Lie." Even after the
departure of lead vocalist Larry Stewart after 1990's Fast Movin' Train
album—a loss that would cripple a lesser band—Restless Heart's combined
vocal prowess kept the band going strong, with lead vocals traded by
Innis, bassist Paul Gregg and drummer John Dittrich.
Dittrich's lightly-sanded, Don Henley- like vocals highlighted the
band's Eagles influence after Restless Heart proceeded as a four-piece
unit. He sang lead on the pop/country crossover smash "When She Cries"
(featuring memorable, tear-streaked fretwork from guitarist Jennings) as
well as the affecting "Big Iron Horses." Ironically, the band's musical
identity had solidified and its material was perhaps its strongest ever
just as changing trends and fortunes led to Restless Heart's waning
performance on the country charts. The group disbanded in 1994 (notably,
the year that several Restless Heart-inspired bands invaded the country
scene).
Restless
Heart reformed in 2002 and is, as of this release, together in its
original line-up. The band has been busy preparing new material, as
evidenced by the two previously unreleased cuts included here. "Memphis
Rain," a driving, mid-tempo lover's lament in classic Restless Heart
style, is easily worthy of its opening slot on this greatest-hits-plus
collection, while "Home" is a delicate and touching tribute to the
determination of America's military men and women. Recently road-tested
on stages across the U.S., both songs have already proven to be crowd-
pleasers. Now, as the five original members celebrate their 30th
anniversary, it's an encouragement to new and old fans alike to see this
band still restless—and still singing with plenty of heart.
Also in support of their three decades, Restless Heart has hit the road for their "30 Years & Still Restless" tour, bringing their signature harmonies and hits to more than 100 cities by the year's end. For the full tour schedule, visit www.restlessheartband.com.