RESTLESS HEART GEARS UP FOR
30TH ANNIVERSARY TOUR
'30 Years & Still Restless' Tour Kicks Off January 2013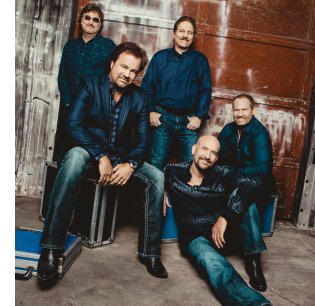 Nashville,
Tenn. (December 17, 2012) – These days, bands come and go in the blink
of an eye. It isn't often that a touring group can boast 30 years on
the road, especially with every single original band member. RESTLESS HEART is
one of the few groups in the history of country music that has
withstood the test of time, barreling onward nonstop for three decades.
Today, Restless Heart announced its 30th Anniversary tour, 30 Years & Still Restless. The
tour kicks off in January 2013 with more than 25 dates already on the
books and around 80-90 dates anticipated by the year's end (see below
for a complete listing of current tour dates).
"It's
an honor to be able to continue to play our music across the country
with all five original members, which is something that is almost
unheard-of in our business," says Restless Heart frontman Larry Stewart. "We are so blessed to have all remained in great health and are able to continue to do what we love most!"
Restless Heart pianist and vocalist Dave Innis adds,
"I'm extremely fortunate to be part of a 30-year legacy where I am
constantly blessed by people's connection to our music. The stories of
how our songs have touched a life will never lose their impact. It's
truly humbling."
In addition to its 30th Anniversary tour, the band plans to release all new material in 2013. Details will be announced soon.
John Dittrich, Greg Jennings, Paul Gregg,
Dave Innis, and Larry Stewart – the men who make up Restless Heart have
enjoyed one of the most successful careers in Country Music history,
placing over 25 singles on the charts – with six consecutive #1 hits,
four of their albums have been certified Gold by the RIAA, and they have
won a wide range of awards from many organizations – including the
Academy of Country Music's Top Vocal Group trophy.
2013 Restless Heart 30 Years & Still Restless Tour Dates
Jan 4 – Biloxi, MS – Beau Rivage Casino
Jan 5 – Robinsonville, MS – Gold Strike Casino
Jan 18 – Milwaukee, WI – Potawatomi Bingo Casino
Jan 19 – Green Bay, WI – Oneida Nation Casino
Jan 26 – Albany, GA – 27th Annual Celebrity Quail Conservation Event
Mar 9 – Hinton, OK – Sugar Creek Casino
Mar 16 – Pinellas Park, FL – Country in the Park Lee
Mar 18 – Austin, TX – Star of Texas Fair and Rodeo
Mar 25 – Inverness, FL – Citrus County Fair
Apr 6 – Selma, TX – Blue Bonnet Palace
Apr 12 – Armory, MS – Armory Days Railroad
Apr 19/20 – Bow, Washington – Skagit Valley Casino
Apr 27 – Georgetown, TX – Red Poppy Festival
May 3 – Huntsville, AL – Whistle Stop Festival
May 11 – Kansas City, MO – Kansas City City Symphony
May 18 – Mt. Vernon, KY – Renfro Valley Entertainment Center
June 8 – Nevada, MO – Bushwhacker Days
June 13 – Karistad, MN – Kickin Up Country Music Festival
June 20 – Allison, IA – Butler County Fair
Jul 6 – Velma, ND – Saddle Club Arena
Jul 20 – Hartington, NE – Cedar County Fair
Jul 27 – Gordon, NE – Sheridan County Fair
Aug 9 – Lancaster, PA – American Music Theatre
Aug 10 – Annapolis, MD – Rams Head on Stage
Aug 23/24 – Osceola, IA – Lakeside Casino