A RESTLESS HEART CHRISTMAS
HITS SHELVES THIS FALL
Restless Heart to Release First-ever Holiday Album on October 29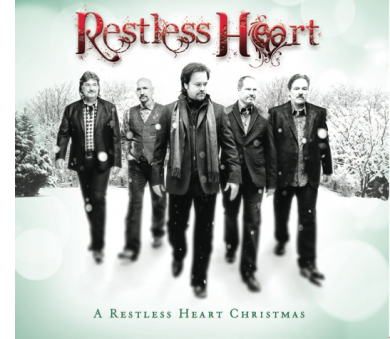 Nashville, Tenn. (September 4, 2013) – This holiday season, country music powerhouse group RESTLESS HEART will deck the halls with a brand new Christmas album.
Just in time for the holidays,
A RESTLESS HEART CHRISTMAS
(
Red River Entertainment
) is set to hit retail store shelves on October 29, 2013.
Restless Heart's John Dittrich
notes, "We recorded some of our favorite Christmas standards like 'O
Holy Night,' 'Jingle Bell Rock,' and 'Angels We Have Heard On High.' We
also included 'Silent Night' which we recorded a cappella with a 'Take
6'

style

arrangement."
The ten-track album, produced by Restless Heart's very own Greg Jennings, contains eight holiday classics and two previously unreleased songs.
"In addition to new arrangements of classic Christmas standards, we also included a couple of brand new songs," says Dave Innis.
"'Season of Harmony' sets the tone for the album and 'Santa's Prayer,'
is about the true meaning of Christmas being overshadowed by
commerciality." Paul Gregg
adds, "Santa's Prayer was written by some dear friends of mine, one of
whom is no longer with us. From the first time I heard it, to the first
time we played it live, I knew we had something very special."
A Restless Heart Christmas is the first-ever holiday album to be released in the band's illustrious 30-year career, which may be surprising to some.
"Christmas is my favorite holiday," says Larry Stewart
of the upcoming release. "It's hard to believe that we didn't do this
album earlier in our career. But it's pretty cool that we can release
our first Christmas album on our 30th anniversary!"