Queeva Interview by Preshias Harris for Country Music News International Magazine & Radio
Show
Queeva
may be only 15 years old but she has a musical talent and a maturity
far beyond her years. Brought up in an
Irish-American family (her parents were born in Ireland), music was in
her life for as long as she can remember.  Music – usually country music
– was always playing in their house, and it was a natural progression
for Queeva to begin creating her own music.
Her current single, "Live Like A Song," is currently rising on the MusicRow Breakout chart.  Here is my 'Twelve Pack'
of Q&As with Queeva.
[1] What is your earliest musical memory?
" My earliest musical memory was singing Gretchen Wilson and Dolly Parton songs in the car with my dad when I was four
years old. From that point on, I knew I had a strong love for country music.
"I actually knew most of Dolly's song from the age of about three. I loved all of Dolly's songs, particularly 'Coat
of Many Colors.' And I used to literally go around the house singing 'Red Neck Woman' when I was four!
"Growing
up, I loved listening mainly to country, but as I got older I started
listening to pop music, too. Right now
I'm listening to Maren Morris, Kelsea Ballerini, Jordan Davis. As far
as pop music now, I'm into Shawn Mendez, Khalid and some other artists."
[2] If you could have dinner with George Washington or George
Strait, which one would you choose and why?
"
I would choose George Strait because he is such a talented musician and
singer; he is and will forever be one of
country music's biggest icons. My dad always played a lot of his songs
because he was a huge fan and I became a fan too.  His songs have such a
purpose, a meaning. They're classic country which I love."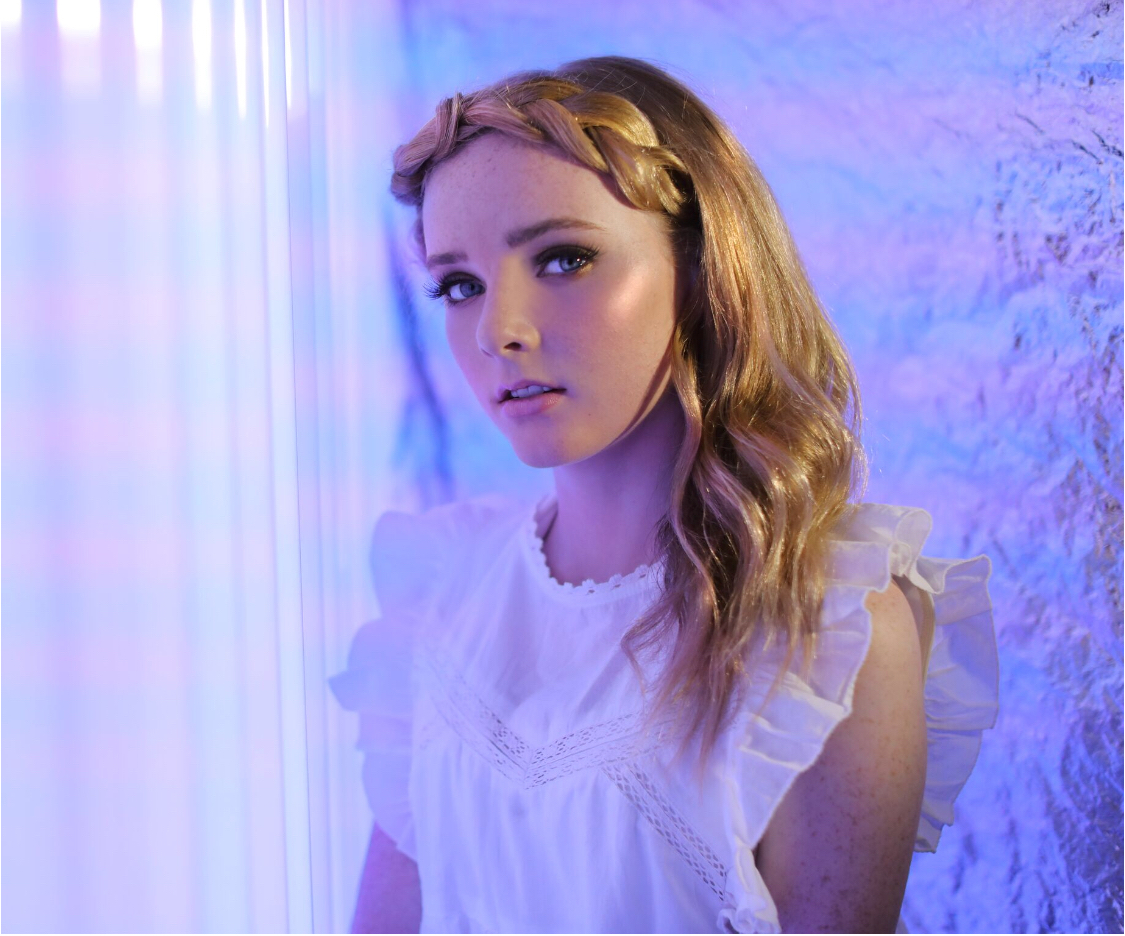 3] Which one of superman's powers would you like to have?
"
I would love to be able to fly because it would be so much fun and I
would be able to get where I need to go in a
shorter amount of time.  My first choice, if I could fly really fast,
right now, I'd fly over to Ireland and see my family there.
"They
live on a small island off the coast of Galway.  I usually go every
summer but it would great to fly there and
surprise them.  They all love music. Whenever you go to any restaurant,
there's always music.  My family there all love country music so that's
super cool, too!"
[4] Please finish the sentence: I would love to have been there
in the room where musical history
was being made by ___?   
" I would love to have been there in the room where musical history was being made by Dolly Parton because she wrote
so many famous songs such as 'Jolene.' I would love to be there to see how the writing process went and what her thoughts were.
"I just think her voice is unique. When you hear Dolly's voice you immediately know it's her.  Her music might seem
simple on first hearing, but then when you actually listen to it, you can really hear her heart in the song."
[5] Your house is on fire – all your family and pets are saved.
By the trick of fate you are told you can run in and get one item to carry out, what will you save from the flames?
" I would definitely run in and get my guitar because no matter how discouraged my family would be after our house
went up in flames, maybe music would be able to put a smile on their faces.
"Music has always played a part in our family. My grandmother was an all-Ireland traditional singer. She was the biggest
influence in my musical career.  My mother says that's where I get my voice from!"
[6] If you could paint the world only ONE color, what color would
it be and why? 
" I would paint the world green because green stands for harmony and safety. I feel like that is something that is
needed in the world to make it a better place.
"Actually, I do like to paint and draw in my spare time just to relax, but I'm no Picasso!"
[7] Which song or album are you listening to the most right now?
" I am currently listening to Jordan Davis' album
Home State.
I love his voice and his songs!  His songs are super upbeat. They put
me in a good mood.  His voice and his music… it just makes me happy. I
really like 'Singles You
Up.'"
[8] If you could record or perform a song with another artist
or group, (dead or alive) who would that "dream duet" be? 
"
My dream duet would be with Thomas Rhett because he has such a unique
voice and I think it blends really well with
a female voice. He did a duet with Maren Morris called ' Craving You'
and I loved the way their voices sounded together. I really love his
music. My favorite Thomas Rhett song is 'Crash and Burn.' It's such a
good song!
[9] If you could have written or co-written one song that has
already been written, what song would you choose? 
" I would definitely say ' I Hope You Dance' [performed] by Lee Ann Womack because it has such an important message
and the melody is so beautiful.
"The
lyrics really got to me.  It's a song about never giving up. Such great
similes and metaphors in there that you
could listen to and really interpret to your own life.  There's a line
in that song, "May you never take one single breath for granted." It
makes me realize how lucky I am to have my family, my basic needs and so
much more."
[10] If you could get a phone call from one person in the world
right now (living or deceased) whom would you like to talk with?
" Maren Morris because I would love to talk about some of her amazing songs and how she was inspired to write them.
She has such an amazing tone to her voice and I really love her music.
"I really love "My Church." It cracks me up. It's so straight up, It kinda says, 'but can you guys just give me a break
here!' She doesn't just sing another love song.  She sings songs people can really relate to."
[11] If you had a $10,000 gift card, where would you go to spend
it? 
"
I would probably spend it at Abercrombie and Fitch because that is one
of my most favorite clothing stores and they
have super cute outfits. I love their designs. I don't think there's a
piece of clothing there that I don't like. I really like their winter
sweaters because they're super soft. You really get your money's worth."
[12] What are you most proud of?  
"
I am proud of my ability to balance my school work with my career.
Sometimes I have to go to Nashville and I've
missed 2 or 3 days of school and it can be hard to catch up.  I'm now
at High School and I've got to work on that balance. Sometimes I've been
in a hotel or motel having to catch up on school work. It's a
challenge, but I've learned how to balance school work
and career."
Quueva's current single is 'Live Like a Song.' The video was released June 01, 2018 and has already racked up more
than 214,000 views on YouTube.
Queeva's
song "Stand Out" is available now.  "Live Like A Song" is her current radio single.  .
"'Stand Out' explains how it can be hard to be yourself and be different," said Queeva. "You feel tempted to just go
along and fit in. But it's important to go your own way, and not be afraid to stand out."
Find out more about Queeva and her music and a link to the official music video at
https://www.queevamusic.com
# # #
Photo credit: Angela Talley
Mike Harris