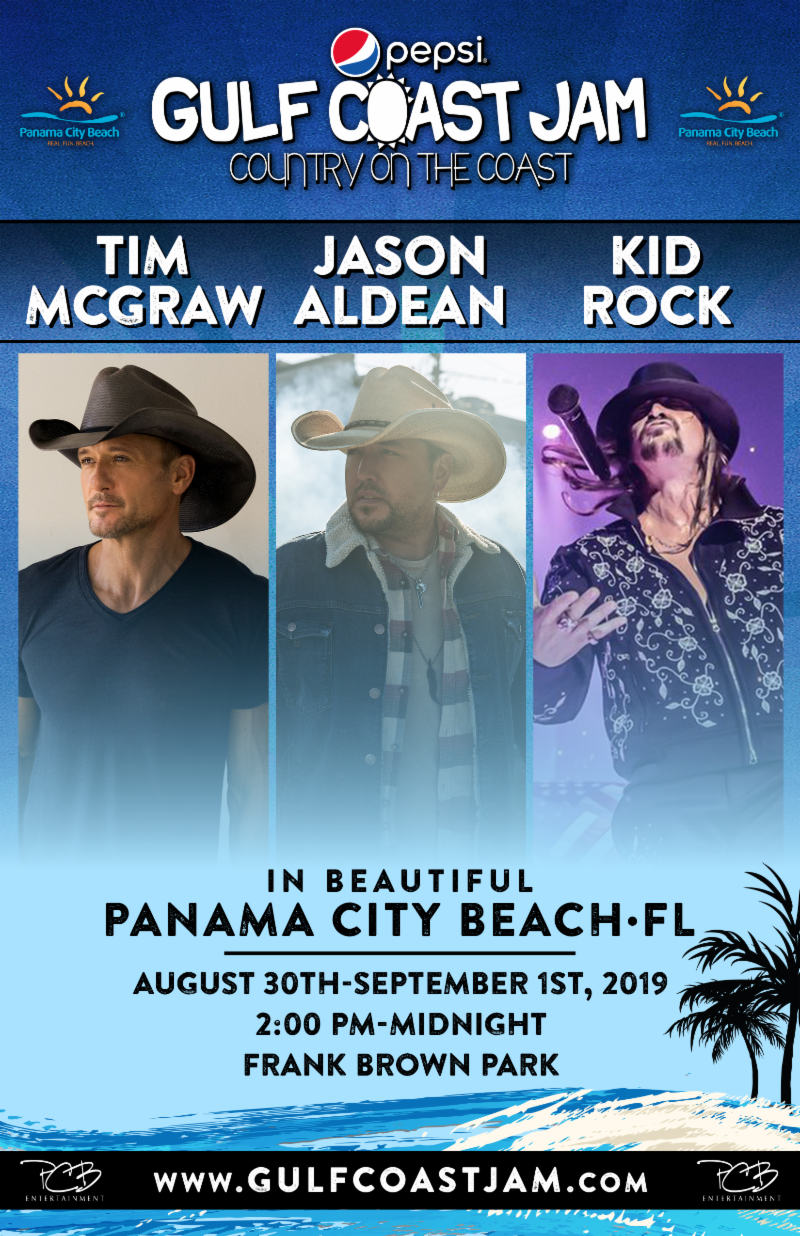 Producers of the Pepsi Gulf Coast Jam have revealed Tim McGraw, Jason Aldean and Kid Rock as the headliners of the 7th annual
Country On The Coast festival, scheduled for August 30-September 1,
2019 at Frank Brown Park in beautiful Panama City Beach. The
announcement was made concurrently by the massive lifestyle site
30A.com and www.VisitPanamaCityBeach.com. Tickets for the three-day
event, which Billboard Magazinenamed one of "The 10 Best Country Music Festivals," will be available beginning April 7, 2019.
"We
are beyond excited about the headliners for our seventh year," said
Pepsi Gulf Coast Jam Executive Producer Rendy Lovelady. "These guys are
proven hit makers and put on some of the best shows in the business."
Pepsi
Gulf Coast Jam producers also announced $10 from every paid ticket sold
from April 7 until the festival begins Labor Day weekend will be
donated to panhandle hurricane relief.
"Our
PCB Entertainment team lives and works in Panama City Beach, and we
were all affected in some way by hurricane Michael," added Pepsi Gulf
Coast Jam CEO Mark Sheldon."The devastation was beyond words, and there
is still an incredible need for assistance all across the panhandle."
Parking
passes for the Pepsi Gulf Coast Jam have traditionally been sold on
site and always sell out. For the first time, parking passes are being
offered online at www.GulfCoastJam.com. In addition, a limited number of Early Entry passes are also available for sale online.
Last
year's Pepsi Gulf Coast Jam drew a record 73,000 country fans from all
50 states and 14 foreign countries. General Admission tickets are
currently $139. Military tickets are only $129 for all three days. That
price will not increase, but quantities are limited. VIP Pit tickets are
$429, Golden Circle are $699 and Side Stage tickets are currently
$1,150. Skyboxes are sold out. Payment plans are also being offered, and
details can be found at www.GulfCoastJam.com.
Jammers are encouraged to follow Pepsi Gulf Coast Jam at www.GulfCoastJam.com and on Facebook, Twitter and Instagram for special announcements and exclusive offers.
About Tim McGraw:
McGraw's
unparalleled career includes 43 number one radio singles, 16 number one
albums and countless industry awards and accolades. His unique chart
achievements include having three singles in the Top 20 of the radio
charts on multiple occasions, as well as having two singles spend over
10 weeks at number one. His last solo project spawned one of the biggest
hit singles of all-time, "Humble and Kind," whose message continues to
impact fans around the world including a Spanish version sung by McGraw.
He has routinely been cited as one of the biggest touring artists in
the history of country music. His latest single, "Thought About You" was
the feature televised performance on the NFL Tailgate Party for Super
Bowl LIII.
(TW/IG: @TheTimMcGraw, FB: TimMcGraw, timmcgraw.com)
About Jason Aldean:
The
path paved by Jason Aldean's wide-open sure-footed approach has defined
the genre's 21st century as RIAA's top digital male Country artist of
all time. He has ushered in more than four billion digital streams, 18
million albums and 39 million singles. Every release has been certified
by the RIAA, and he is only the second Country act to score four
consecutive No. One albums on the all-genre Billboard 200 chart. As "he
sells out stadiums and continues to bring his singles to the top of the
radio charts" (Forbes), Aldean has garnered 22 No. One chart toppers
most recently including back-to-back hits from his record-breaking album
REARVIEW TOWN, "Girl Like You" along with the multi-week chart toppers
"You Make it Easy" and "Drowns The Whiskey." The "musically muscular,
big-tent entertainer" (The Atlantic) has sold more than ten million
headlining tickets and is one of the first of few acts in the genre to
sell-out multiple stadiums such as UGA's Sanford Stadium, Fenway Park,
Wrigley Field, AT&T Stadium and Gillette Stadium. The three-time
reigning Entertainer of the Year and current Entertainer of the Year
nominee will receive the ACM Dick Clark Artist of the Decade Award and
perform at the 54th ACM Awards on Sunday April, 7th. Additionally, the
past ACM Triple Crown winner has raised more than $6 million dollars for
charities across the country specifically Susan G Komen and his
hometown of Macon, GA's Children's Hospital. The "natural born
entertainer who consistently delivers his best" (CMT) will continue the
momentum during his 2019 RIDE ALL NIGHT TOUR launching May 3rd with back
to back nights in Uncasville, CT. For more information and for a full
list of upcoming tour dates, visit www.jasonaldean.com.
About Kid Rock:
Kid Rock burst onto the music scene in 1998 with his Devil Without a Cause album
and hasn't looked back. From hit singles like "Bawitdaba" and "Cowboy"
to "Picture" and "All Summer Long," the recording artist has blazed his
own trail in the music world, having sold over 26 million albums to
date. Kid Rock holds the Michigan record for most tickets sold with
150,000 for a run of ten consecutive sold-out shows, and recently set
the Little Caesars Arena attendance record in his hometown of Detroit
with 86,893 attendees in six sold-out shows. On the heels of this arena
success, Kid Rock hit the road in 2018 in support of his first album
fully recorded in Nashville, Sweet Southern Sugar, with
two hugely successful tours – winter's American Rock n Roll tour and
summer's Red Blooded Rock n Roll Redneck Extravaganza. The year also saw
the release of his first ever greatest hits project Kid Rock Greatest Hits You Never Saw Coming. Kid
Rock remains at the center of media attention in regard to his musical
and personal ambitions, leaving his mark in a multitude of genres.