TODAY SHOW'S HODA KOBT DISCOVERS NASHVILLE SINGER/SONGWRITER PAUL SIKES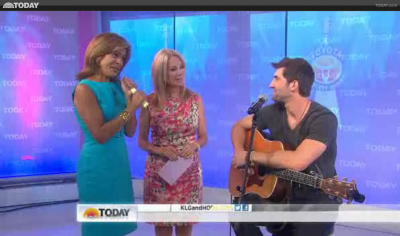 Sikes Invited by Today Show Co-host to Perform Live on National Television
Nashville,
Tenn. (August 1, 2012) – After playing at a small, local venue in
Nashville, Tennessee, a seemingly unknown songwriter and producer
recently became an overnight sensation thanks to Today Show co-host Hoda Kobt. Paul Sikes was given the opportunity most in this industry only dream of—a live appearance and performance on the NBC Today Show (watch Today Show performance on Sikes' website, HERE).
Sikes, a 30-year-old Nashville native, played in the writer's round at the Bluebird Café in late May,

the legendary spot where many musicians have been discovered

. Sikes was surprised to see Hoda Kotb, co-anchor of the Today Show's
fourth hour, in attendance and noticed she took a few pictures of him
during his performance. After the performance, Sikes exchanged a few
words with Kotb and didn't give it a second thought.
Days later Sikes got word that Kotb was raving about his performance on the Today Show,
and even played a video clip of him from her phone. Kotb gushed about
Sikes and his performance, saying one of his songs brought tears to her
eyes and she couldn't believe he hasn't been "discovered." Soon after,
Sikes was contacted by NBC producers via Twitter and asked if he could
fly to New York to perform on the show. On July 13, Sikes appeared live
on the Today Show, playing his song "My Epitaph."
Since his performance on the Today Show, Sikes has received an overwhelming response. His album recent independent album, Craft, was released to iTunes on July 9 and has since reached the #2 album on iTunes' singer/songwriter list. The song he performed on the show, "My Epitaph," was the #2 song within the same category on iTunes, and two more of Sikes' songs reached the Top 100 songs in the singer/songwriter category. Even more impressive—his album, with a five-star rating, peaked at #41 among all albums on iTunes.
Sikes
has been writing and producing songs from his Green Hills home studio
in Nashville for years, and has always considered himself strictly as a
songwriter and producer. He explains that he's "never really chased the
road of being an artist, but has enjoyed playing songs at smaller
venues around town." Sikes has written and produced more than 500 songs
and was one of 125 semi-finalists for the television competition
Nashville Star a few years ago. He describes his recent experience of
being invited to the Today Show as "being in the right place at the right time."
Sikes describes his 11-track album as "

a little bit of jazz, a little bit of country, a little bit of Americana."
For more information on Paul Sikes' story or to check out his music, visit his website at www.paulsikes.com.